James Harden's Failed Nets Stint Hurt Multiple Teams, but It Turned the Cleveland Cavaliers Into Eastern Conference Contenders
It appeared the Brooklyn Nets were about to become a dynasty when they acquired James Harden from the Houston Rockets last season. Harden is one of the greatest scorers in NBA history, and he was joining forces with two superstars in Kevin Durant and Kyrie Irving.
But The Beard is already leaving the Nets. Brooklyn traded him to the Philadelphia 76ers for Ben Simmons prior to the NBA Trade Deadline, so his time in Brooklyn will go down as one of the most disappointing eras of all time.
However, his departure also further proves that only one team won last year's blockbuster deal: the Cleveland Cavaliers.
James Harden went to the Nets in a blockbuster 2021 trade
The Nets essentially broke the internet in January 2021 when they traded for James Harden. It put him alongside Kevin Durant and Kyrie Irving, forming one of the most talented Big Threes in NBA history.
Here's the breakdown of which players and what picks went where in the deal.
Brooklyn Nets received:
James Harden
2024 second-round pick (from Cleveland)
Houston Rockets received:
Rodions Kurucs
Dante Exum
Victor Oladipo
Three first-round selections and four first-round pick swaps (from Brooklyn)
2022 first-round pick (from Cleveland)
Cleveland Cavaliers received:
Jarrett Allen
Taurean Prince
Rights to Aleksander Vezenkov
Indiana Pacers received:
Caris LeVert
2023 second-round selection (from Houston)
A lot has happened since that deal, and the Cavs are likely thrilled it took place.
The Cavs received a franchise center in Jarrett Allen … and more
The Cleveland Cavaliers jumping in on that deal came as somewhat of a surprise. But acquiring Jarrett Allen has been huge for the franchise.
He has gone from being a solid role player in Brooklyn to becoming an All-Star caliber center in Cleveland, averaging 16.2 points and 11.2 rebounds this season. The Cavaliers also rewarded him for his efforts by giving the Texas product a $100 million contract extension in the offseason.
Allen is a major reason why the team is just 1.5 games back from first place in the Eastern Conference. He and the Cavs' new Big Three consisting of himself, Darius Garland, and Evan Mobley have taken the NBA by storm this year.
However, Allen isn't the only star from that trade who made his way to the Cavs.
After playing in 35 games for the Pacers last season and 39 this year, Caris LeVert is also in Cleveland. He was arguably the second-best scorer in the Harden trade, as he averaged 20.2 points for the Nets and Pacers in 2020-21. But Indiana's desire to rebuild led to the franchise sending him to the Cavs before this year's deadline.
So, the Cavaliers won the Harden-Nets-Rockets trade, and it's not even close.
The Cleveland Cavaliers won the 2021 James Harden trade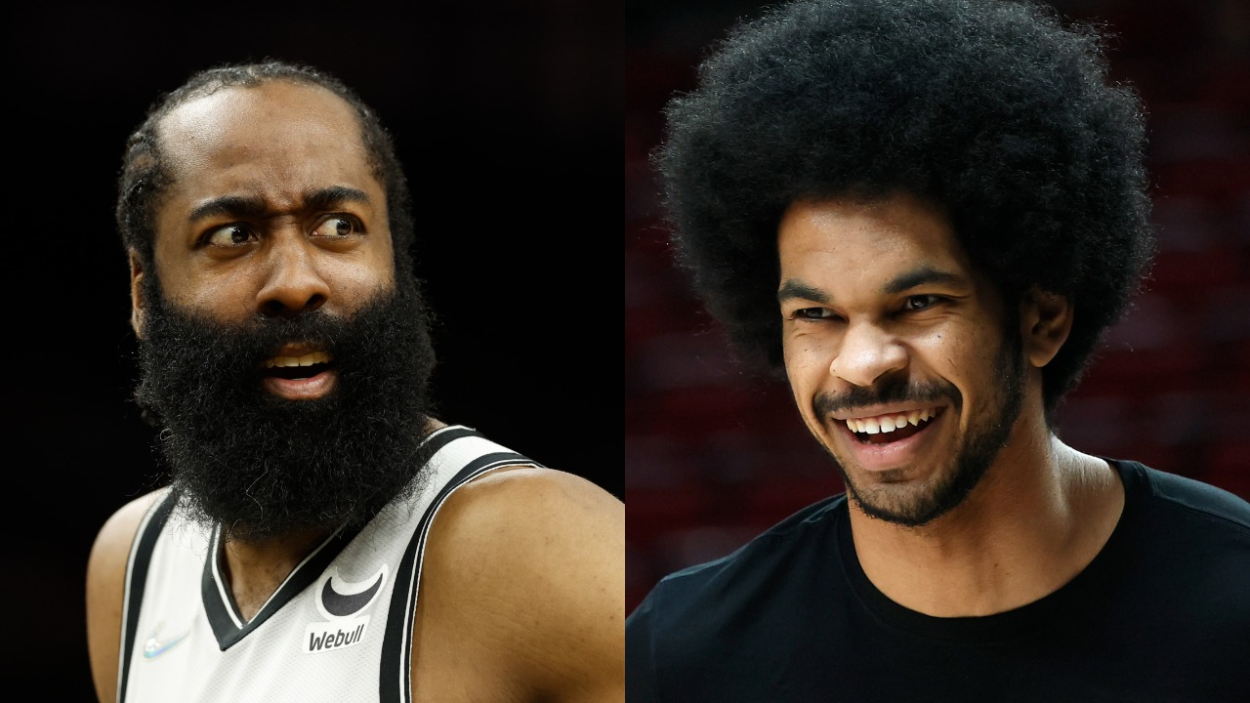 When looking at the blockbuster deal that sent James Harden to the Nets, it's currently hard to say how much it will help the Rockets because they have numerous draft picks they have yet to use. Maybe, we will say it was a pretty good deal for them years down the line.
But they still in no way won it. They had to trade one of the league's greatest scorers in Harden.
The Pacers, on the other hand, have gotten rid of both Victor Oladipo's and Caris LeVert's contracts, but the trade still didn't move the needle for them.
And, of course, for Brooklyn, they received one of the greatest players ever but shipped him off to Philly a little over a year later. Yes, they are now receiving Ben Simmons, but is he worth everything they gave up for Harden?
So, that brings us to the Cavs. They didn't have to give up all that much for Allen, and they only traded one lottery-protected first-round selection, two second-round picks, and Ricky Rubio's expiring contract for LeVert. 
Cleveland essentially received two franchise building blocks for a low price. And that's even after no one expected them to be a part of the 2021 deal.
All in all, the Cavs have become one of the best teams in the Eastern Conference this season, and they have a tremendously bright future.
But they owe everything to James Harden.
Stats and trade info courtesy of Basketball Reference
RELATED: Darius Garland's Caris LeVert Comments Give a Stunning Glimpse Into the Cavs' Unlimited Potential