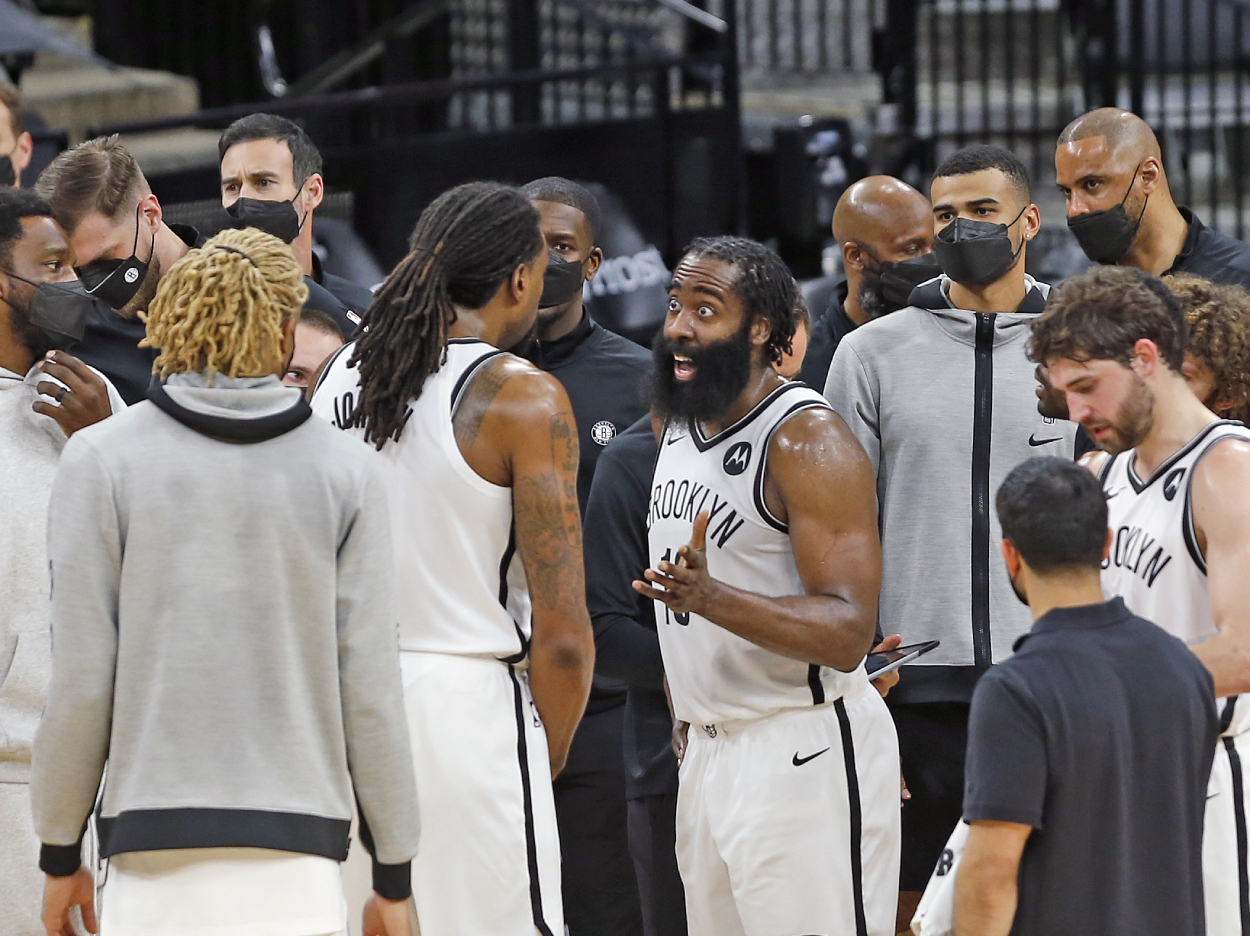 James Harden Fires a Shot at Former Celtics Star With 'No Credibility'
James Harden blasts a former Celtics All-Star who said the Celtics were smart not trading for Harden at the trade deadline.
Brooklyn Nets star James Harden fought his way out of Houston, forcing a trade from the Rockets earlier this season. He eventually made his way to the Nets, forming a serious Big Three with Kyrie Irving and Kevin Durant. Prior to the deal, there were a few teams in the mix, the Boston Celtics being one of them. A former Celtics All-Star said the Celtics were smart laying off Harden. It didn't take long for Harden to fire back.
James Harden forced his way out of Houston
James Harden had enough of Houston. He wanted out and he didn't make it a secret. Harden made things difficult for the Rockets, who were making an attempt to satisfy Harden's trade wishes but felt like they weren't getting enough value in return.
Harden realized life as he knew it in Houston was over. He partied maskless despite strict COVID-19 protocols mandated by the NBA. Harden even boasted about it by posting it on Instagram. "Yeah, he's going to act up," a former Rockets staffer said, according to ESPN. "He's never heard 'no' before."
Harden was a big part of the Rockets' dysfunction. He got away from the team whenever he could. When he returned, however, he put up big numbers. "If they have multiple days off, everybody knows: James is going to fly somewhere else and party," one former Rockets staffer told ESPN. "But he's going to come back and have a 50-point triple-double, so they're OK with it."
Harden found a new home with the Brooklyn Nets
It took some work, but the Houston Rockets sent James Harden packing and get a pretty good return. It took two other teams – the Indiana Pacers and the Cleveland Cavaliers – getting involved, but the Rockets swung a deal that landed Harden with the Brooklyn Nets in January. The Rockets landed three first-round picks from the Nets and a first-rounder from the Cavs. They also got Victor Oladipo and Dante Exum, among others.
The trade opened the eyes of Milwaukee Bucks star Giannis Antetokounmpo, whose team was the top seed in the Eastern Conference a year ago. "Obviously they got better, way better," Antetokounmpo said when the trade was announced, according to ESPN. "And they're really a powerhouse right now in the East having KD, James Harden, Kyrie Irving together on one team. That's tough."
The deal put an end to a drama-filled season for the Rockets. Harden made his unhappiness in Houston public and now the team could focus on basketball. First-year head coach Stephen Silas had called the off-the-court Harden issues an "all-around messed up situation."
Harden blasts Antoine Walker for his comments
During an appearance on the All Things Covered podcast with Patrick Peterson and Bryant McFadden, former Boston Celtics All-Star Antoine Walker said the Celtics made the right move by not trading for Harden. "I'm not a James Harden guy, and it's not personal but you can't win with that style," Walker said. "I don't think you can win with his style. Any time it takes a guy six, seven, eight dribbles to get to where he has to go, that's a problem."
That's not the first time Harden's been knocked for his style of play. Kobe Bryant once said he didn't think Harden's style of play would ever lead the Rockets to a title.
During Harden's NBA All-Star media session, he was asked about Walker's comments. "Stuff like that I don't pay attention to, especially somebody that has no credibility," Harden said.