James Harden Inspires Young Hoopers and Scares the Nets in the Very Same Breath
A video of Brooklyn Nets star James Harden talking up some young basketball players went viral on Wednesday, though The Beard managed to inspire and terrify in the very same breath.
Harden's brief monologue about work ethic and dedication to the grind could go a long way for aspiring hoopers. Yet, the former MVP's brief mention of his own "light day" is the part of the clip that should worry Nets fans the most.
James Harden says "I'm still in rehab" from injury during viral Internet video
Initially, the viral clip (h/t @hardenbbq on Twitter) feels like something to behold. But astute listeners might have gleaned something else entirely from Harden's brief speech.
The Beard begins by asking the players how long they had been working out. He expresses surprise when told the length of the session, saying, "Y'all ain't even sweat" and "you supposed to be drenched when you walk out of this mother******."
But it's the following line that might be worrisome to Brooklyn supporters. Harden said his own workout that day was "light" before saying, "I'm still in rehab."
Now, some might not feel there is anything to glean from the statement. Perhaps Harden is merely exhibiting caution during the offseason, given his late-season injury issues. He passed on the Olympics so as to take care of his body and might be taking the same approach in workouts.
On the other hand, Harden's hamstring troubles might be a recurring issue that could give him fits throughout the upcoming season.
Harden's hamstring ultimately wrecked his 2020-21 season
James Harden was a revelation for the Nets after they acquired him from the Houston Rockets. When he was healthy, at least.
Harden averaged 24.6 points, 10.9 assists, and 8.5 rebounds in 36 games with the Nets. He won back-to-back Eastern Conference Player of the Month Awards in March and February, routinely carrying Brooklyn to big wins even when the team was without either or both of Kevin Durant and Kyrie Irving.
But the three-time scoring champion's feel-good start to his Nets tenure was about to come to a screeching halt. Harden missed 21 of the last 24 regular-season games with a hamstring injury. The issue appeared to be resolved when The Beard starred in Brooklyn's first-round series win over the Boston Celtics.
However, Harden aggravated his hamstring in Game 1 of the conference semifinals against the Milwaukee Bucks. He would return to the series in Game 5, but clearly wasn't healthy.
Harden shot a combined 11-for-36 from the field and 5-for-26 from beyond the arc for the final three games. He was unbelievably gutsy, averaging over 46 minutes per contest. But he couldn't give the Nets the second star presence they so desperately needed alongside Durant.
The 32-year-old is taking things slowly as he tries to get his hamstring order. Still, it's been nearly three months since the Bucks eliminated the Nets from the playoffs, and training camp is right around the corner. Might it be time to start worrying about Harden's hamstring?
Brooklyn cannot afford another injury-riddled season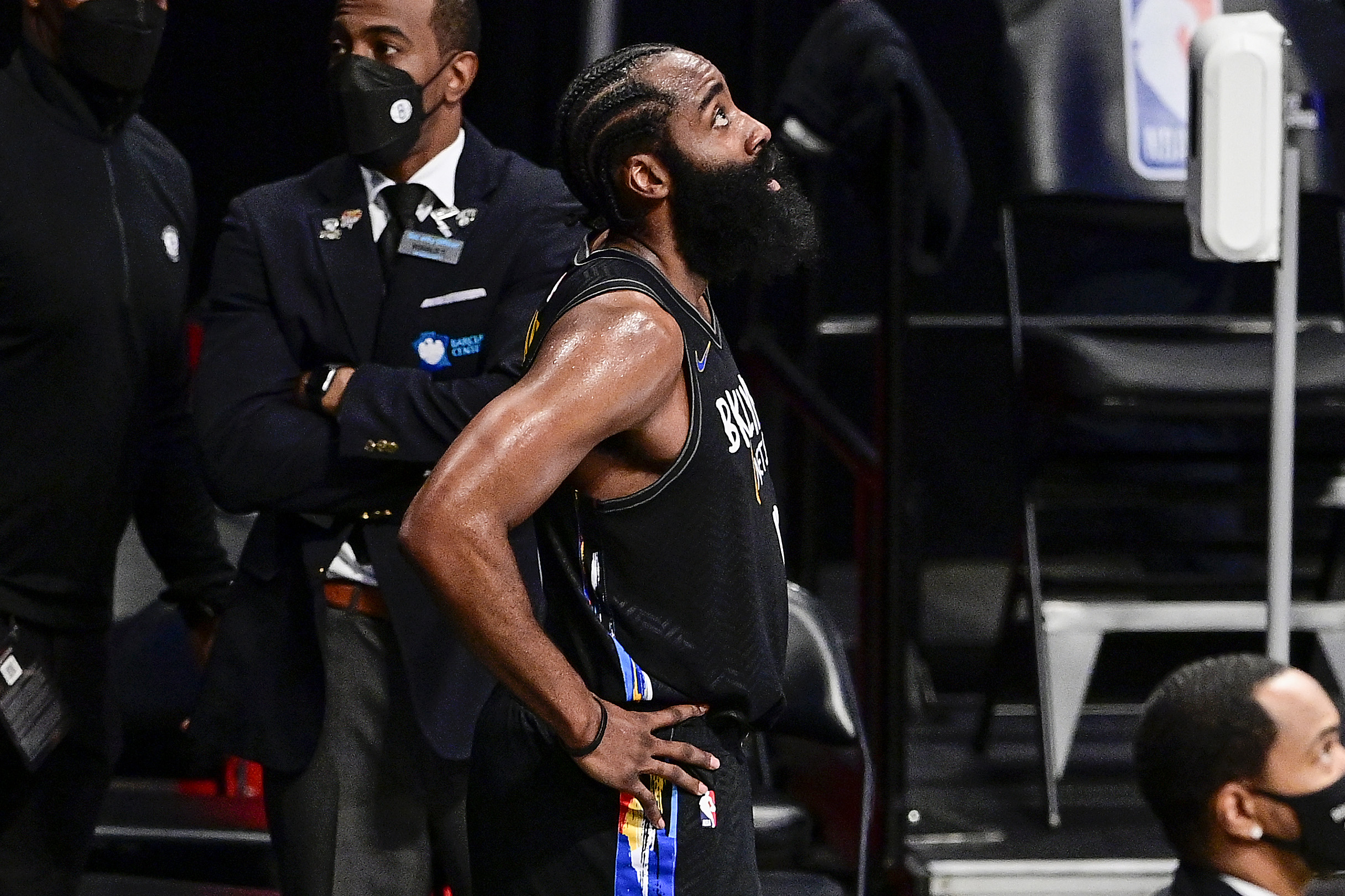 Injuries ruined the Nets' 2020-21 season. They cannot afford the same scenario to be their downfall this time around.
Maybe Brooklyn will lean heavily on load management when it comes to Durant, Irving, and Harden. But, at some point, the Nets need to ensure their three stars get heavy reps together.
Harden's situation could be especially troubling. Hamstrings are nothing to be trifled with. Yet, it will surely be frustrating for Nets fans if the team has to be especially cautious with The Beard only for him to possibly aggravate the issue further at a critical juncture.
What was meant to be a positive message for young basketball players could instead reflect pessimism from fans when it comes to Harden and his hamstring.
Stats courtesy of Basketball Reference.
RELATED: James Harden Just Dropped the Team That Hammered Away at Securing His Trade to the Brooklyn Nets Ahead of Massive Contract Talks