James Harden Just Shockingly Broke an All-Time NBA Scoring Record at a Very Young Age
James Harden has become one of the greatest scorers in NBA history since being traded to the Houston Rockets from the Oklahoma City Thunder. In fact, this is the third consecutive season where he has led the NBA in points per game. Harden's scoring numbers have actually been so incredible that he just broke an all-time scoring record at only 30 years old.
James Harden is one of the greatest scorers in NBA history
RELATED: James Harden Used His Massive Wealth to Become an Owner of the Houston Dynamo
Harden had an excellent college career at Arizona State, which led to the Oklahoma City Thunder selecting him with the third overall pick in the 2009 NBA draft. 
He ultimately spent three seasons with the Thunder and had a lot of success. After scoring 9.9 points per game in his first season, and 12.2 in his second season, Harden averaged 16.8 points per game for Thunder in his third season. His play that year earned him the Sixth Man of the Year award and helped lead the Thunder to the NBA Finals.
However, the Thunder then traded Harden to the Houston Rockets in October 2012. Since joining the Rockets, he has become one of the greatest scorers in NBA history. Harden averaged 25.9 points per game in his first season with the Rockets. Then, after scoring 25.4 points per game in his second season, Harden's points-per-game average jumped up to 27.4 in 2014-15. 
Harden then averaged 29 and 29.1 points per game in 2015-16 and 2016-17, and he also led the NBA with 11.2 assists per game in 2016-17. However, since 2017-18, Harden has led the NBA in points per game in three consecutive seasons. He scored 30.4 in 2017-18, which helped him earn the league's MVP award. Harden then averaged a career-high 36.1 points per game in 2018-19 before averaging 34.4 points per game this season.
For his career, Harden is an eight-time All-Star and a six-time All-NBA honoree. However, despite only being 30 years old, Harden just broke an all-time league scoring record.
James Harden broke an all-time NBA scoring record while in the bubble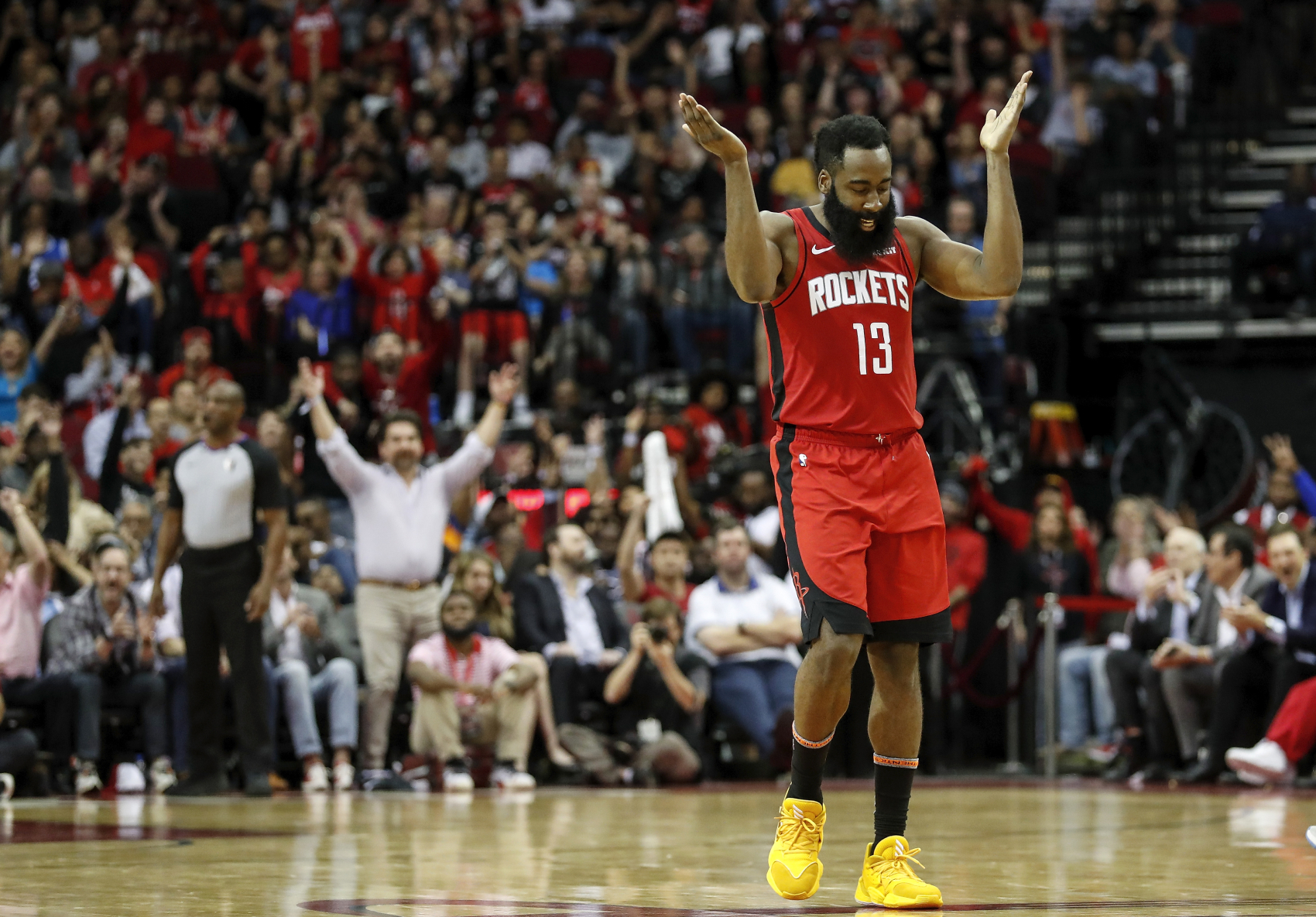 RELATED: Who Was Drafted Before James Harden in the 2009 NBA Draft?
On Aug. 2, the Rockets had a massive win over the Milwaukee Bucks, who have the best record in the entire NBA. 
Harden scored 24 points in the game, and he ultimately passed San Antonio Spurs legend David Robinson on the NBA's all-time scoring list as he now has 20,796 career points. Harden is now 39th on the NBA's all-time list.
That, however, is not the record that he broke. According to USA Today, passing Robinson made Harden the top left-handed scorer in league history. Robinson previously held the record with 20,790 career points.
Robinson played in 987 games in his NBA career and played until he was 37 years old. Harden passed him in 828 career games, and he is only 30 years old. That is a pretty impressive feat.
Are the Houston Rockets legit NBA championship contenders?
RELATED: James Harden Honed His Offensive Game by Shooting Free Throws for Hamburgers
The Rockets have begun play in the NBA bubble with two massive wins over the Dallas Mavericks and the Bucks. Their two wins have made them tied for the four seed in the Western Conference and only one game back of the Denver Nuggets for the three seed.
While many people bring up the Los Angeles Lakers, the Los Angeles Clippers, and the Milwaukee Bucks as favorites to win it all, the Rockets certainly have a serious chance to win the championship.
The Rockets have two former league MVPs in James Harden and Russell Westbrook, and they are arguably the most dangerous duo in the league. Harden is averaging 34.4 points per game and 7.4 assists while Westbrook is averaging 27.6 points per game, seven assists, and 8.1 rebounds.
Westbrook has played great in the second half of the season too. In 24 games since Jan. 9, Westbrook is averaging 32.1 points per game, 8.2 rebounds, and seven assists. He has also shot 52.4% from the field during that stretch, which is much better than his season average of 47.3%.
The Rockets also have some really strong weapons around Harden and Westbrook. Eric Gordon is averaging 14.5 points per game, while Robert Convington is averaging nearly 13 points per game. The only knock on the Rockets right now is that they don't have a lot of height, but Westbrook and Covington are great rebounders. They are both averaging at least eight rebounds per game.
Not many people were talking about the Houston Rockets prior to the games beginning in the NBA bubble, but they have a great shot at winning the NBA championship. They are led by the all-time leading left-handed scorer, after all.
Stats courtesy of Basketball Reference