James Harden Says Loud Noises Spooked Brooklyn Nets Early in Game 1
The Brooklyn Nets opened the NBA Playoffs Saturday night with a 104–93 win over the Boston Celtics. The Game 1 victory came despite a dreadful start by the Nets, who shot just 26.1% in the first quarter while scoring only 16 points. Hardly the stuff to be expected from a team that led the NBA in offensive efficiency this season. Brooklyn scored 117.3 points per 100 possessions. They were second in points per game at 118.6. But James Harden said some unfamiliar conditions hurt the Nets early in the game
Brooklyn's dismal first-quarter shooting included missing all nine of its 3-point attempts. Harden had two of those deep misses. The Nets got better in the second quarter, hitting 57.9%, but still trailed at halftime 53–47. While their shooting didn't get remarkably better in the second half, Brooklyn got an unexpected defensive boost in the second half.
James Harden helped Brooklyn Nets with some thievery
The Brooklyn Nets outscored the Celtics 57–40 in the second half, holding Boston to just 32.5% shooting overall. The Celtics were only 2-for-13 from 3-point range after the break, while the Nets were 7-for-21, not great but far better than their 1-for-13 showing in the first half. Harden had three of Brooklyn's five second-half steals.
The rest of Brooklyn's vaunted but unfamiliar Big 3 came up big in the second half, as well. Kyrie Irving scored 20 of his 29 points after halftime. Kevin Durant dropped 16 points in each half for the Nets en route to a game-high 32 points.
But Harden said the Nets might have had a problem with a one-time staple of playoff basketball that has been missing for more than a year.
Was it just too loud in the Barclays Center?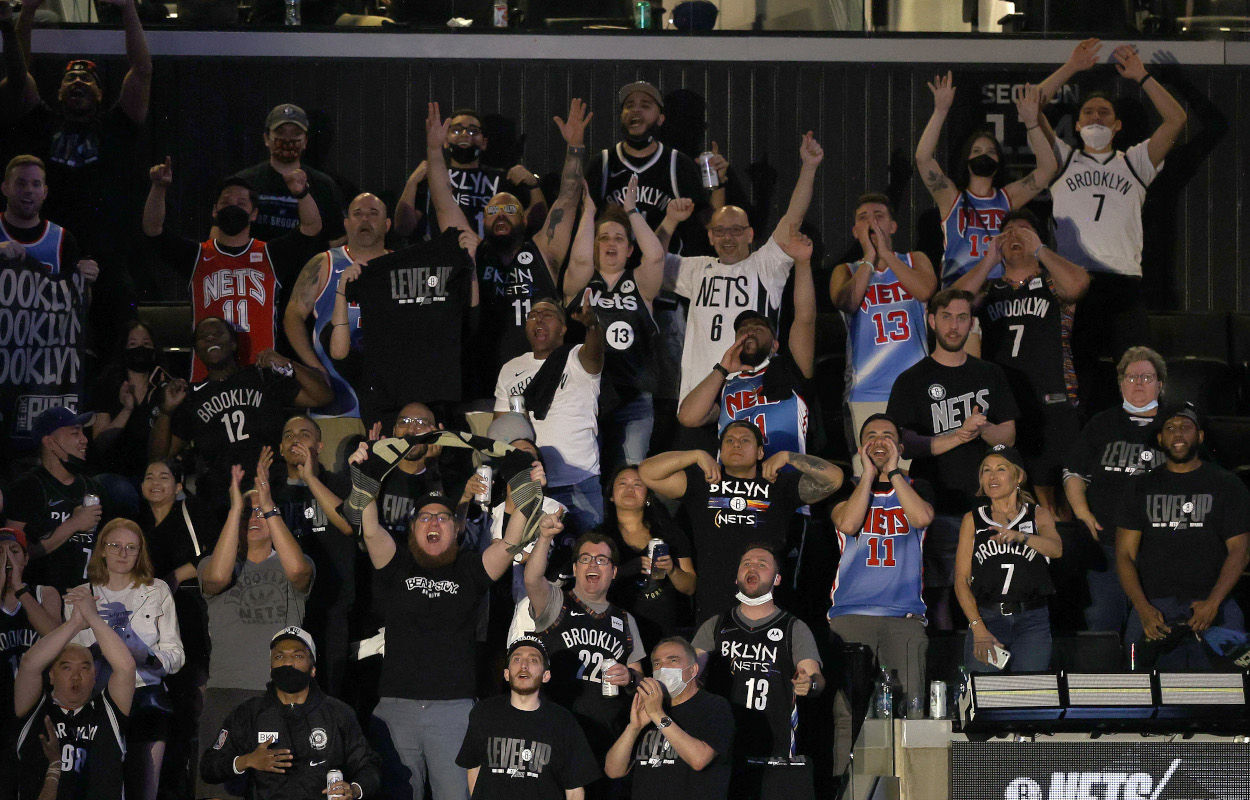 Before Saturday night's opener in their Eastern Conference first-round series, the largest crowd at home for the Brooklyn Nets was just 1,773. Attendance restrictions due to coronavirus (COVID-19) kept Barclays Center primarily empty (and quiet). Piped-in crowd noise is nothing like the real thing, as James Harden said the Nets experienced first-hand Saturday.
New York Gov. Andrew Cuomo relaxed restrictions on attendance at public events before the playoffs, and 14,391 fans streamed into Brooklyn's home court Saturday night. It took a little adjusting, Harden told Tim Bontemps of ESPN.
"In that first half, shots just didn't go in. Maybe I'm speaking for myself, but the crowd kind of just threw me off a little bit. It was pretty loud in there. The vibe was what we've been missing, and it just threw me off a little bit. That second half, we got more comfortable, and shots started to fall when we needed it to."

James Harden
There was something else often unfamiliar that also played a big role in Brooklyn's win.
Defensive stops big for the Brooklyn Nets
Defense was not the calling card for the Brooklyn Nets in 2020–21. They improved markedly as the season progressed, allowing 112.9 points per game after April 1, tied for 16th in the NBA. Before then, Brooklyn was 26th in defense, with opponents ringing up 114.8 points a night. A defensive rating of 113.1 points per 100 possessions ranked 22nd on the year.
Given the Nets' offensive struggles in Game 1, the defense was a pleasant surprise. Brooklyn held opponents to less than 100 points only 11 times this season and was unbeaten when doing so. Conversely, Brooklyn surrendered 120 points or more 22 times. Their record in those games: an unsightly 8-14. The Nets were 40-10 over the rest of their schedule. And then there's that whole "defense wins championships" adage.
The last team to win an NBA title after finishing in the bottom half of the NBA in points allowed was the Golden State Warriors in 2017–18. That team finished 18th, allowing 107.5 points per game, but ranked 11th in defensive rating (107.6 points per 100 possessions).
Before that, however, one must go back to the Los Angeles Lakers in 2000–01. They were 23rd in a 29-team NBA, allowing 97.2 points a game (yeah, it was a different time). Their defensive rating of 104.8 points per 100 possessions was 21st in the league.
Game 1 was a promising defensive start for the Brooklyn Nets, and the offense came around once they got used to all that annoying noise. The Nets and Celtics run it back at Barclays Center for Game 2 on Tuesday night.
Statistics courtesy of NBA.com and Basketball Reference.