James Harden May Have Let Trips to the Strip Club Get in His Way of Winning an NBA Championship, According to His Former Teammate
James Harden has proven that he is one of the most dominant scorers in NBA history. He has failed to win the most important thing, though: an NBA championship. He had a great opportunity to win a ring at the very beginning of his career with the Oklahoma City Thunder. However, according to his former teammate, James Harden potentially let the strip club get in his way of winning an NBA title.
James Harden played on the Thunder for three seasons
James Harden entered the NBA when he went to the Oklahoma City Thunder with the No. 3 overall pick in the 2009 NBA draft. Then, after averaging 9.9 points per game in his rookie season, Harden averaged 12.2 points per game in 2010-11. He also averaged 13 points and 5.4 rebounds in the playoffs, which helped the Thunder go on a run to the Western Conference Finals.
In 2011-12, though, Harden took a big step production-wise, and the Thunder became a juggernaut. He averaged 16.8 points per game and won the Sixth Man of the Year award.
Harden was then great in the playoffs. He averaged 18.3 points per game in a series sweep over the Mavericks in the first round, and then 16 in a win over the LA Lakers in the conference semifinals. Then, in the Western Conference Finals, Harden averaged 18.5 points per game and 5.5 rebounds, and helped the Thunder reach the NBA Finals by defeating the Spurs.
Oklahoma City, though, met LeBron James, Dwyane Wade, Chris Bosh, and the Miami Heat in the Finals and ultimately lost in five games. Harden struggled, too, as he only scored 12.4 points per game and shot 37.5% from the field.
He then got traded to the Houston Rockets before the next season began.
The strip club potentially hurt James Harden in the NBA Finals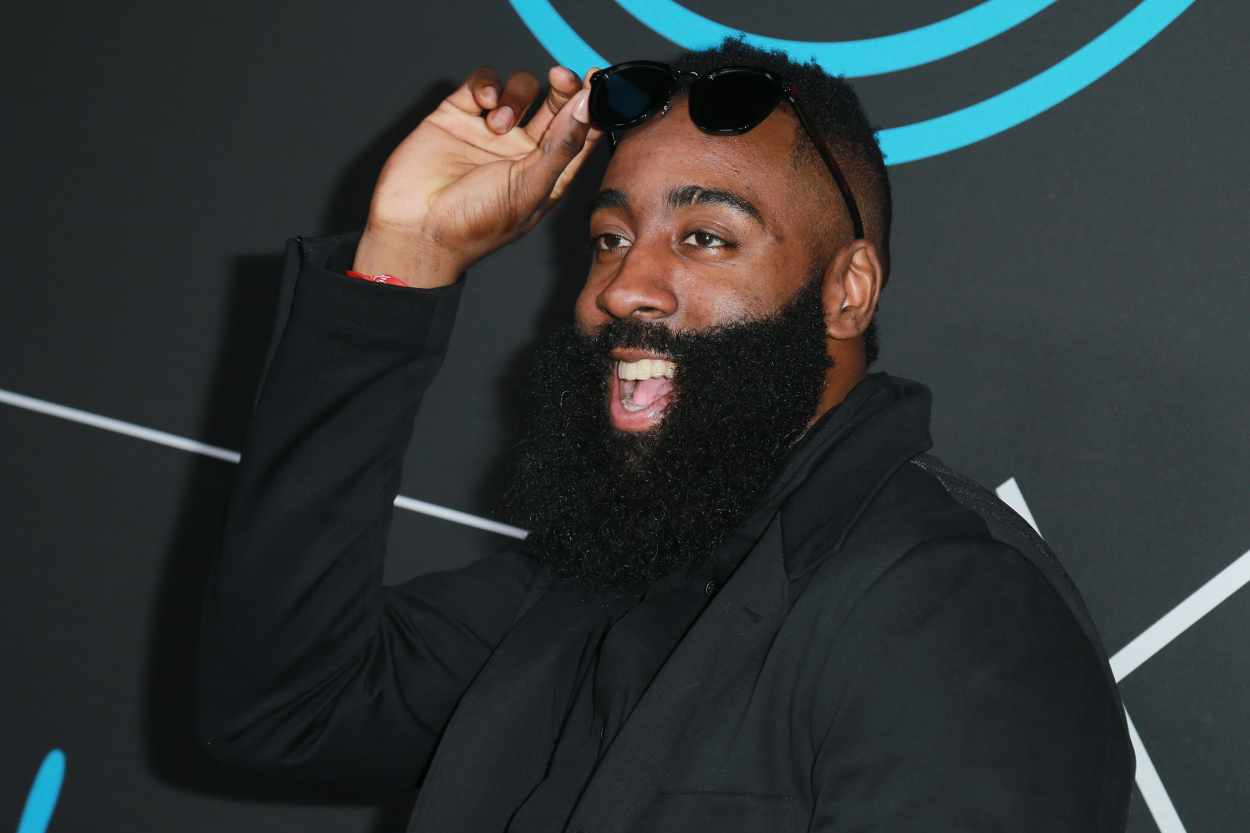 Kendrick Perkins was Harden's teammate on the Thunder in 2010-11 and 2011-12. He recently appeared on Matt Barnes and Stephen Jackson's All The Smoke podcast and discussed how Harden's trips to the strip club potentially cost him a ring
"We end up getting Game 1, they got Game 2, but when we went to Miami, man, we could not get a win to save our life," Perkins said on the Jan. 28 episode. "[Russell Westbrook and Kevin Durant] came to play; I had a couple double-doubles; Serge [Ibaka] was doing pretty good, but, man, James ain't give a s***. And you know why: motherf***** King of Diamonds and everything; caught a hole in his hands."
After further review, King of Diamonds was a strip club in Miami, according to the Miami Herald.
Perkins continued: "In San Antonio, he didn't have a damn thing to do. We got to motherf****** Miami, and [there] was everything motherf****** to do. We couldn't get that motherf***** to buy a bucket in that motherf*****. … He had to get his rest [in San Antonio]; in Miami, he couldn't get his rest. Motherf***** was out every motherf****** night."
He has been known for enjoying strip clubs in the past
It's hard to know for sure if going to strip club really hurt Harden's performance in the 2012 NBA Finals. We do know, though, that he has been a big fan of strip clubs in the past.
Jamil "Mal" Clay of The Joe Budden Podcast once told a story of how Harden got his jersey retired in a strip club.
"James has his jersey like hanging from the top," Clay said, according to a June 2020 Sportscasting article. "They were doing that because they said James has been going in there spending like [a lot of money], you know what I mean? So they gave him his own jersey hanging from the rafters of the strip club."
So, while we don't 100% know that going to a strip club kept Harden from winning an NBA championship, it's certainly not out of the realm of possibility.
James Harden has still not won an NBA championship
Harden has become one of the greatest scorers in NBA history since his time with the Thunder. He led the NBA in points per game in three consecutive seasons from 2017-18 through 2019-20 and scored as many as 36.1 in 2018-19. He also won the league MVP award in 2017-18.
However, he consistently failed to get the Rockets to the Finals during his time in Houston, as they lost in the first round of the playoffs or the semifinals six times with Harden, and twice in the Western Conference Finals.
James Harden has since been traded to the Brooklyn Nets and has a great chance to finally win an NBA championship. Hopefully, this time, though, he doesn't let anything get in his way of finally winning that ring.
Stats courtesy of Basketball Reference