James Harden Needed 2 Games to Make 76ers History
On paper, the Philadelphia 76ers' acquisition of James Harden made them a top favorite in the Eastern Conference. The Beard figured to bring vital playmaking and shot-creation to a team that had been somewhat lacking in those areas. Not to mention, Harden — despite never winning a ring — carried himself with a certain championship swagger while asserting a firm belief in his partnership with Joel Embiid during his introductory press conference.
Having said all that, Harden still needed to go out and play. Judging by his first two appearances, Sixers fans are surely salivating over the team's championship potential.
The 2017-18 NBA MVP has fit like a glove in his first two games with the 76ers, playing off Embiid and encouraging teammates to keep shooting. Harden's looked as healthy as he has been all season. Plus, he's already made franchise history.
Sixers Harden is putting the rest of the Eastern Conference on notice.
James Harden made 76ers history against the New York Knicks
Harden already put on a dazzling display in his debut. What would he do for an encore on Sunday at Madison Square Garden? Oh, just make 76ers history.
The Beard posted a massive triple-double, scoring 29 points on 8-of-14 shooting from the field and a perfect 10-of-10 at the free-throw line. He also dished out 16 assists, grabbed 10 rebounds, and recorded five steals.
In so doing, Harden stands alone in Sixers lore.
According to StatMuse, The Beard is the first player in franchise history to tally at least 25 points, 15 assists, 10 rebounds, and five steals in a single game. Not even franchise greats such as Wilt Chamberlain, Billy Cunningham, Julius Erving, or Allen Iverson ever reached those benchmarks.
It's not as though Harden is merely putting up numbers, either. He finished the contest +19 in terms of plus-minus after registering a +35 in his debut against the Minnesota Timberwolves.
If the 32-year-old looks like this and makes his teammates better even on just a semi-consistent level, then Philly will be a handful come playoff time.
Making everyone better
The sample size is quite small. Still, James Harden has already had a profound impact on his 76ers teammates. He's doing so without totally altering the complexion of the roster or head coach Doc Rivers' rotations.
In 48 minutes together, the trio of Harden, Joel Embiid, and Tyrese Maxey has an outstanding 45.8 net rating, per NBA.com. That's immensely important, because those three arguably have the most sway in determining the 76ers' title hopes.
Philly also needs Tobias Harris to be a capable floor-spacer and productive scorer. Harden understands as much.
The Beard said after Sunday's game that he tried to instill confidence in Harris — who had a rough shooting day early — throughout the contest. Tobi responded by helping the 76ers pull away in the fourth quarter.
The inspired leadership Harden has displayed early is eerily reminiscent of when he first came to the Brooklyn Nets last season. His 28 assists in the previous two games combined reflect his exceptional court vision and playmaking gifts, as well as a certain willingness to get others involved.
Can the 32-year-old maintain this level and help carry the 76ers down the stretch?
A healthy Harden could mean trouble for the rest of the NBA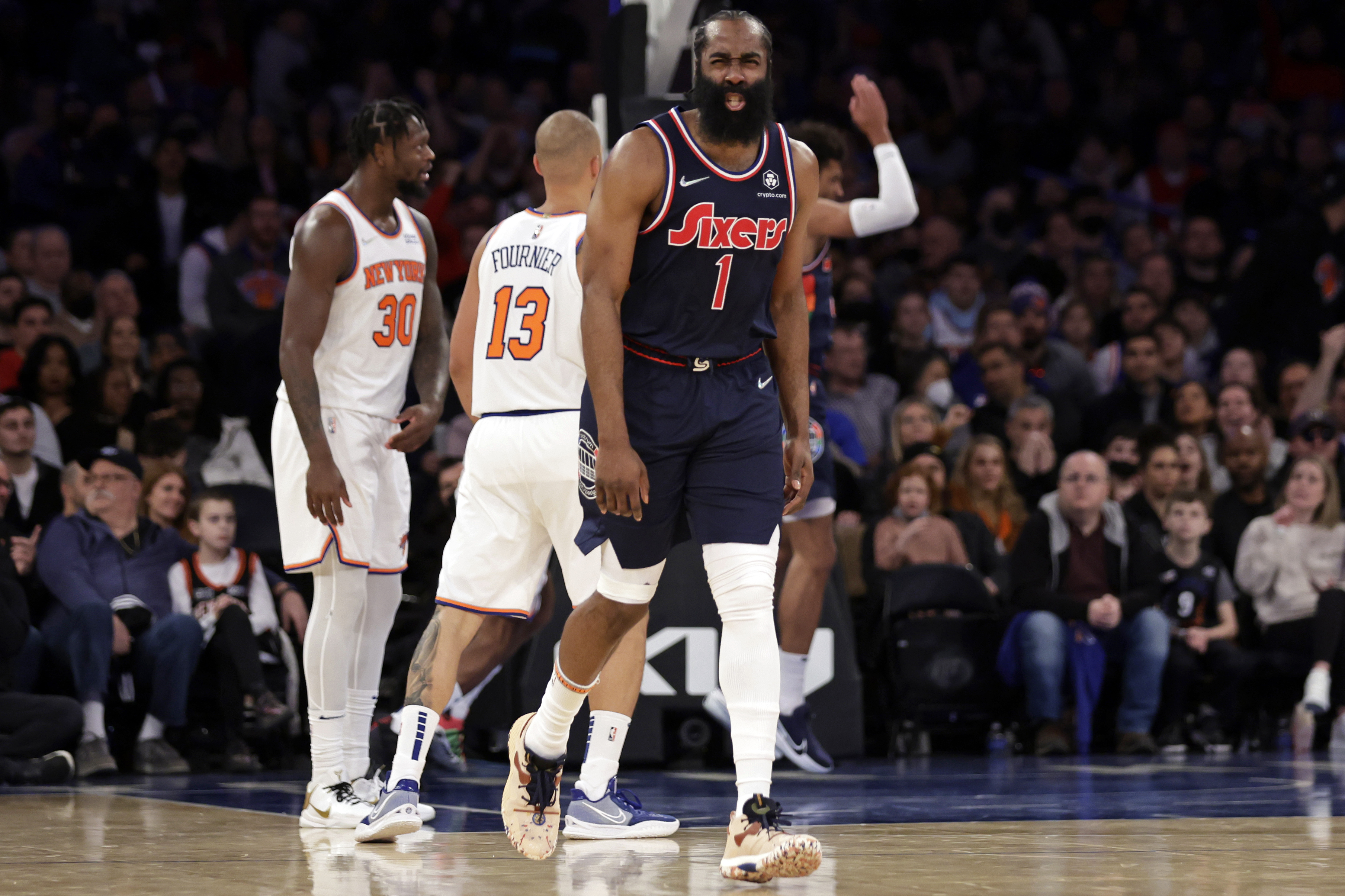 A hamstring injury plagued James Harden at the end of his Nets tenure, but he looks and feels healthy with his 76ers career underway.
The Beard, who missed eight games before his Sixers debut on Friday, acknowledged (h/t ESPN's Tim Bontemps) that his conditioning needs some work. However, he also added that he feels as good as he has in "a long time."
Indeed, Harden's explosiveness on the ball and getting to the rim pay huge dividends for the 76ers, especially considering Embiid's proficiency for hunting contact around the bucket. The two combined for 37 free-throw attempts (Embiid had 27 of his own) on Sunday, more than the Knicks had in the entire game.
That kind of style might not appeal to all NBA fans. From a basketball perspective, however, it makes Philly all the more difficult to guard when opponents have to worry about a healthy Harden and Embiid working downhill off pick-and-roll sets.
If Harden is this happy and healthy, the sky is the limit for the 76ers. The Beard has already made franchise history. Can he make some more and help Philly lift the Larry O'Brien Trophy in June?
Stats courtesy of Basketball Reference unless otherwise noted.
RELATED: 76ers Rumors: Joel Embiid Wanted Philly to Trade for Bradley Beal Instead of James Harden