James Harden's Reported Treatment of Kevin Durant Should Be a Concerning Red Flag for Joel Embiid
James Harden failed with Kevin Durant on the Brooklyn Nets. His treatment of his fellow superstar should actually be a concern for his new 76ers teammate, Joel Embiid.
Just last year, it looked like the Brooklyn Nets' new super team had a chance to dominate the NBA for seasons to come.
But James Harden ensured it wouldn't happen.
After playing in 89 total games (regular season and playoffs) with the Nets across two seasons, Harden essentially forced his way out of Brooklyn and got a trade to the Philadelphia 76ers.
The move, though, meant The Beard went back on his word. He broke his reported promise to Kevin Durant.
James Harden had a failed stint with Kevin Durant and the Brooklyn Nets
There appeared to be numerous reasons for James Harden's departure from the Nets. He had to carry the load at times this season when Kevin Durant was injured. Kyrie Irving's refusal to get the COVID-19 vaccine also likely made things frustrating, given that Irving missed the first two months of the year and then only played part of the time once he finally returned.
However, no matter who was at fault for Harden's decision to leave, just one word can summarize his time with the Nets: failure.
Brooklyn acquired the three-time scoring champ from the Houston Rockets last season to compete for titles, but the Big Three didn't even come close to winning a championship together.
They only appeared in one postseason with each other, and injuries to Harden and Irving resulted in them losing in the Eastern Conference semifinals. The Beard's unhappiness then kept them from being able to run it back this year.
He eventually went to the Philadelphia 76ers via trade while Ben Simmons went to the Nets. The move took place just 13 months after he forced his way off the Houston Rockets so he could team up with Durant and Irving in Brooklyn.
James reportedly told KD he planned to re-sign with the Nets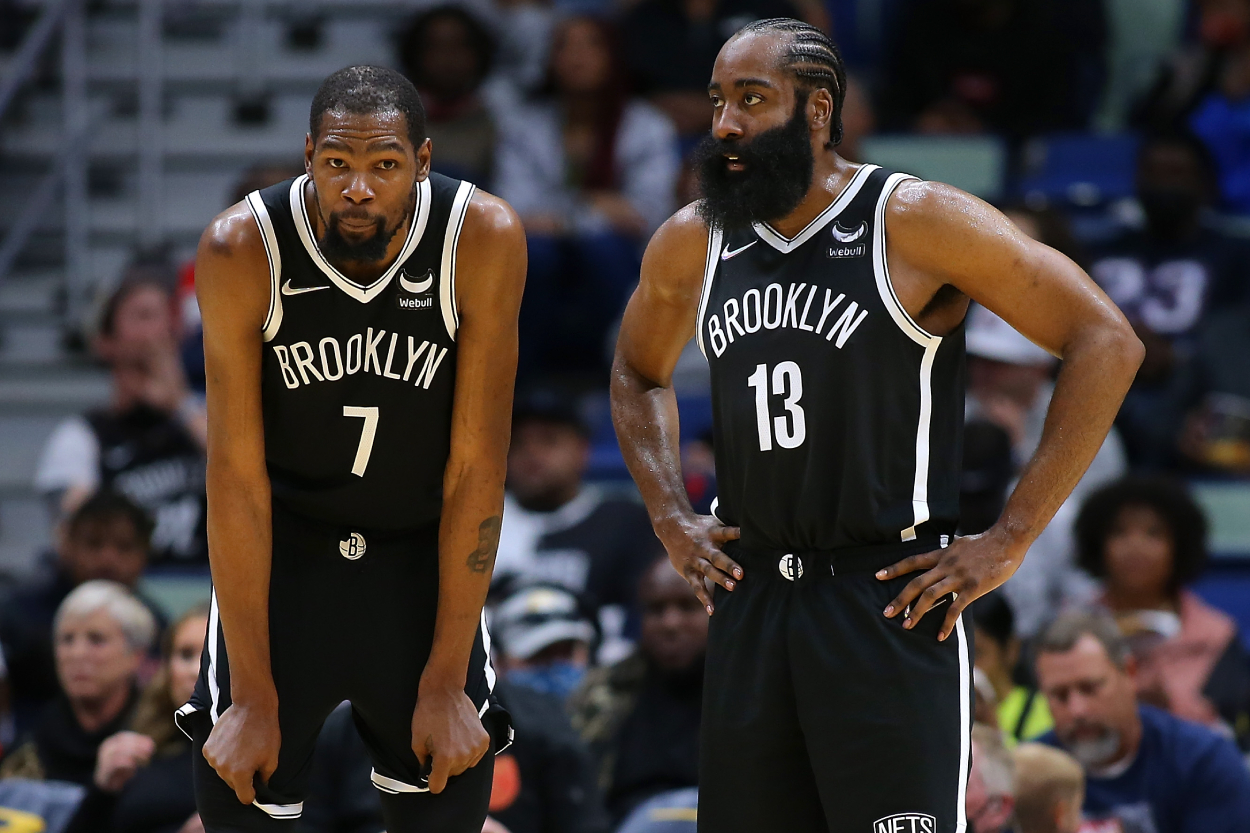 The Nets wanted to win titles with the Big Three, but James Harden's unknown future was always a dark cloud hanging over them.
Harden's contract has a player option for the 2022-23 season. So, he can opt-out and become an unrestricted free agent this summer if he wants. He would have had the same opportunity had he stayed with the Nets.
So, Brooklyn's title window essentially had an expiration date.
But Harden reportedly told Durant that he had planned to sign an extension with the team.
"Durant's relationship with Harden began to blossom again," The Ringer's Logan Murdock wrote of Harden's Nets tenure. "They went on a trip to Greece this past summer, and the guard twice reassured Durant that he'd sign an extension to stay in Brooklyn long term, according to league sources."
Harden never signed that extension. Instead, he forced his way to the 76ers.
Joel Embiid should be concerned about James Harden's dedication to the 76ers
Winning a championship isn't easy. James Harden learned that with the Rockets. He failed to win a title throughout his nine seasons in Houston.
That's why no one could blame him for leaving. He gave it all he had for nearly a decade.
But where has that dedication been since then?
Harden, Kevin Durant, and Kyrie Irving teamed up to win rings together. KD and Irving likely thought Harden was in it for the long haul. As soon as things got tough, though, he wanted out.
So, what will Harden do if he and Joel Embiid don't win a championship?
Embiid has already dealt with a star teammate not being all-in in Ben Simmons. If he can't figure things out with Harden this season, he may have to deal with it again. 
Let's not forget about that player option, either. Harden has said he plans to opt-in (which would likely be best financially), but the guard reportedly told Durant he intended to sign an extension in Brooklyn and didn't. How good is his word at this point?
All in all, James Harden and Joel Embiid have as good a chance as anyone to win this year's NBA championship. If they don't, though, Embiid should be concerned about Harden's future in Philly.