James Harden Says the Rockets Are the Best in History in 1 Category
Going into the NBA season, the reunited partnership of James Harden and Russell Westbrook on the Houston Rockets was one of the more intriguing storylines in an offseason that was filled with them. While the Rockets' season may still be a question mark until the team can prove that they can make it in the postseason, one aspect of the team is undeniably better than almost any other team, and it has nothing to do with dribbling a basketball.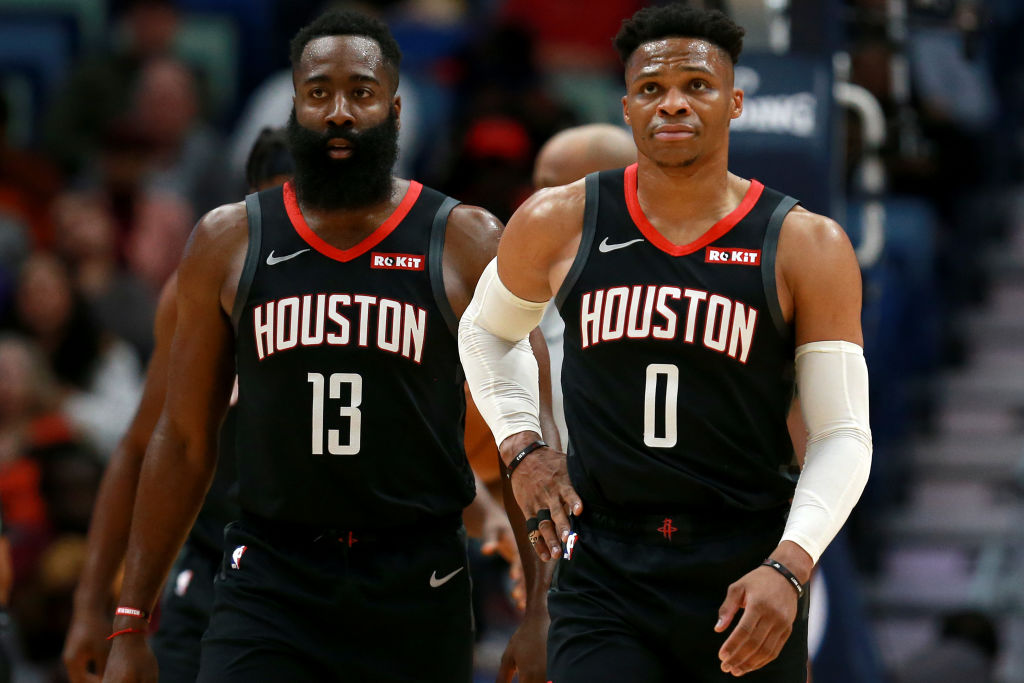 Harden is not the most humble player in the NBA, but what he recently said about his team may not be all that controversial.
What did James Harden say?
The NBA is increasingly attached to the world of fashion, and James Harden and Westbrook are a major part of the league's GQ-friendly image. Harden spoke to the magazine about not only his fashion but the fashion of his team as they entered the 2019-20 season. During that interview, Harden was very candid about his thoughts on fashion both regarding himself and to the league in general. 
"We got a nice roster of guys who love to dress and look good," Harden said. "The tunnel is going to be like a real fashion-show runway, so we're going to have to figure out a way to get some music down there. But everybody is going to look good in their way, and that's why it's so dope."
The interviewer went on to ask if Harden believes that the Rockets are the best-dressed team in the NBA, to which he answered bluntly, "We might have the best-dressed team in the history of sports."
It might be a bold claim, but with him, Westbrook, and even players like PJ Tucker and Tyson Chandler have all shown a penchant for fashion, with Harden's aesthetic being especially flashy.
The Rockets' fashion
When speaking about his fashion, James Harden tends to use a lot of colors that make him stick out. This even applies to the colorways on his signature shoes, which he says have been on his mind since he was a kid. 
"I think that's what makes the shoes cool," Harden said. "It gets attention, and it gets the kids wearing the shoes. I remember in AAU, if you had the bright shoes, you stood out and you were the cool kid. So that was my inspiration. At this point, you got to be creative, show the world what you're about."
Westbrook's fashion is all over the place. One day, he may look like a construction worker heading into the game, the next he may go as a photographer. From suits without an undershirt to fashionable jackets, Westbrook takes pride in having a weird sense of fashion that almost always works.
Tucker, like Harden, shows up with very colorful outfits, including a dark, tree-print jumpsuit that he wore to opening night. Chandler, on the other hand, is a man with many hates — literally. He is often seen with a brimmed hat along with tailored suits or dress shirts with salmon-colored pants. Harden wasn't lying when he said the team is fashionable, but they will have some competition across the league.
The NBA's fashion
Gone in the NBA are the baggy shorts and jerseys of the Iverson days, and in are stylish get-ups that include suits, t-shirts, sweaters, turtlenecks, jackets, schoolboy outfits, and much, much more. Last season, GQ said that D'Angelo Russell was the most fashionable player in the NBA due to his eclectic variety of outfits.
Besides Russell, the team will have some competition from the always-fashionable LeBron James and Chris Paul. Fashion is huge across the NBA, and while it used to be about wearing what they would out in the streets, now players dress for a red carpet or photoshoot. The Rockets may or may not have the most fashionable team in sports, but they make a good case.
Just like the league, every player seems to have a unique sense of fashion on display each time they enter an arena, and every walk from the runway is more like a runway than a sporting venue. So James Harden better stay on top of his game, if he wants the Rockets to stay fashionable.