James Harden Sends a Scary Message to the NBA After Dominant Tour of LA: 'That's Over With'
Fans and pundits made quite a bit of Brooklyn Nets star James Harden's early-season struggles. Heck, even The Beard himself expressed doubts about his role, resulting in vehement criticisms from Charles Barkley.
But it's abundantly clear that Harden has found his groove.
After missing four games in health and safety protocols, Harden returned to the Nets rotation for a Christmas Day showdown against the Los Angeles Lakers. He looked like the all-world talent of old in wins over the Lakers and LA Clippers. He also sounds like the supremely confident Harden of years past.
James Harden put together dominant performances against the Lakers and Clippers
James Harden led a Kevin Durant-less Nets team to a pair of big wins in LA. He did so with consecutive spectacular performances.
The Beard had a triple-double against the Lakers on Christmas Day, scoring 36 points with 10 rebounds and 10 assists. Most importantly, he stayed on the offensive all game long, earning 17 free-throw attempts. The aggressiveness paid dividends, as a shorthanded Nets squad overpowered the Lakers.
Harden looked weary at the end of the contest. He went 0-of-5 from the field and committed three turnovers. Still, he got much-needed scoring help from unheralded guard Patty Mills and made a pair of massive free throws down the stretch to seal the victory for Brooklyn.
The 31-year-old took things up a notch against the Clippers. Harden matched his season-high with 39 points on 15-of-25 shooting, also tallying 15 dimes and eight boards. According to Basketball Reference's Game Score metric, it was his best performance of the season.
However, the on-court excellence almost pales in comparison to The Beard's postgame comments.
Harden declared his prior struggles over
Harden made one thing clear after Monday's win over the Clippers: He is no longer dwelling on his struggles through the first third of the season.
The three-time scoring champion exuded positive energy during his postgame press conference. He suggested )h/t ESPN) that the poor showings are in the past.
"Yeah, that's over with. That's over with."

–James Harden on his early-season struggles, per ESPN
The Beard said he zeroed in on his body during health and safety protocols, including eating healthier and ensuring he worked out whenever possible. That commitment seems to have made all the difference.
But Harden didn't just speak about himself. He went on to say the team's morale is as high as ever and said Brooklyn will be rolling once it gets back to full strength.
"Confidence is through the roof. "Now just you add KD, and Kai, and LaMarcus and Joe Harris [out after ankle surgery], and that's four of our best players, four of our top players that are out. Our confidence level for our bench and guys that are in the game is high."

–James Harden on the Nets' outlook, via ESPN
This sounds more like the preseason version of Harden, the one who claimed the Nets could run rampant on the rest of the NBA. That's inherently positive for Brooklyn.
The Nets need Harden to maintain his current level of confidence and aggression when Durant and Kyrie Irving return to the rotation.
Can Harden build on his current momentum?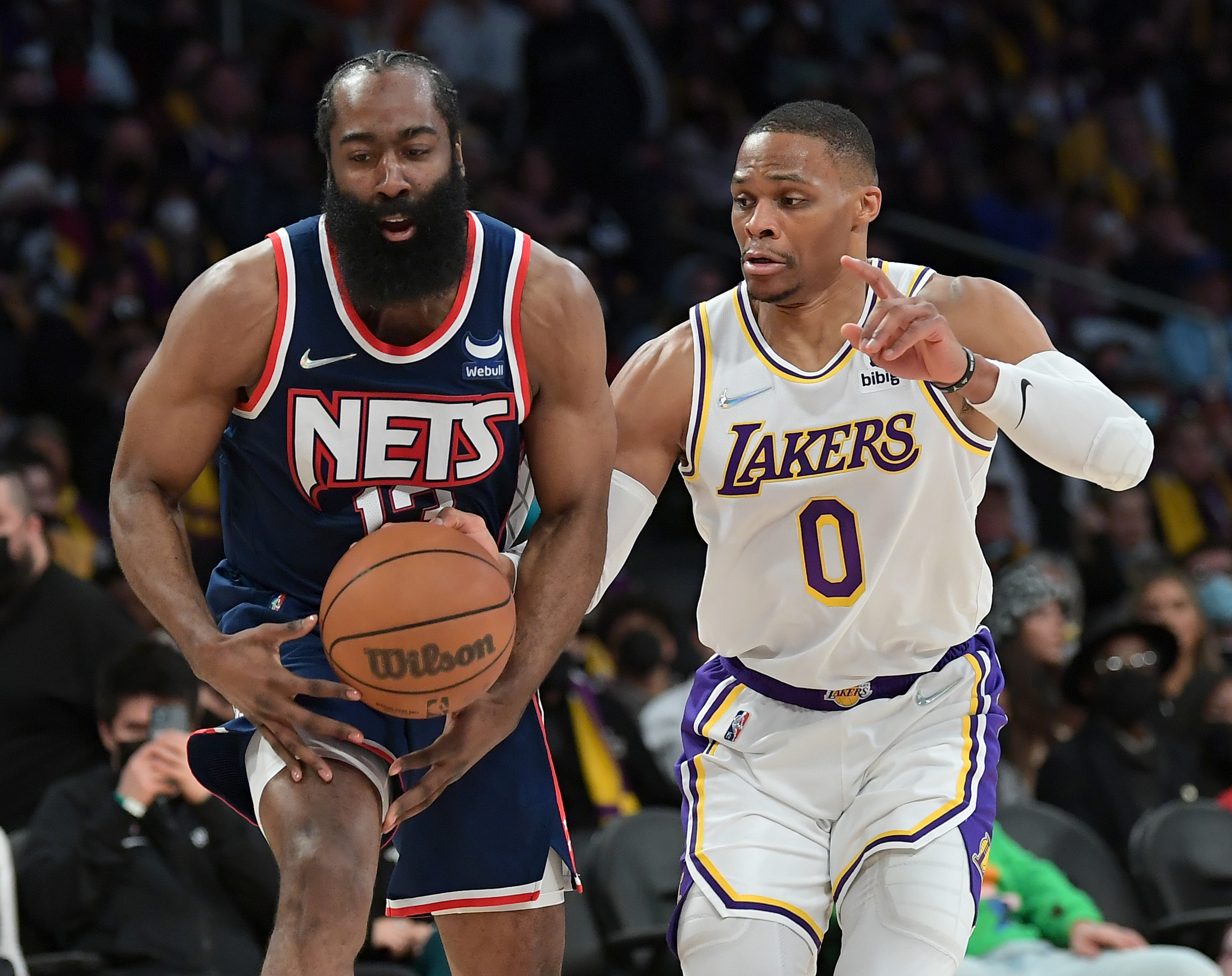 Skeptics might suggest that Harden's prolific outings only came in Durant's absence. For starters, he still had to go out there and perform after a two-week layoff. Additionally, The Beard has proven he can coexist with Durant and Irving on the floor.
Harden averaged 27.8 points, 10.6 assists, and 7.2 rebounds during Brooklyn's first-round win over the Boston Celtics in last season's playoffs. It's a smaller sample size, sure, but it shows that Harden is capable of putting up dominant numbers when sharing the floor with other members of the Nets' "Big 3."
Realistically, the Nets need Harden to be the most aggressive offensive player. Durant carried Brooklyn through the early part of the season, but he also played heavy minutes for a guy whose return from an Achilles injury still feels fairly fresh. Moreover, Irving needs time to get acclimated to game speed. Those factors are conducive to Harden's need to have the ball in his hands and build confidence.
Maybe Harden simply needed to hit the reset button. He is carrying himself like the superstar of old. The question will be whether he remains intent on asserting his will when Durant and Irving rejoin the squad.
Stats courtesy of Basketball Reference.