James Harden and Steve Nash, Not Kevin Durant, Are the Real Dynamic Duo for the Brooklyn Nets: 'We Are Twins. We're Just Different Colors'
When James Harden was traded to the Brooklyn Nets last season, jaws dropped across the basketball world. Then once those jaws came back up, questions started to pile up. Would Harden be able to play alongside Kevin Durant and Kyrie Irving? How will he get along with head coach Steve Nash?
While the first question is still a work in progress, the relationship between Harden and Nash has flourished. A big reason why is because the former MVPs have many characteristics that unite them.
James Harden and Steve Nash were both new to Brooklyn
After months of trade speculation and endless drama, the Houston Rockets finally caved. On January 14, 2021, the Rockets shipped their franchise-star Harden to Brooklyn. While the move ushered in a rebuild for Houston, the Nets were going all in, adding the Beard to a team already stacked with All-Stars Durant and Irving.
Being the new person in town isn't always easy. Especially when you go from shouldering the load to sharing responsibilities with two other stars who need the ball in their hands. But Harden was able to get acclimated quickly with help from Nash.
The 47-year-old Hall of Famer was hired as the Nets' head coach just over four months before the Harden deal. It wasn't just Nash's first head coaching job in the NBA; it was his first coaching job in basketball. So as a fellow "new guy", the coach immediately formed a bond with his newest star player.
"I just quickly gravitated to the type of person he is," Nash told The Athletic. "He has a great passion for the game. He works extremely hard. He's dead serious about the game, but he also enjoys it, has fun, so that's the type of person that I have a lot of time for. That's the way I was."
As Harden and Nash spent more time together, the more and more apparent it became how much these two really have in common.
Harden and Nash are incredibly alike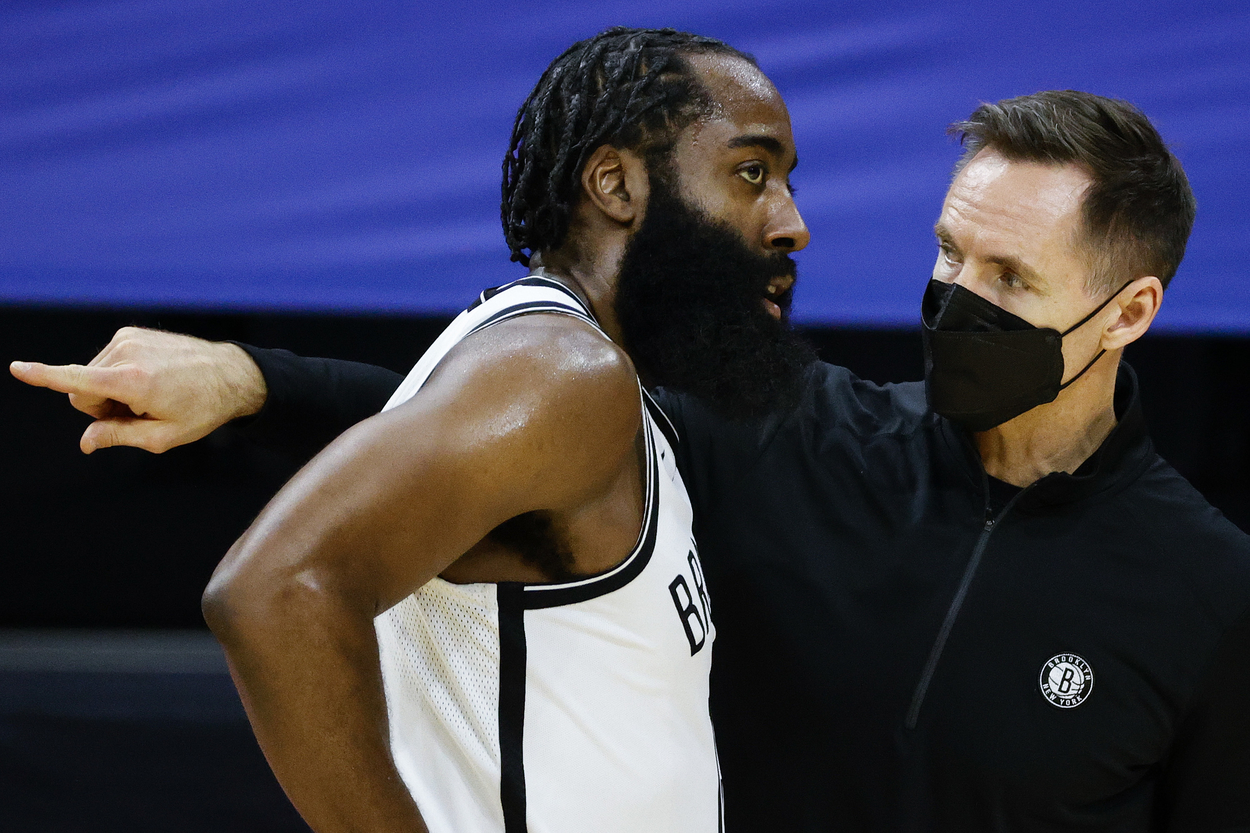 Watching Harden on the Nets, you could see his playmaking ability at work. The 32-year-old averaged 10.9 assists in 36 games with Brooklyn, giving him two seasons with 10 or more assists per game. Nash of all people can appreciate that, as the two-time MVP has seven such seasons.
"When he has the ball in his hand, he's surveying the floor, I feel like I see what he sees," Nash said. "I can definitely relate to his game; we're different players, but that aspect, the playmaking, making your teammates better, getting guys opportunities to thrive, we definitely share that as part of our game."
That's far from the only thing they share, however. Harden became an elite playmaker in Houston under Mike D'Antoni, the same coach who helped turn Nash into an MVP with the Phoenix Suns. While Nash was dazzling in Phoenix, Harden was in nearby Tempe at Arizona State. And while both were perennial MVP candidates on championship-caliber teams, both came up short.
"The similarities are that they're two unbelievable talents," D'Antoni said. "They're the best at the game, they're some of the best who ever played that position and best have ever played."
"We are twins," Harden said. "We're just different colors."
The Brooklyn Nets could give Steve Nash and James Harden their first titles
After coming up short last season in a second-round loss to the Milwaukee Bucks, the Nets are heavily expected to contend for the title. It would be the franchise's first in the NBA and third overall, with a pair of ABA championships in 1974 and 1976.
While everyone on the Nets shares a desire to win that elusive championship, it's even greater for Harden and Nash. Durant has two rings from the Golden State Warriors, while Irving has a title with the Cleveland Cavaliers. But neither Harden nor Nash can call themselves champions, with the only Finals appearance between the two coming from Harden and the Oklahoma City Thunder in 2012.
The Nets enter the season with no Irving for the foreseeable future, making Harden the unquestioned playmaker in Brooklyn. That means more than ever, Harden will have to absorb as much as he can from his coach, one of the greatest passers of all time.
"[Nash] sees the game at a different level," Harden said. "He just has that constant communication with me like I know you saw this, but maybe look at this next time. … Ultimately, that's going to better our team."
Durant and Harden will be looked at as Brooklyn's biggest duo during games. But on the bench, in practice, during film sessions, and everywhere else, it's Nash who will be Harden's partner as the two aim to deliver a championship to NYC.
All statistics courtesy of Basketball Reference.
RELATED: LaMarcus Aldridge Was Motivated to Come out of Retirement After Watching the Brooklyn Nets Lose Without Him: 'It Was Just Tough to Watch [Them] Because I Knew I Could Help'