James Harden's Early Struggles Spotlight How the NBA Blew a Slam-Dunk Opportunity to Separate Itself from the NFL's Gigantic Shadow
After the Brooklyn Nets lost to the Miami Heat on Oct. 27, James Harden talked about his struggles. Harden is averaging 16.6 points per game on 35.9% shooting. He's hitting only 33.3% from 3-point range, and he's attempted 15 free throws in five games. The scoring average is his lowest since 2010–11. The shooting numbers are career lows, and the last time he attempted fewer than 5.0 free throws per game was also in 2010–11. In his estimation, the NBA's shortened offseason directly impacts Harden's dreadful start.
The Nets played their last game on June 19. Training camps opened per their usual schedule at the end of September. After missing half the regular season and three playoff games with a hamstring injury, Harden claims his slow start is directly related to the brief offseason. The NBA had a chance to change that. But instead, the league punted in favor of the dreaded "way we've always done things."
James Harden and his hamstring rehab limited his offseason preparation
After another dismal performance against the Heat, James Harden talked about his struggles. He scored 14 points — his third straight game with 15 or less — on 4-of-12 shooting.
Per a tweet from Matt Brooks of Nets Daily, Harden said his problems are a direct result of the compact offseason:
"As much as I want to get back to 30s and 40s points, I can't do that. As much as I want to, as much as I would love to, I didn't have any opportunities to play pickup. It was all rehab."

James Harden
On ESPN's NBA Countdown after the game, Stephen A. Smith called out Harden's conditioning. Smith went so far as to refer to Harden being "puffy." Jalen Rose piled on, citing NBA's advanced statistics indicating Harden is the slowest-moving player in the NBA this season.
Hamstrings are notoriously slow to heal, at least entirely. If Harden had spent the necessary time rehabilitating the injury, it wouldn't have left a lot of sessions to play basketball. If he's not in game shape, Harden has a point when he says his preparation for the season was limited.
The NBA could have done something bold after one shortened offseason between the Orlando bubble and the start of the 2020–21 season. Instead, it chose to retreat to safe ground. That retreat necessitated another withdrawal by the league.
The NBA is abandoning Thursday nights until after the New Year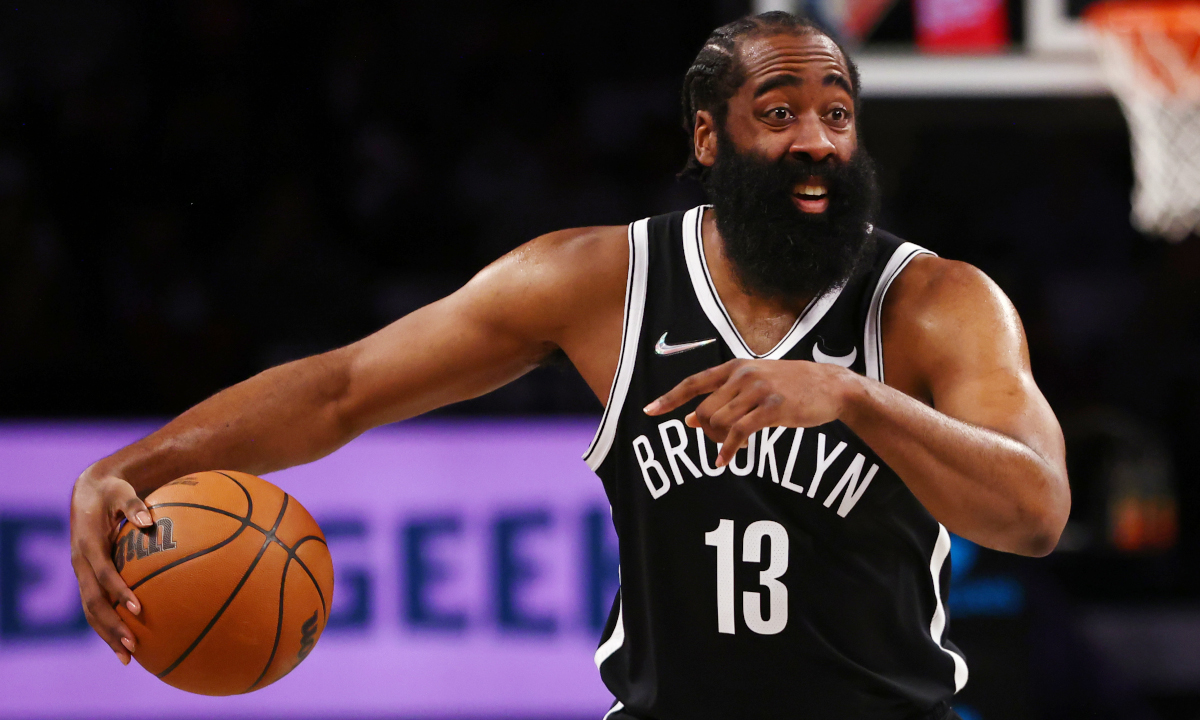 Fans of TNT's coverage of the NBA were shocked to learn that the network's usual Tuesday and Thursday night coverage won't happen until January 2022. So you won't see James Harden, or anyone else in the NBA, on nationally televised games (and no, NBA TV doesn't count) until after the calendar turns.
After broadcasting during the opening week, TNT shelved its Thursday night coverage until after the New Year. The reason? Going head-to-head with the NFL on Thursday nights is a losing proposition.
In August, NBA executive Tom Carelli told Howard Beck on The Crossover podcast that the move was by design.
"We've been speaking with Turner for a long time about does it makes sense — because we only do one doubleheader a week in the fall on Turner — and are we better off staying on Thursdays, or are we better off taking an opportunity to try to move to Tuesdays and have less competition?" Carelli said.
Last season didn't start until Christmas week. There was no need for Thursday night avoidance maneuvers. But rather than learning from that, the NBA returned to its traditional league calendar for 2021–22. But why is October to June carved in stone?
Casual NBA fans don't start paying attention until Christmas anyway
Much is said and written about the so-called casual fans that every sports league tries to capture. For the NBA, casual fans believe the season doesn't really start until Christmas. The NBA goes all-out to program marquee matchups on the holiday. College football has mostly abandoned Christmas, and the NFL rarely plays on that date.
The 2020–21 NBA season ended on July 20 when the Milwaukee Bucks closed out the Phoenix Suns in Game 6 of the NBA Finals. July 22 was as late as the Finals would have gone.
The NBA had a chance to take control of its calendar. Pushing training camp back to late November and opening the season around Christmas would have opened the door for a December-to-August slate. The NBA Draft traditionally happens a week or so after the Finals. Then comes free agency, Summer League, and some needed downtime.
That is the time when players such as James Harden can get healthy, when they go to the lab and work on their skills; when they play pickup so they can be game-ready come training camp. The only reason the NBA season starts in October is that the first one did. Then the one after that, and the one after that, ad nauseum.
The only reason the NBA must fight with the NFL for attention during its first 12 weeks is by choice. Once again, for emphasis: The NBA chooses to. The league can talk all it wants to about gimmicks such as in-season tournaments or more changes to the lottery to prevent systemic tanking.
But given a chance to do something bold and redefine its space on the national sports calendar, the NBA choked. And why? Because starting in October is the way it's always been done. Think for a moment how many failed ventures could write that phrase as their epitaph.
Statistics courtesy of Basketball Reference.
RELATED: James Harden Sends a Reassuring Message to Nets Fans After Curious $161 Million Offseason Decision: 'I Don't Plan on Leaving'