James Harden Trade: Daryl Morey's Desperate Overpay Just Handed the Brooklyn Nets the Ammunition to Beat the Sixers En Route to Winning the East
It finally happened. The long-awaited James Harden-for-Ben Simmons trade between the Brooklyn Nets and Philadelphia 76ers is official.
Brooklyn got a relatively huge haul in exchange for a tanking Harden. It's apparent Philly general manager Daryl Morey was desperate to land his white whale — this was the trade he had been holding out for (pun intended) all along.
Well, he got what he wanted. But did he give up too much in the process? (Pun intended again.)
The Nets and Sixers finally got the James Harden-Ben Simmons trade across the finish line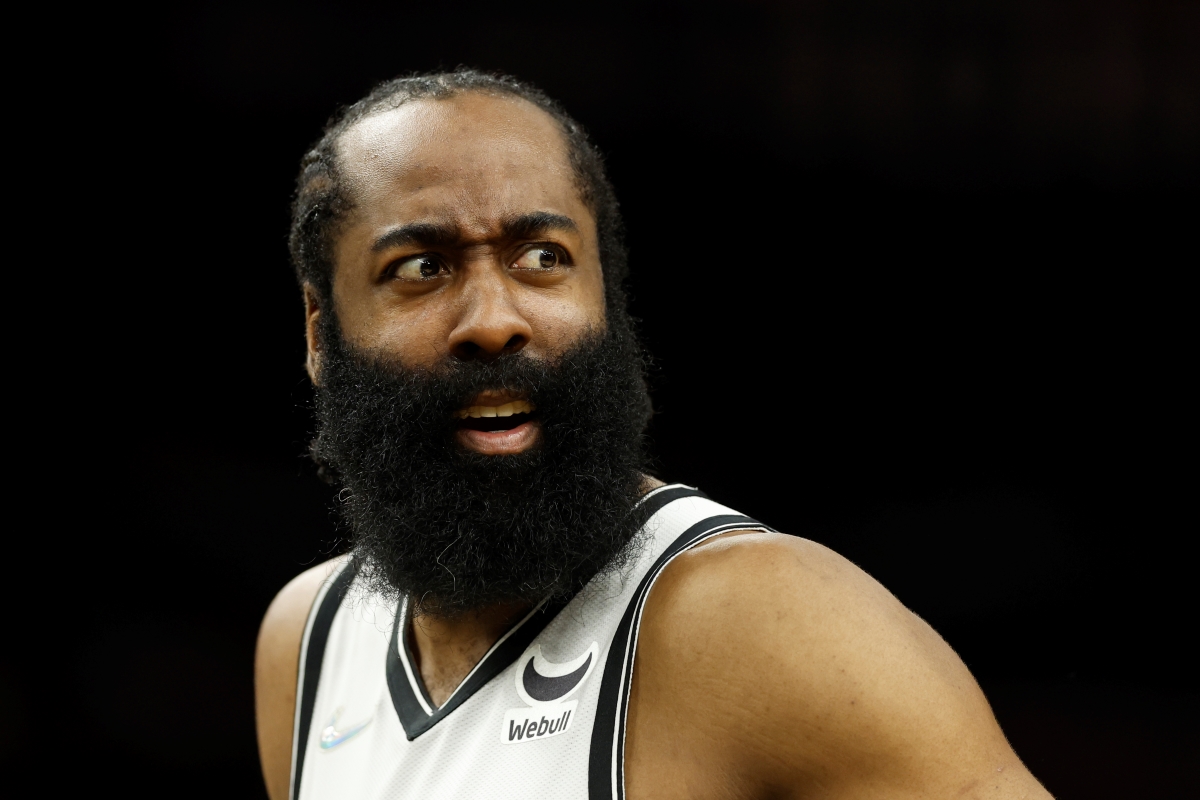 The Nets rid themselves of Harden in exchange for Simmons, Seth Curry, Andre Drummond, an unprotected first-round pick, and a protected first-rounder in 2027, per ESPN's Adrian Wojnarowski.
Plenty of posturing took place in the weeks leading up to the Feb. 10 trade deadline: The Sixers weren't willing to do a one-for-one deal. Brooklyn wanted one or more of Tyrese Maxey, Matisse Thybulle, or Curry. Each team wanted picks involved.
The deal kept creeping closer, but what a possible official trade would look like, or if it would even happen, remained uncertain.
In the end, there was a clear compromise — the 76ers got Harden but were able to keep both Maxey and Thybulle, and while the Nets couldn't land either of those two, they got Curry and three additional assets instead.
Presumably, Brooklyn's chance to send Harden packing and Philly's chance to end the Simmons saga was what each team wanted and the ancillary pieces were just crossing the t's and dotting the i's.
But Morey may have been too greedy in his pursuit of The Beard and sent the keys to the Eastern Conference along with his former franchise point guard.
Brooklyn now has a more balanced, logical roster with Simmons
The bright future of the Nets' Big Three — Harden, Kevin Durant, and Kyrie Irving — turned out to be just a shooting star. It was beautiful, but it disappeared in the blink of an eye.
The group was together for 15 months, played a total of 16 games together, won one playoff series, and finished with a record of 13-3.
Now that it's over, what does this Simmons-KD-Kyrie version look like?
First off, it's important to note that the former Philly star is done pouting and ready to get to work with his new teammates, according to YahooSports' Chris Haynes, who said Simmons "welcomes a change of scenery and has already had conversations with Kevin Durant."
One of the major pluses of this deal finally getting done is we get to address actual on-court basketball things. And through all the drama, the former rookie of the year's on-court skills have been underrated and forgotten.
Simmons is a long, athletic, 6-foot-11 point guard who's made three All-Star teams, two All-Defensive teams, and was an All-NBA player just two seasons ago. He's one of the league's best players and certainly one of its best defenders when he's on the floor.
This season, the most oft-used Nets lineup has been Durant, Harden, Blake Griffin, Joe Harris, and Bruce Brown. Harden's now gone, Harris could be out for the rest of the season with an injury, and Griffin looks completely washed.
Patty Mills, LaMarcus Aldridge, and De'Andre Bembry have been Brooklyn's most productive players — in terms of scoring, minutes, and games played — outside of that lineup.
The team headed into the deadline eighth in the East, riding a nine-game losing streak, and without Durant, who will likely be out at least the rest of February. But this trade should breathe new life into the Nets by default, and it sets them up for a much more balanced roster with the additions of Simmons and Drummond.
At full strength, Brooklyn could roll out a starting lineup of Simmons, Irving, Durant, Brown, and Curry. Ben and KD are big enough and good enough defenders to hold down the fort in the post and in switches, but substituting Drummond for either Brown or Curry is also an option if a traditional center is more useful that night.
Because of his vaccination status, Kyre is still only a part-time player. But by putting Ben in the James spot, Brooklyn doesn't go in the tank defensively like it has been.
Drummond is also a rebounding, shot-blocking, double-double machine that provides head coach Steve Nash with a center he hasn't had in Brooklyn. And Curry is one of the best three-point shooters in the league. He's averaged 40% from deep on almost six attempts per night this year.
Backing up Joel Embiid this year, Drummond has averages of 6.1 points, 8.8 rebounds, and 0.9 blocks. When he's more involved, however — he started 46 games last season between Cleveland and the Lakers — he averaged 14.9 points, 12.0 rebounds, 1.4 steals, and 1.1 blocks.
He'll see more minutes than he has with the Sixers and should produce closer to his 2020-21 level. Ditto for Curry, who should have more space to fire away as defenses key on Durant and Irving and Simmons powers his way to the basket.
To summarize: Simmons provides significantly more defensively than Harden did, will allow Durant and Irving to get more shots and shine brighter on offense, and can spell either of those two stars and run the show when needed.
He and Drummond should help a team that's 14th in the league in rebounding and 20th in scoring defense, while Curry will provide the offense with more than enough spacing (especially with Harris out).
It's a more balanced roster that meshes more easily and allows its stars and role players to play to their strengths.
The fight to win the Eastern Conference just got a whole lot more interesting
To be sure, the combination of Embiid and Harden in Philadelphia is going to be hard to stop. When he's fully engaged, The Beard has proven over the course of his career that he's one of the best scorers in NBA history.
Meanwhile, Embiid is having the best season of his life and has thrown himself firmly into the MVP conversation. Maxey and Thybulle are still around as well, which provides the Sixers with their own form of balance.
The defending champion Milwaukee Bucks, who made a move of their own at the deadline, are still lurking. The Miami Heat are first in the East standings, the Chicago Bulls have been near the top all season, and the Cleveland Cavaliers are gearing up for a deep playoff run themselves.
It's going to be a battle to get out of the East and reach the NBA Finals. But the Nets' newfound roster balance, courtesy of Morey and the 76ers, makes them even more of a threat than they were prior to Feb. 10.
All statistics courtesy of NBA.com.
RELATED: James Harden's Acquisition Signals to the Basketball World That the Philadelphia 76ers Are All-In to Win