James Harden, Trae Young Won't Be Happy if the NBA Follows Through on Latest Rumored Rule Change
It could be a tough adjustment in 2021–22 for players such as James Harden and Trae Young, who resort to methods most foul indeed to get themselves to the free-throw line more often than they should. There are reports the NBA plans to train officials to identify moves explicitly made to draw fouls.
The most recent information links to news reported in May 2021 that the NBA was considering a rules modification to identify better and define unnatural shooting motions. But the latest report appears to go much further in scope.
Free-throw attempts per team game went down slightly in 2020–21, from 23.1 in both 2018–19 and 2019–20 to 21.8 last season. But the nature of some fouls spurred debate about whether the NBA had a problem on its hands.
Unnatural movements are bad optics for the NBA
James Harden is one of the NBA's best (or worst) at manipulating the referees to call fouls his way. He can do it by throwing his arms up into the arm of a reaching defender who hasn't made contact. Harden is also notorious for getting favorable calls by hooking his arm around that of a defender.
Trae Young earned the wrath of Brooklyn Nets coach Steve Nash last season for one of his signature moves. It's not unusual for a point guard to blow by a defender looking to gain an advantage. With one defender eliminated from the mix, the point guard can then drive, pass, or combine each while the defense is rotating.
But Young added a twist. Once he has a defender in his rear-view mirror, Young has a habit of rapidly stopping or slowing, drawing the defensive player up his back as that defender tries to recover.
In 2019–20, Harden posted a top-20 all-time season for free-throw attempts per game, averaging 11.8 (18th in NBA history). Of the top 20 seasons, only three occurred in the 21st century. Besides Harden, Dwight Howard averaged 11.7 (19th on the list) in 2010–11, while Shaquille O'Neal averaged 13.1 attempts a game in 2000–01. However, the difference was that teams were trying to put Howard and O'Neal on the line because they were terrible free-throw shooters.
The criticism of Trae Young by Nash was particularly damning because Young is an admirer of Nash's game and worked together in the summer before Young's second NBA season in 2019–20. Former Atlanta Hawks coach Lloyd Pierce introduced the two. Pierce and Nash were collegiate teammates at Santa Clara University.
What moves are on the table?
According to Shams Charania of The Athletic, the NBA plans to teach its officials to identify non-basketball moves such as:
Players who throw themselves into defenders to draw contact.
Abrupt direction changes or stops by players designed to get into a defender's path.
Shooters kicking their legs out at odd angles. The NBA has already cracked down on kick-outs by shooters with the so-called "Reggie Miller rule" in 2012. Shooters adjusted by kicking at angles rather than directly forward.
Ball-handlers hooking defenders with their off-ball arm (yes, James Harden, we are looking at you here).
If the contact is marginal in the eyes of the official, it will be a no-call situation. However, offensive fouls result if an offensive player creates contact by abruptly interfering with the defender's natural path.
James Harden and Trae Young will adjust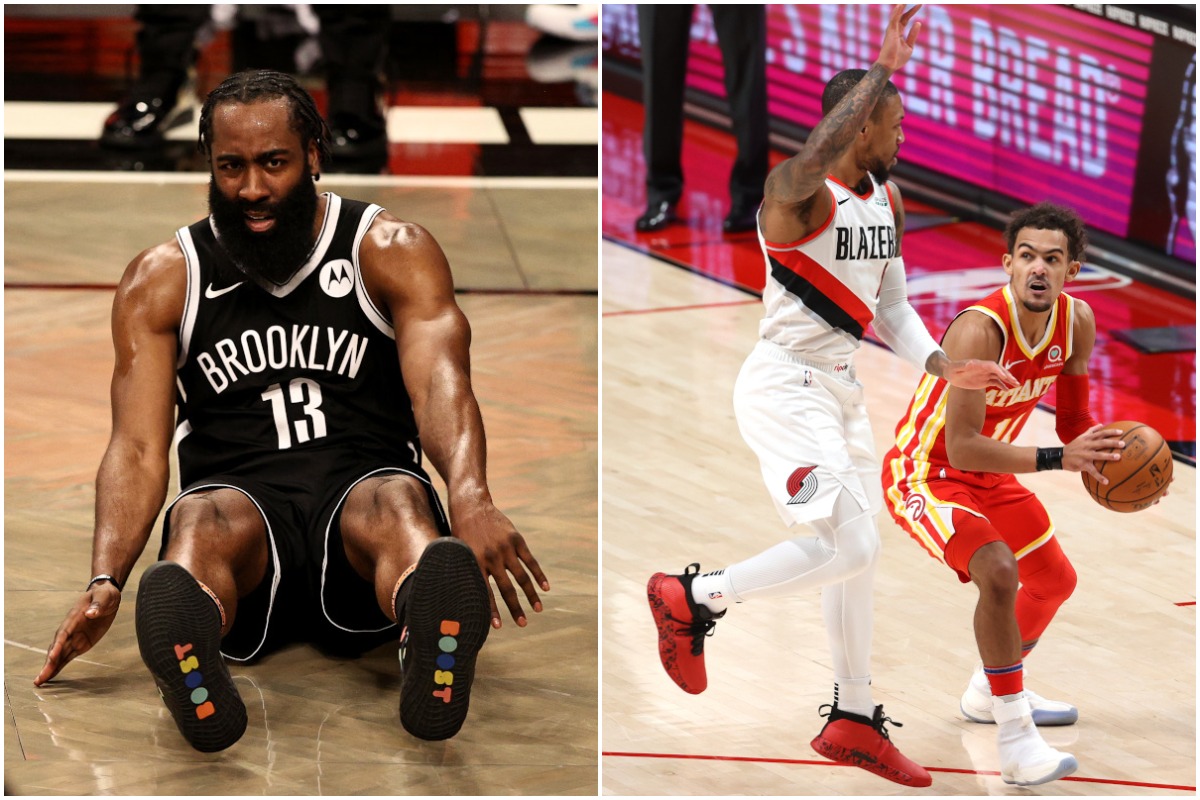 While one Twitter user made a swift (and not to scale) photo edit to show Trae Young driving a package-delivery truck after these rules take effect, that's not likely. James Harden similarly will not suddenly morph into a non-rotation player if some of his favorite paths to the foul line disappear.
Great players adjust to rules changes. They always have. When the lane's width was doubled from six feet to 12 in 1951 to take away from George Mikan's size advantage, Mikan adjusted. His scoring dipped a bit from 28.4 points per game to 23.8, but the Minneapolis Lakers still won the NBA championship.
In 1964, the NBA doubled down on the lane changes because of Wilt Chamberlain. And the 16-foot-wide lane showed him, too, because all he did was win his sixth consecutive scoring title, averaging 34.7 points per game. His field goal percentage did fall to a league-best 51.0%. Take that, vicious giant! Of course, he averaged two fewer points per game in one less minute of action. That could contribute to a statistical drop, as well.
Great players are great because they have the talent and skill to adapt. Otherwise, they'd be good players, and people wouldn't be as worked up about them gaming the rules.
Statistics courtesy of Basketball Reference and Stathead.