James Harden Wasn't Really Feeling This Year's NBA All-Star Game, and He Wasn't Alone
The NBA did their best to provide an entertaining All-Star Game this year despite the circumstances. Despite the high-scoring 170-150 final, not everyone was into it. Some of its own players, including Brooklyn Nets superstar James Harden, believe this year's game in Atlanta should not have gone ahead at all.
James Harden: 'This game was kind of forced'
RELATED: Damian Lillard Gets a Passionate Apology From ESPN's Stephen A. Smith: 'I Apologize, It's My Fault'
Ordinarily, it is a point of pride for NBA players to participate in All-Star Weekend. Only a small percentage of players ever get the chance each year, after all. Of course, this is no ordinary year.
While COVID-19 infection rates are trending downwards across the nation, our society is far from "back to normal". Indeed, it's uncertain when — or even if — it ever will be. The NBA, as every sports organization on the face of the earth, has been adversely affected by the pandemic. So far this season, there have been 31 games postponed thanks to COVID-19 outbreaks within team locker rooms.
Just before the game, James Harden criticized the NBA's decision to go ahead with the All-Star Game.
"I think, just in general, this All-Star game is kind of forced and thrown upon us," said Harden in a pre-game interview with ESPN. "We just have this one-day event, it's pretty tough. This entire season is tough. It's difficult. A lot of craziness has happened throughout the course of the year."
James Harden may have a point for once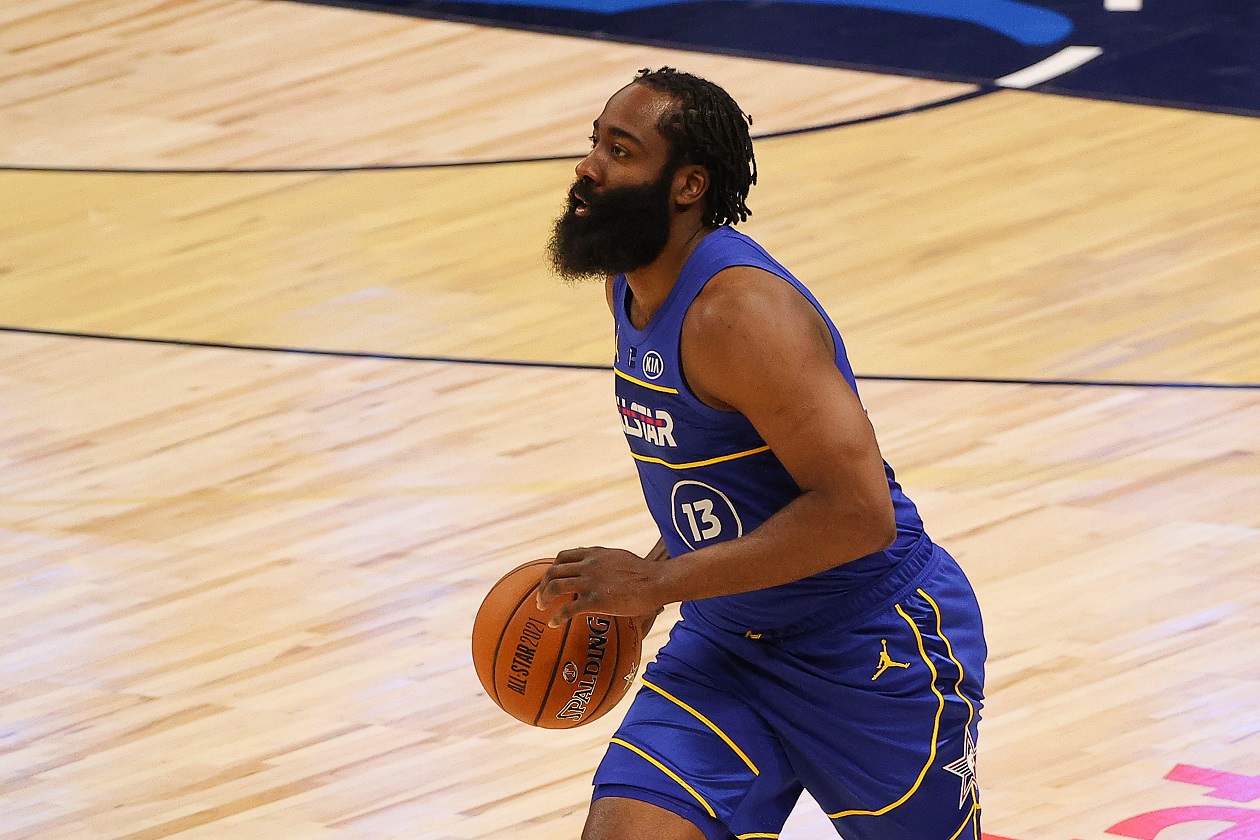 RELATED: Charles Barkley Once Threatened to 'Slap the Hell out' of Someone While Defending Ex-Friend Michael Jordan: 'I'm Going to Take My Chances With the Judicial System'
It's not a secret that James Harden has a bit of a reputation for being a whiner. He notoriously forced his way out of Houston earlier this season even though the Rockets organization practically bent to his will.
However, in this one instance, Harden may have a point. The All-Star Game and its other activities bring together players from across the league. If one player or coach brought the virus into the arena, he could unknowingly transmit it to the rest of the locker room. Those other players or coaches could go back to their teams after All-Star Weekend and transmit the virus to their teammates, creating a league-wide disaster.
Indeed, this scenario very nearly played out. Less than a day before the game, Philadelphia 76ers Joel Embiid and Ben Simmons were scratched from the line-up. Contact tracing revealed that they received haircuts from a barber in Philadelphia who later tested positive for COVID-19.
Not helping players' frustration is that the NBA initially cancelled this year's All-Star Game, which was to be held in Indianapolis. It wasn't until February 4th that the NBA un-cancelled the game and relocated it to Atlanta, which has relatively few COVID-19 protocols.
Harden is far from alone
James Harden is only one of the players who has taken issue with the NBA's decision to hold All-Star Weekend in the middle of a pandemic. Even the league's most prominent figure, LeBron James, expressed misgivings about going ahead with the event.
"Coming into this season, we were told that we were not having an All-Star Game, so we'd have a nice little break," James told ESPN in February. "And then they throw an All-Star Game on us like this and just breaks that all the way up. So, um, pretty much kind of a slap in the face."
De'Aaron Fox of the Sacramento Kings went even further.
"If I'm gonna be brutally honest, I think it's stupid," said Fox, per CBS Sports. "If we have to wear masks and do all this for a regular game, what's the point of bringing the All-Star Game back? But obviously, money makes the world go 'round, so it is what it is."
For Fox, the issue was moot, as he did not make the All-Star roster.