James Harden Won't Like the NBA Tinkering With Shooting Foul Definitions
It's a scene that has been on a loop over most of the last decade. James Harden initiates contact with a defender or somehow fakes his man into a compromised position. Then Harden, now with the Brooklyn Nets, leans into the defender to shoot, invariably drawing a foul on a shot that is, at best, unconventional. In eight seasons with the Houston Rockets from 2012–20, Harden averaged 10.4 free throw attempts per game. Many of those attempts sprung from plays that would have gotten him laughed off any asphalt court in America.
Harden is far from the lone practitioner of this performance art form. Trae Young of the Atlanta Hawks has earned his share of criticism for somehow getting to the free-throw line by initiating contact with a defender. As Harden's shot attempts have dipped since his trade to the Nets, his foul shots have also gone down. But that doesn't change the methodology behind many of the shooting fouls he can draw.
As the NBA tries to move forward from the pandemic period, it is looking at several factors related to the game's finances. But the Association is also looking at on-court issues that may have tipped the scales too far into the offense's favor.
Is the James Harden-type shooting action unnatural?
ESPN's Adrian Wojnarowski reported last week that the NBA is looking at modifying some aspects of gameplay, including unnatural shooting motions. James Harden is a polarizing player because fans either love or loathe how he can bait defenders (and referees) into fouls.
Cheap shooting fouls aren't a new topic. The debate about the issue is years old. In 2012, the NBA emphasized a rule unofficially known as the "Reggie Miller rule" that would cut down on shooters kicking out their legs on jump shots to create contact. While the blatant kick-out attempts are down, Harden and others found new ways to march to the foul line with great frequency.
One of Harden's signature moves is to take advantage of a defender reaching for the ball. Harden catches the defender putting out his arm by gathering and throwing up his arms in an exaggerated manner while attempting a "shot" (Harden does release the ball in the general direction of at least one of the rims).
Boston Celtics guard Marcus Smart, a master at convincing officials about offensive fouls committed against him, credits Harden for having that knack at the other end of the floor.
"He flops on offense just like I flop on defense," Smart told ESPN in 2018. "He's been in the league a long time, and he's built that reputation. It's hard to guard him knowing that, at any given moment, you can get called for a foul. He does a really good job of using his body and using the rules to his advantage."
Harden is not alone when it comes to manipulating defenders into infractions.
Trae Young plays like Harden's heir apparent
Atlanta Hawks star Trae Young made headlines early this season by shooting 66 free throws in Atlanta's first five games. Young has mastered a move with which he beats a defender off the dribble, then pulls up short as that defender tries to recover. The defender runs into Young's back while the Hawks' star gathers for a shot attempt (charitably). The whistle blows, and Young shoots a pair.
Harden's coach with the Brooklyn Nets, Hall of Famer Steve Nash, was vocal with his displeasure about Young's tactics. During a game in late December in a nearly empty Barclays Center, Nash yelled "that's not basketball" to an official after Young drew another foul.
Defenses wised up a bit against Young as the season progressed. He is averaging 8.7 free-throw attempts per game this season, down from the 9.3 free throws he took in 2019–20. Free-throw shooters as good as Harden (86.8% for his career) and Young (86.1%) are looking at using that ability to their advantage. But is it something another tweak to the rules can change?
Is there a solution to the James Harden problem?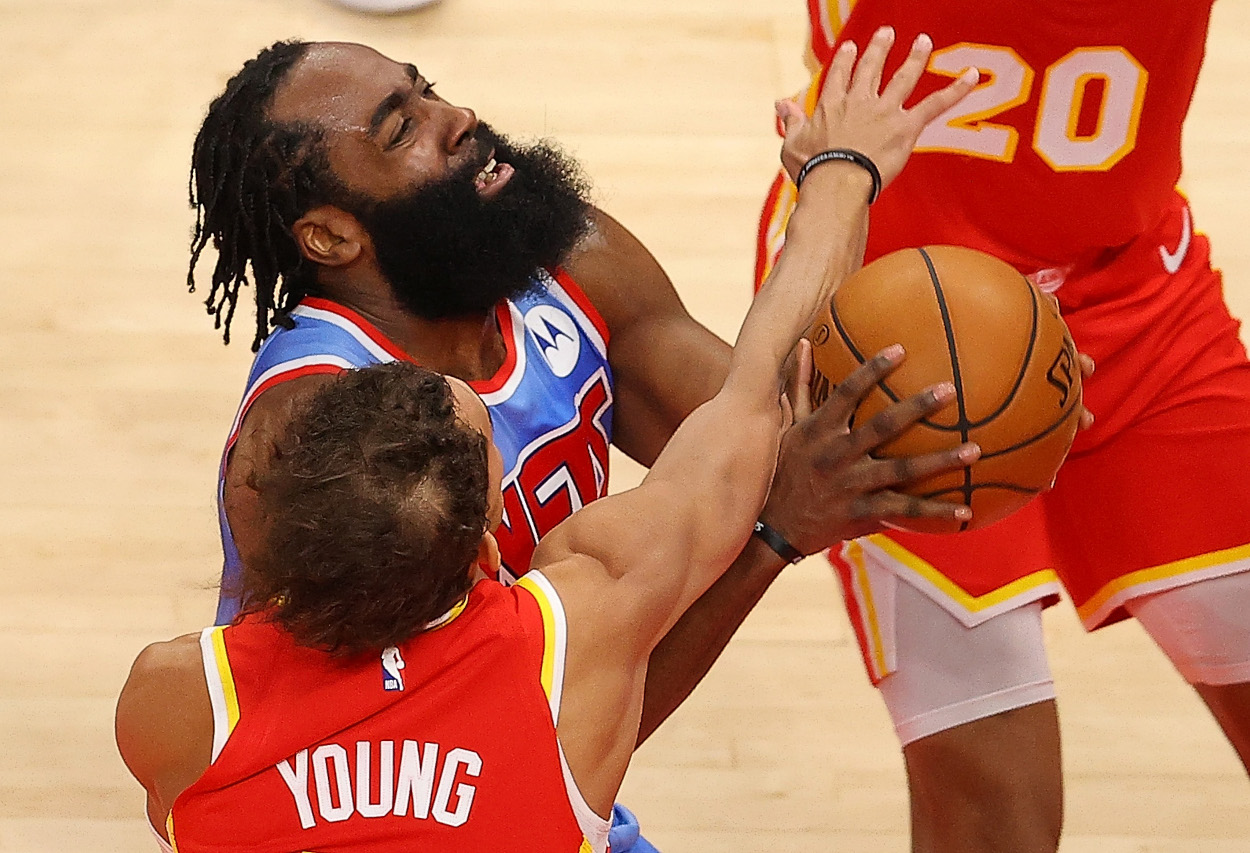 Fixing the perceived problem of players such as James Harden getting undeserved free throws isn't clear-cut. Zeroing in on the definition of a "natural shooting motion" is subjective. That definition will vary from referee to referee (much like baseball's elusive strike zone), and the odds of any rule change being enforced similarly from game to game are slim at best.
Harden has become a master manipulator, developing the art of appearing to be the victim when he is the offender. It doesn't seem likely changing the rules will change that fact. Instead, it's more likely to muddy the waters even more.
Statistical information courtesy of Basketball Reference.