James Harden's Adjustment Makes Him Harder to Guard and the Brooklyn Nets Even More Dynamic
The Brooklyn Nets trio of Kevin Durant, Kyrie Irving, and James Harden features enough dynamic firepower to make even the toughest of NBA defenses tremble in fear.
That superstar group has been even more potent of late — See: Brooklyn's recent demolition of the Chicago Bulls — because of a subtle adjustment that Harden has made to his game in recent weeks. The former NBA MVP, who was traded from Houston to Brooklyn a year ago today, made a recent fix that could potentially make the Nets even more offensively explosive and destined to win an NBA title this summer.
Brooklyn Nets guard James Harden needed time to adjust to the NBA's new rules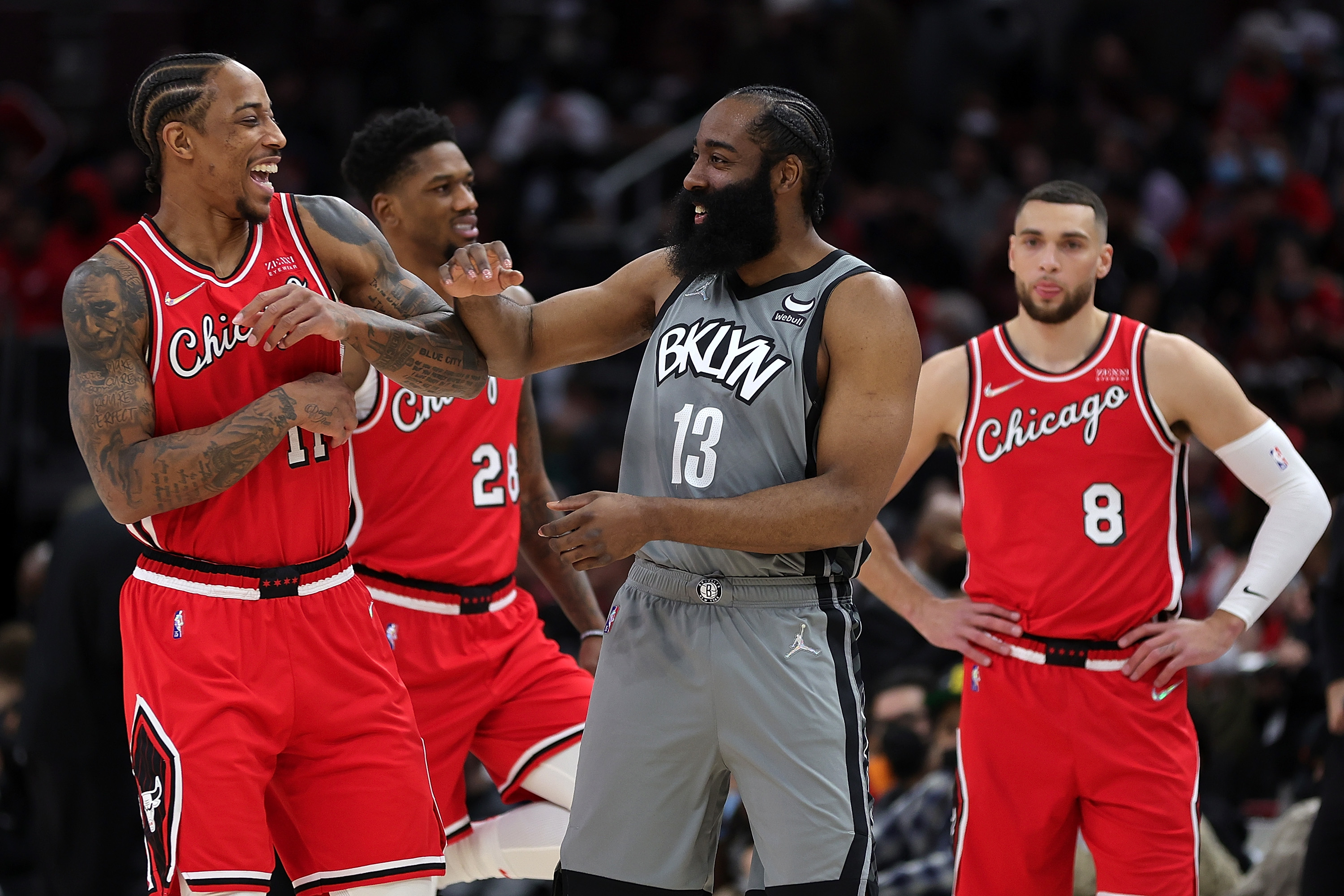 Much was made early in the season about the NBA's crackdown on players using "non-basketball moves" to create contact to get to the free throw line. Change is never easy, and in this instance, it led to a couple of new consequences in NBA games. In addition to the rules changes causing scoring to drop, there was plenty of complaining from top stars accustomed to getting the benefit of whistles in the past.
Brooklyn Nets star James Harden, who has been the NBA's gold standard for years in knowing how to create contact and get to the free throw line, had to feel somewhat targeted by the rule change. After all, he had been the NBA's leader in free throw makes and attempts per game every year from 2014-20.
Not surprisingly, Harden was impacted the most by the rules changes early in the season. He attempted just 5.3 free throws a game in October, and only 7.8 free throws in November — down dramatically from the career-most 11.8 free throw attempts a game he got during the 2019-20 season. The dropoff in free throw attempts not only caused his scoring production to dip to 10-year low levels (22.4 PPG in mid-December), but he also saw his 3-point shooting (33%) tumble and his turnover numbers (4.8) rise.
Once Harden adapted his game, his offensive production took off again for the Brooklyn Nets
Like all great players, Brooklyn Nets superstar guard James Harden made adjustments to his game to fit the NBA's new rules. That led to him once again putting up the kind of eye-popping production that previously made him the 2018 NBA MVP, a nine-time NBA All-Star, and a six-time All-NBA First-Team selection.
Over his last nine games, starting Brooklyn's beatdown of the LeBron James and the Los Angeles Lakers on Christmas Day, Harden has been on an individual tear offensively. He has scored 27.3 points, handed out 10.8 assists, and grabbed 8.4 rebounds over the last nine games. The up-and-down Nets are just 5-4 during that stretch and can blame Kyrie Irving for that inconsistency because his refusal to be vaccinated makes him unavailable for half the games.
A primary reason behind Harden's resurgence has been his nightly parade back to the free throw line. As crafty and intelligent as any top scorer in the game, Harden adjusted to the new rules and found different ways to initiate contact from overaggressive defenders. During this nine-game run, Harden is getting to the free throw line 10.1 times a night — a figure that closely resembles the double-digit free throw attempts he averaged each season between 2014-20.
With Harden getting to the free throw line more, Brooklyn's offense is unstoppable again
Look no further than what the Nets did to the Chicago Bulls on Wednesday night to see how much Harden can have on the Brooklyn offense.
When Harden scored 25 points, grabbed seven rebounds, and came one assist shy of his career high with 16, it allowed Brooklyn to throttle the East-leading Bulls, 138-112. Tied at 71 with 8 minutes remaining in the third quarter, Brooklyn went on an almost laughable 42-8 spree keyed by Harden's dazzling passing and playmaking.
The only debate was which Harden play was better: His double-team splitting pass between his legs to a cutter, or his no-look, behind-the-back pass to Blake Griffin for another dunk.
"We wanted to come out against a really good team that's been playing good basketball and execute and play good, and that's what we did," said Harden, who got to the free throw line eight times and buried them all, in his on-air interview with ESPN following the game.
While Durant is the most unstoppable offensive threat in the game, and Irving is an absolute wizard with the ball, it very well could be Harden, who is the driving force behind Brooklyn's offense. When he orchestrates the offense, all seems possible because of his ability to find shooters, masterfully operate pick-and-roll sets, and score by making shots or getting to the free throw line.
Opposing teams likely felt numb about what they saw on Wednesday in Chicago with the Nets thrashing the Bulls. The reemergence of Harden's ability to get to the free throw line makes Brooklyn even more challenging to guard than they were before.
With that being the case and Harden once again masterfully at the controls, Brooklyn very well could be the team to beat come playoff time. A lot can happen between now and then, as last season proved when Irving and Harden limped through the playoffs. However, if Brooklyn's offense continues to hum as it has of late, not even Milwaukee, Miami, Golden State, or Phoenix stand a chance of getting in the way of the Nets and their first NBA title.
All statistics are courtesy of ESPN.com.
RELATED: Kyrie Irving's Dazzling Return Just Provided a Glimpse at What the Peak Brooklyn Nets Could Look Like