James Harden's Selfishness Potentially Paved a Path to Dominance for a Random Team 400 Miles Away That He Has Never Played on
After spending over eight seasons with the organization, James Harden made it clear that he no longer wanted to be on the Houston Rockets. This led to him getting shipped to the Brooklyn Nets to team up with Kevin Durant and Kyrie Irving. Harden's selfishness ultimately got him exactly what he wanted — a ticket out of town — but it also paved a path to dominance for a team that he has absolutely nothing to do with: the Cleveland Cavaliers.
James Harden and the Houston Rockets had an ugly divorce
After spending the first three seasons of his career with the Oklahoma City Thunder, James Harden began playing for the Houston Rockets in 2012-13. He ultimately became a superstar, too.
Harden led the NBA in points per game in three consecutive seasons from 2017-18 through 2019-20 and scored as many as 36.1 in 2018-19. His stellar play with the Rockets also helped him win the 2017-18 NBA MVP award.
However, the Rockets consistently fell short in the playoffs. So, after their 2019-20 playoff loss, reports then surfaced that Harden had told Rockets ownership that he had wanted to go to the Brooklyn Nets.
Houston didn't trade Harden by the time that the season started, though, which backfired, as he wasn't present once practice began. Then, after he did show up and the Rockets started playing games, he ultimately struggled. Harden shot 34.7% from 3-point range in eight games — which would have been tied for the worst mark of his career — and only scored 24.8 points per game, which would have been his fewest since he played for the Thunder.
The breaking point then came after a Rockets' loss to the LA Lakers, as he made some eyebrow-raising comments.
"We're just not good enough," he said, according to USA Today's Rockets Wire. "Obviously chemistry, talent-wise, just…  everything. It was clear. … I love this city. I've literally done everything I can. This situation is crazy. It's something that, I don't think it can be fixed."
The Rockets traded him to the Brooklyn Nets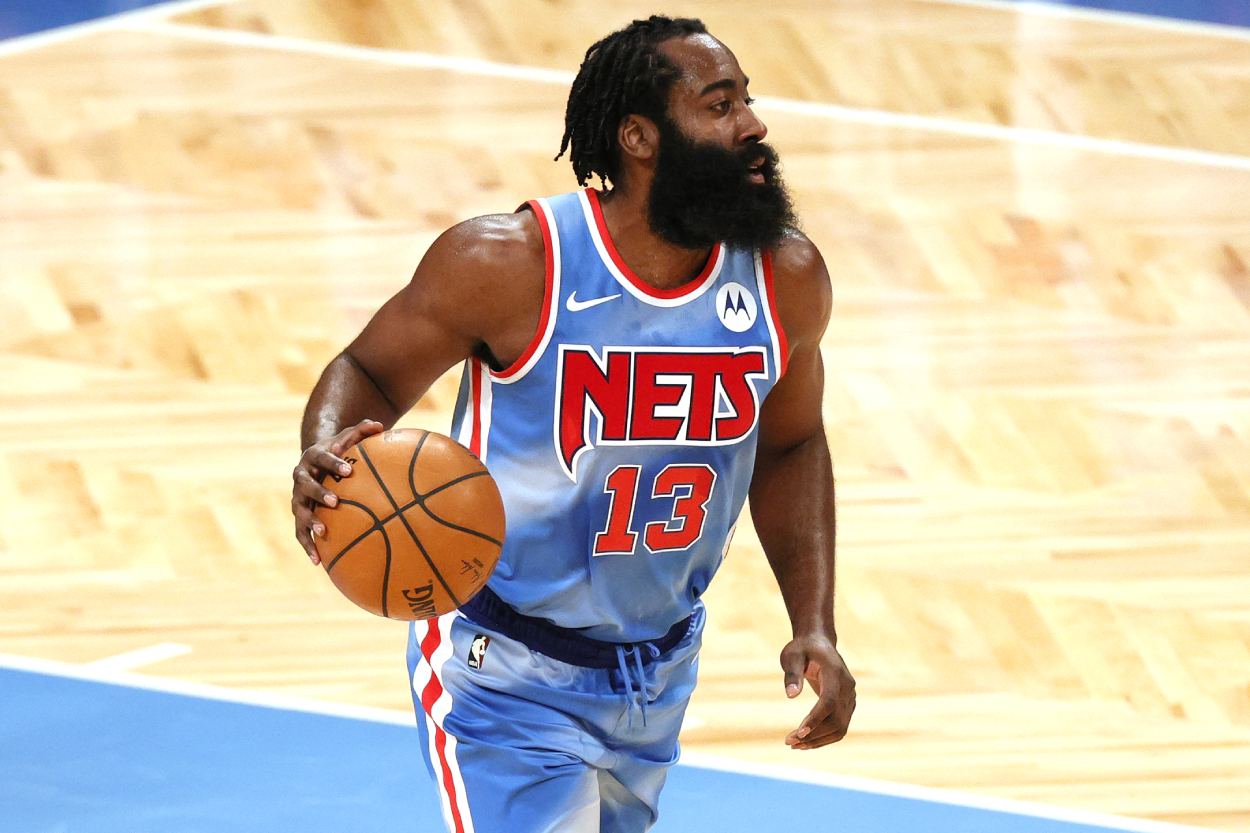 After his comments, the Houston Rockets decided to keep Harden away until they completed a trade. They, however, then completed a deal the very next day.
The Rockets ultimately sent Harden to the Nets while Caris LeVert went to the Indiana Pacers and Victor Oladipo went to the Rockets. Houston also received Dante Exum from the Cleveland Cavaliers and Rodions Kurucs from the Nets. Additionally, the Nets also sent Jarrett Allen and Taurean Prince to the Cavs.
In addition to players, the Rockets received three first-round picks from the Nets, four pick swaps, and the Cavs' 2022 first-round pick from the Milwaukee Bucks, according to ESPN. The Pacers also received Houston's 2023 second-round pick while the Nets got a 2024 second-round selection from the Cavaliers.
James Harden's selfishness set up a path to dominance for the Cleveland Cavaliers
The Cavaliers didn't get any superstars in this deal like James Harden or even Victor Oladipo. However, they essentially gave up a second-round pick and — what will most likely be — a late first-round pick from Milwaukee for two really good players in Allen and Prince.
Those two players appear to be clicking with the Cavaliers already, too. In eight games with Cleveland, Allen is averaging 13.4 points per game, 7.8 rebounds, and two blocks. Additionally, in his first-ever start with the team, Allen recorded 23 points, an incredible 18 rebounds, and five blocks. Prince, on the other hand, is averaging 9.8 points per game since coming to Cleveland.
Allen (22 years old) is a young player that — if the Cavs can keep around — can become a vital piece of their really talented young core. Cleveland has already shown a ton of improvement this season, too. They won 19 total games in each of the last two seasons, but this year they are 10-11 so far. They have found success behind the play of Collin Sexton — who is 22 years old — as he is averaging 24.1 points per game, and Darius Garland — who is 21 — as he is averaging 15.6 points per game and 5.5 assists.
Sexton, Garland, and Allen all being under 23 means that the Cavaliers will most likely look at them as their main core moving forward. Sure, the Cavs were already playing well before Allen got there. Acquiring him (almost for free), though, somewhat fast-tracked Cleveland's rebuild. They now just need one or two more pieces to become one of the top teams in the Eastern Conference.
James Harden's selfishness got him exactly what he wanted. However, it also helped pave a path for the Cavaliers — a team over 400 miles away that he has nothing to do with — to become one of the top teams in the Eastern Conference within the next few years, while also giving them a bright future with Sexton, Garland, and Allen.
Stats courtesy of Basketball Reference