James Jones Believes Aaron Rodgers Will Be Back, Admonishes Greg Jennings
The Green Bay Packers want to remain Super Bowl contenders. Unfortunately for the Packers, their fate is not necessarily in their hands. Quarterback Aaron Rodgers has all the chips right now, whether he wants to use them or not.
Wide receiver Davante Adams is also in a place of great leverage. He's the best wide receiver in the NFL, and he and Rodgers form one of the best quarterback/wide receiver tandems in recent memory. Perhaps one of the best of all time when all is said and done.
The Packers know they need to keep Rodgers and Adams in the fold in order to keep their Super Bowl window open. At least according to former Green Bay wide receiver and NFL insider James Jones, that's something they should be able to do.
Aaron Rodgers and Davante Adams feel like a combo deal for the Green Bay Packers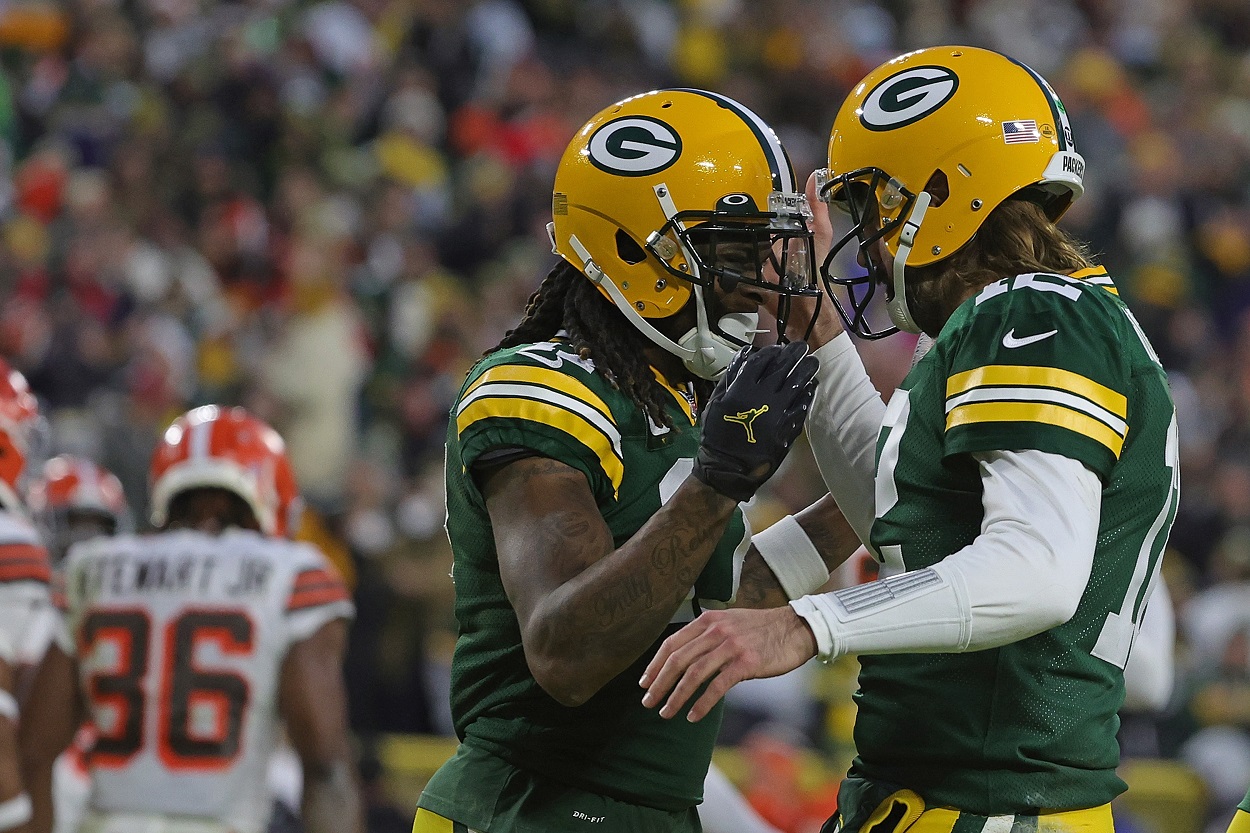 Rodgers is the straw that stirs the drink for the Packers. He knows it, and even general manager Brian Gutekunst admitted as much in a recent press conference.
"Obviously everything around here kind of centers on the quarterback," Gutekunst said, per ESPN.
Though Rodgers is signed until the end of the 2022 season, he is openly considering retirement. He could also demand a trade if he feels like he can no longer compete for Super Bowls in Green Bay, or simply just wants a change of scenery. Rodgers has been the Packers' starting quarterback since 2008, and though he has four MVPs under his belt, the Packers have only one Super Bowl win in his era.
Regarding Adams, he'll be a free agent at the start of the 2022 league year, and considering just how vital he's been to Rodgers' success over the past few seasons; it would make sense that both of their futures are somewhat tied together.
In fact, Rodgers recently hinted on The Pat McAfee Show that he might be waiting to make his decision to see what the Packers end up doing with Adams
They can't officially be a tag team, but it sort of does feel like it.
James Jones thinks Rodgers and Adams will be back with the Packers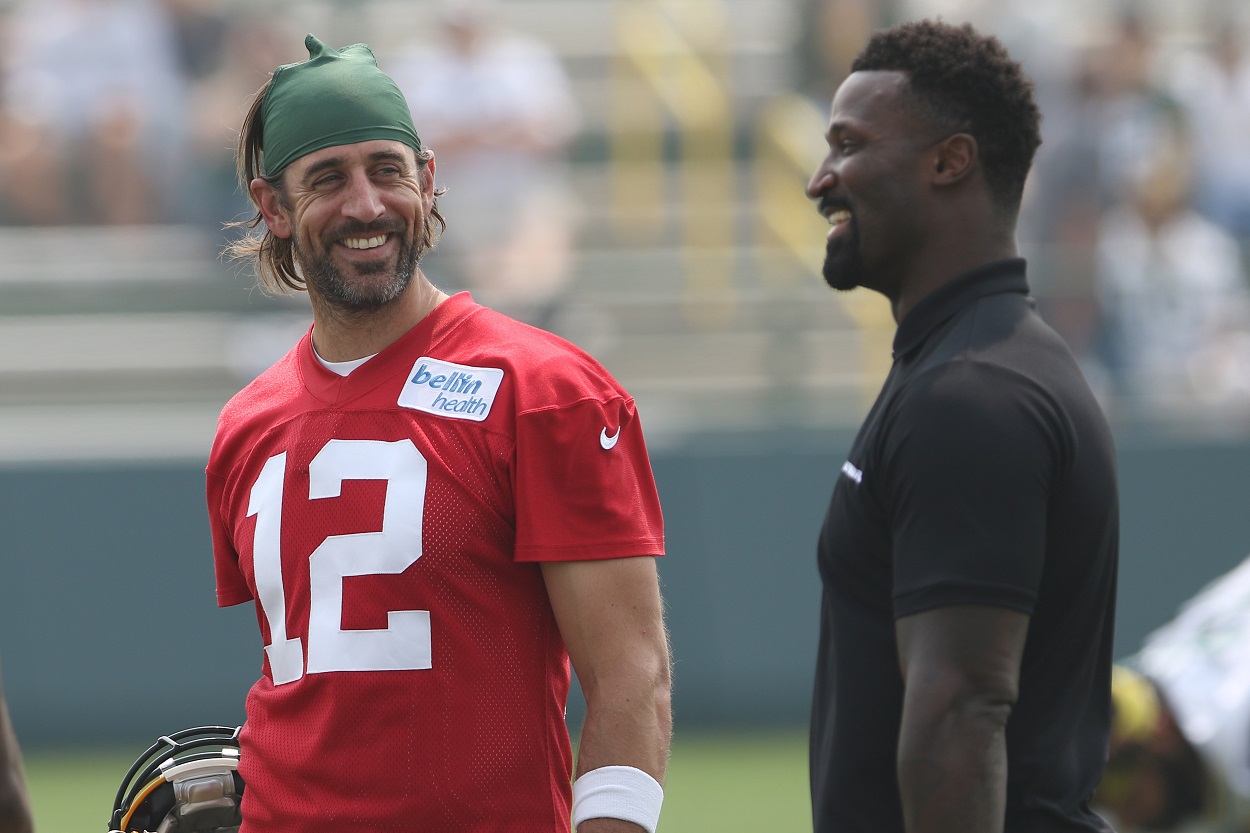 James Jones played eight seasons with the Packers. He'll never be mistaken for a Hall of Fame player, but he was one of the better No. 3 wideouts in the league during his time in Green Bay.
Jones now works for the NFL Network giving his opinion on the NFL as a whole, but he's also naturally become somewhat of an insider on the Packers. He's a reliable source of information on Rodgers considering their playing history together. He's also basically the anti-Greg Jennings, who will get to in a moment.
Nobody really knows what Rodgers is going to do besides Rodgers himself, and even he may be conflicted. Still, recently speaking on NFL Total Access, Jones said he believes that Rodgers will come back in 2022, and he'll also help the Packers retain some of their key free agents, including Adams.
"I'm more confident than I was last year. I feel like everybody in the building is on the same page. You look at coach [Matt] LaFleur. You look at Aaron Rodgers. Just the conversations that I had with him. Everything went smooth this season. He loves his teammates," Jones said.
"I believe Aaron Rodgers is going to be back. He's going to be a Green Bay Packer, and he's going to make sure his brothers are there as well. The Davante Adams. The Robert Tonyans. He's going to make sure his brothers are there because he knows it's about winning Super Bowls and about chasing championships."
Not only do the Packers have the future of Rodgers to fret about this offseason, but they find themselves in quite a salary cap conundrum.
Green Bay has already restructured deals for Kenny Clark, Aaron Jones, and David Bakhtiari, but they still find themselves roughly $28 million over the cap.
Jones rejects the idea that Rodgers is selfish
Rodgers is always in the news. That comes along with the territory of being an MVP quarterback and, specifically, the quarterback of the Green Bay Packers. Still, his upcoming decision has him at the center of the NFL world right now, and he's been the subject of much speculation and reporting.
Rodgers has also been subject to criticism. His former teammate, Jennings, recently appeared on First Things First and said that in his personal experience with the quarterback, Rodgers is selfish.
"I go back to personal experiences and when you have a personal experience you try to move past, move beyond, because people change, but some things never do," Jennings said, per Forbes. "Aaron Rodgers has been a very selfish guy, like period.
Jones was mentioned as basically the anti-Greg Jennings above. His response to Jennings' comments really cements that characterization.
"I've never [taken] Aaron Rodgers as a selfish guy. I hear Greg Jennings and people out there talking. Aaron Rodgers has never been about the money," Jones said. "They offered them a boatload of money last year, and he turned down the money because it was never about the money.
"It's terrible to see some of his former teammates saying that stuff. Aaron Rodgers is not selfish. He's trying to make sure that all of his brothers can take the field with him next year."
Of course, two people can have two very different relationships and perceptions of the same person, so Jones disputing Jennings' comments doesn't necessarily mean that they're wrong. Green Bay's third-string quarterback, Kurt Benkert got into a Twitter scuffle with Jennings over his thoughts, and Jennings did bring up a good point.
Benkert Tweeted that Rodgers is one of the most generous people he knows in the NFL.
"So generous people can't display acts of selfishness?" Jennings wrote back in response. "News to me."
Ultimatly, whether it's Jones or Jennings, all this noise will settle down once Rodgers finally makes his decision.
Hopefully, for the Packers and the rest of us, that will be sooner rather than later.
Stats courtesy of ESPN and Pro Football Reference. Contract information via Spotrac
RELATED: Aaron Rodgers Regrets Blowback to Others Because of COVID-19 Rants