James Wiseman Is Already Sending a Strong Message To the Golden State Warriors
One player who has a great chance to win this season's NBA Rookie of the Year Award is James Wiseman of the Golden State Warriors. He didn't get to play much in college, but Wiseman has already proven that he has the potential to become a star. That's ultimately why the Warriors selected him with the No. 2 overall pick in the 2020 NBA draft.
However, it's now almost time for Wiseman to try and live up to that potential as the Warriors tip-off their 2020-21 season this week. While Wiseman didn't play in any of the Warriors' preseason games, he has still already sent the team a strong message with his play on the court.
James Wiseman was a highly-touted prospect
RELATED: Draymond Green Sends the Exact Message Golden State Warriors Fans Want To Hear
Going into college, James Wiseman was a big-time recruit. According to 247Sports, Wiseman was a five-star prospect and one of the top two recruits of the 2019 class.
This is what 247 Sports' Evan Daniels wrote about him.
"Wiseman excels running the floor, moves fluidly and is an impressive all-around athlete," Daniels wrote. "He consistently beats his man to the other end for easy baskets. He can go over his left shoulder for jump hooks, but also has developed his jump shot, especially from mid-range. Defensively, Wiseman slides his feet well. He is smart and has good instincts."
However, Wiseman only played in three college games at Memphis, as he left the program following an NCAA violation. He dominated in those games, though. Wiseman ultimately averaged 19.7 points per game, 10.7 rebounds, and three blocks.
Wiseman's play, and potential, led to him becoming the No. 2 overall pick in the 2020 draft with the Warriors.
His play is already sending a strong message to the Warriors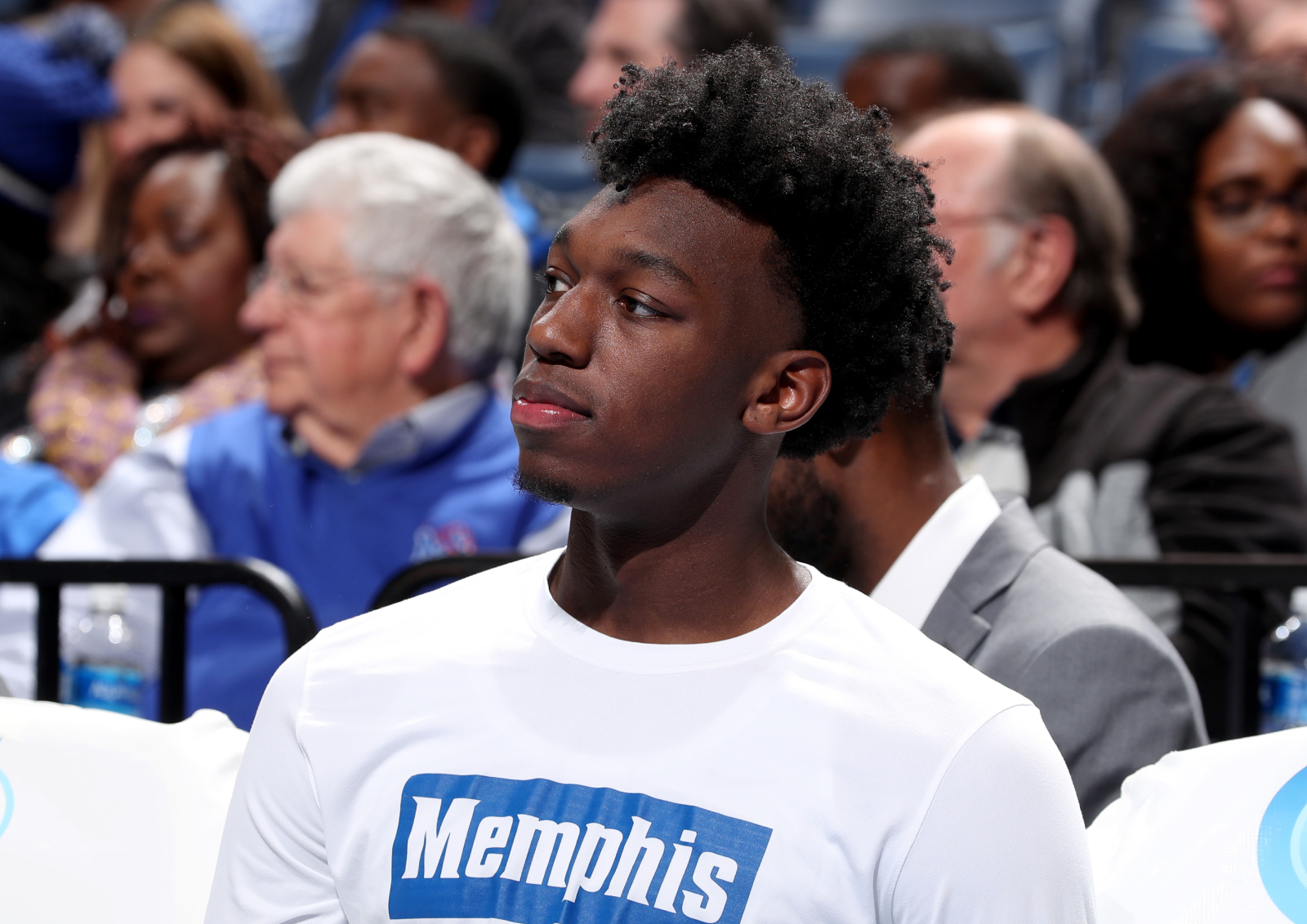 RELATED: The Golden State Warriors Reportedly Tried To Add a $41.2 Million Superstar
Wiseman couldn't practice during the Warriors' first week of training camp. He didn't play in the team's preseason games, either. However, despite not even playing in a game yet, Wiseman is still already sending a strong message to the Warriors with his play on the court.
"He's progressing nicely. I'm very excited about James and he should be ready to go Tuesday night," Warriors head coach Steve Kerr said, according to NBC Sports.
Kerr also said that Wiseman will become the Warriors' "long-term starting center," and that he could even start in the Warriors' first game of the season. This is probably because of Wiseman already sending a really strong message to the team with his work in practice.
"I think one of the most exciting things for us about James is his intelligence, his willingness to learn, and his ability to absorb lessons," Kerr said, according to NBC Sports. "So from three days ago to now, the game looked smoother. His game looked smoother to me. He recognized patterns, he understood what we were trying to accomplish and even though there was a ton of energy, there was less wild energy like there was the first day. There was more of an awareness of what was happening. As I said, we're excited about his talent. But to go with that, we're excited about his maturity, his work ethic, and his desire to learn."
Well, that sounds encouraging. Wiseman hasn't played in an NBA game yet, but he is proving to the Warriors that he is not only extremely talented but also intelligent and willing to learn more and more. A high basketball IQ, mixed with a ton of talent, can be a very scary thing for any teams facing Wiseman and the Warriors this season, and in future seasons.
So, how good can Wiseman and the Warriors be this year?
The Golden State Warriors can be very good in 2020-21
RELATED: The Golden State Warriors Have Figured Out a Game Plan for James Wiseman
The Warriors were one of the best teams of all-time from 2014-15 through 2018-19. They went to five consecutive NBA Finals during that span and won three championships. However, Kevin Durant left and went to the Brooklyn Nets after the 2018-19 season, and Klay Thompson didn't play at all in 2019-20 due to injury. This is in addition to two-time MVP Stephen Curry also only playing in five games last season. The Warriors only went 15-50 in 2019-20 because of all this.
In 2020-21, though, while Thompson won't be back due to another injury, Curry will be, as will Draymond Green and former No. 1 overall pick Andrew Wiggins, who Golden State traded for last season. The Warriors also have Kelly Oubre Jr., who had a breakout year for the Phoenix Suns last season.
Golden State having all this talent in addition to Wiseman means there won't be a ton of pressure on the young big man to score a ton this season.
However, Golden State has always shot a lot of jumpers, so Wiseman should have an opportunity to collect a bunch of rebounds off missed shots this year. This will then give him plenty of opportunities to score off those boards.
The combination of Wiseman and all the Warriors' veteran players should put Golden State back atop the NBA this year. He has a chance to have a huge year, too.
Stats courtesy of Sports Reference