James Wiseman's Unusual Request Speaks Volumes About His Maturation and Crucial Role in Warriors' Championship Quest
The Golden State Warriors are off to a flying start to begin the 2021-22 season, and reinforcements are on the way in the form of James Wiseman.
The No. 2 overall pick in the 2020 NBA Draft has been cleared to participate in 5-on-5 practices as he prepares to make his return from a meniscus injury suffered last season. However, Wiseman made an interesting suggestion concerning his recovery timeline, one that speaks volumes about his maturation and eventual ability to help the Dubs contend for a championship.
James Wiseman is fairly lacking in basketball experience
Although James Wiseman's talents made him a top pick just over a year ago, he hasn't played much basketball in the last few years.
After a stellar prep career, Wiseman committed to Memphis to play for Penny Hardaway. But the NCAA suspended Wiseman indefinitely after ruling that he received improper benefits before committing to the Tigers. The Nashville native promptly left Memphis and began preparing for the draft.
Despite a practically nonexistent collegiate track record, the Warriors saw enough upside in the young center to draft him at No. 2 overall. Wiseman's rookie season proved frustrating, as he played in just 39 games and sustained a torn meniscus in April that rendered him inactive for the remainder of the campaign.
Naturally, the NCAA suspensions and injuries played a role in Wiseman's lack of basketball experience. That's not insignificant, but it's also important to remember he's still just 20 years old.
Wiseman seems to acknowledge this point. His approach to his recovery timeline points to greater maturation and self-awareness, two characteristics that could help him fill a vital role for the Warriors.
Wiseman wants to play in the G League before making his return to the Warriors
Wiseman refuses to be closed off or overly anxious as he continues to ramp up for his return to the Warriors.
On Monday, reporters asked Wiseman whether he believed he needed extra reps in scrimmages or the G League before being thrown into the fire and asked to play significant minutes for a surging Dubs team. Without hesitation, the youngster said he wanted to play in the G League.
"Yeah, of course," Wiseman said when asked about playing in the G League, via Anthony Slater of The Athletic. "I would like to go down [to Santa Cruz] and just get sharp mentally, physically."
Wiseman stated that his surgically repaired knee feels good. His readiness, at this stage, is more a matter of getting game experience and feeling more comfortable at that speed.
Warriors fans should feel encouraged by Wiseman's response to the possibility of playing in the G League. It hints at an evolved mindset, which is critical for Wiseman as he hopes to give Golden State the kind of frontcourt playmaker it needs to make the leap to NBA title contention.
Wiseman's upside makes him a vital figure to the Warriors' championship hopes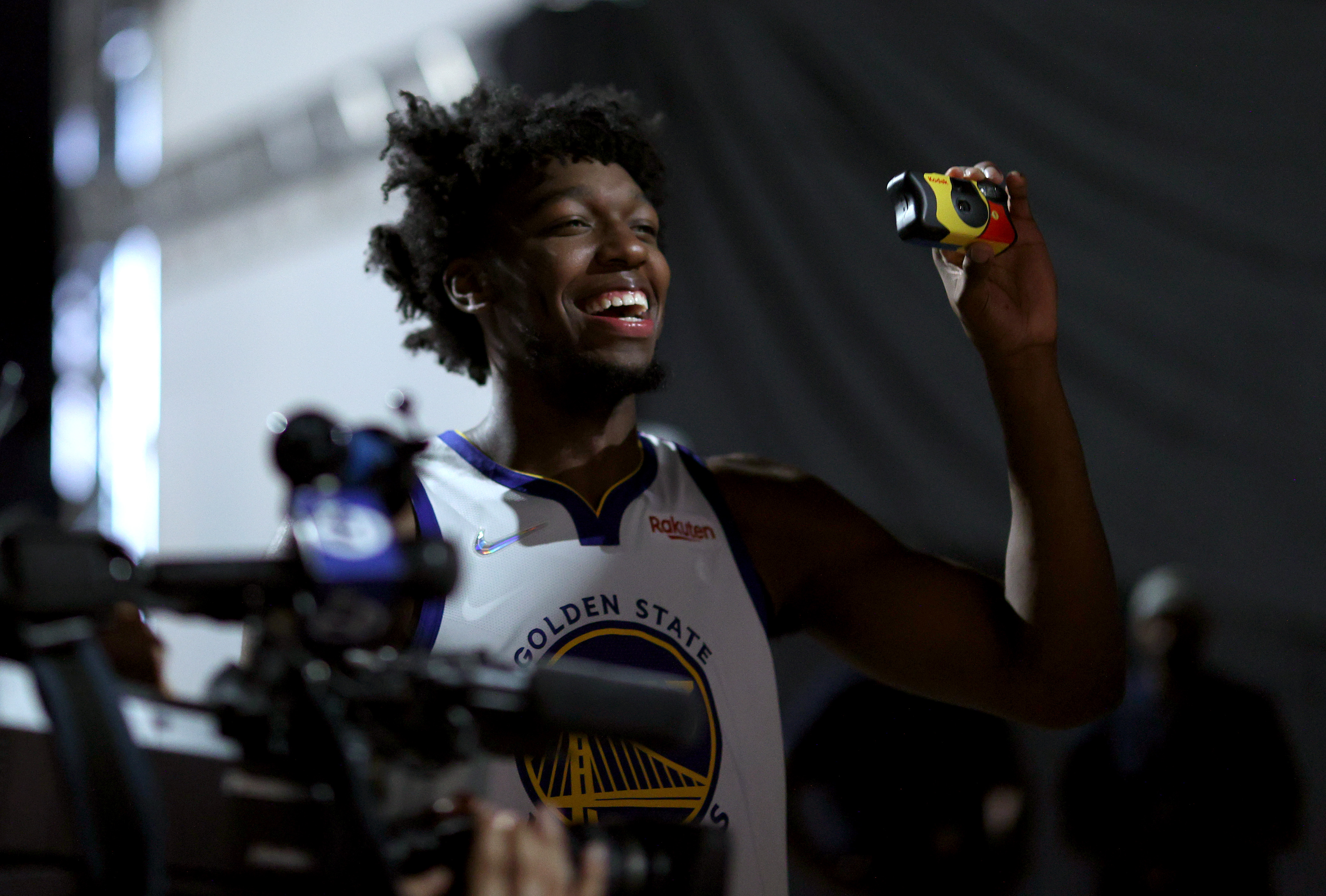 While James Wiseman produced mixed results in his rookie season, his skill set and projectable upside heighten his importance to this Warriors squad.
Wiseman is as athletic as any 7-footer in the NBA. He runs the floor in transition and can explode to the rim off the dribble. The Warriors will likely hope he makes gains with the midrange jumper, which could unlock his full potential as a screener capable of fading for open shots or diving to the basket for looks around the rim. He can also be a rim protector on the defensive end.
But while Wiseman's ability to make gains on the court is imperative for Golden State, his maturation and willingness to learn and be smart about his progression are every bit as important to his ability to elevate the Warriors' ceiling.
RELATED: The Golden State Warriors Are Walking a Dangerous Line While Matching a Record the Sorry Old Clippers Set in Their Dark Ages