James Worthy Claimed Dennis Rodman Would Destroy Modern Day Tough Guy Draymond Green in the Old School NBA: 'Dennis Would Eat Him Alive'
Every era of the NBA has had its own version of a "tough guy." During the Chicago Bulls dynasty of the 1990s, Dennis Rodman was the guy no one wanted to mess with. In today's NBA, Draymond Green has assumed the role of enforcer throughout his successful career with the Golden State Warriors.
There have been many similarities between Rodman and Green, though much still separates them. James Worthy, a Hall of Famer who went head-to-head against the Worm, explained why Dennis would easily handle Draymond if the latter played in the old school NBA.
Dennis Rodman and Draymond Green share multiple similarities
Sure, Draymond doesn't share a lot of the off-the-court antics Dennis has. But the two forwards are a lot more alike than many realize.
Both forwards were smaller than many at their position — Rodman at 6-foot-7 and Green at 6-6. They were both second-round picks 26 years apart, entering the NBA with little fanfare. In addition, both played a full 82 games in their second professional seasons and eventually entered the starting lineups of their respective teams.
Rodman served as a complementary role player to several superstars throughout his career, most notably Isiah Thomas with the Detroit Pistons as well as Michael Jordan and Scottie Pippen with the Chicago Bulls. Green, of course, has spent his career as a sidekick to Stephen Curry and Klay Thompson, as well as Kevin Durant for a short while.
The defensive duo also shares numerous accolades. Both have at least one Defensive Player of the Year award, with the Worm taking home two. In addition, Rodman has eight All-Defense selections to Draymond's six. Each also has a pair of All-NBA selections as well as multiple All-Star appearances. And then there's the bling, with Rodman winning five titles between the Pistons and Bulls and Green earning three rings with the Warriors.
"[Draymond] is unique. The only guy that I've ever seen who can dominate a game without scoring at all was Dennis Rodman," Warriors coach and former Rodman teammate Steve Kerr told NBC Sports. "Draymond is similar to Dennis defensively, in that he can control a game by just outwitting everybody and guarding all five spots on the floor."
James Worthy thinks Rodman would easily beat Green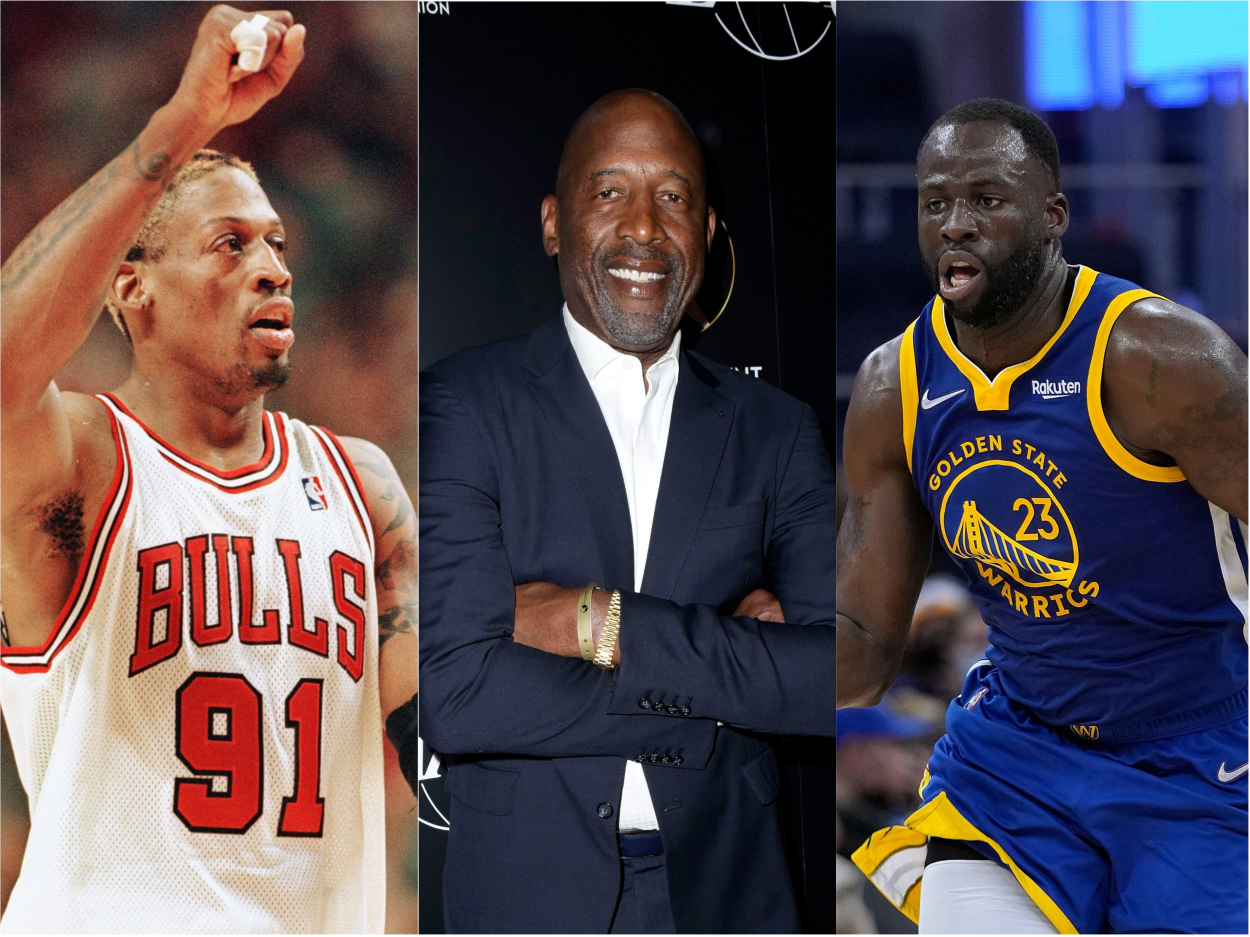 Worthy was once asked which players from the modern game could hang when he and Rodman were in the league. One of the hosts brought up Draymond, but Big Game James wouldn't entertain the idea of the Warriors All-Star being able to compete with the Worm.
"I don't think Draymond could handle Dennis Rodman," Worthy said. "I think [Draymond] can play, but Dennis had that type of personality. Pound for pound, Dennis was the toughest guy I ever played against."
He continued, "Nobody in that era would allow [Draymond] to do what he does. He gets away with murder out there. And the way he kicks and is physical, that wouldn't happen with Dennis. I'm telling you, Dennis would eat him alive."
It's not the first time Worthy gave Rodman the overwhelming advantage over Draymond. In an interview with En Fuego, the former Lakers great listed three power forwards, including Dennis, he'd take over Dray.
"When I hear that Draymond said he's the baddest or one of the toughest power forwards, he could not touch Dennis Rodman," Worthy said. "He wouldn't last 20 minutes in a game with Dennis Rodman or Anthony Mason or Charles Oakley, you know? I just like to keep it real." 
Dennos Rodman echoed Worthy's sentiment
One big similarity we failed to mention above is how both Rodman and Green have no shortage in confidence. Back in 2019, Green told The Athletic he considered himself the greatest defender of all time. But Dennis fought back and took a crack at Draymond during an April 2020 episode of ESPN's First Take.
"I got no problem handing that Green guy," Rodman said. "He'd be eating out of my hand. Draymond, keep getting your teeth straight honey, and listen to your mama. Doctor D-Rod is calling right now, baby. You want a prescription? Come ask me." For what it's worth, the Worm was also complimentary of Green, saying he respected the three-time champ, particularly his defensive tenacity.
Forget about seeing MJ versus LeBron. Seeing these two defensive forwards going to head-to-head would be a showdown for the ages.
All statistics courtesy of Basketball Reference.