Jamie Chadwick Dreams of Lewis Hamilton Partnership More Than Becoming the First Female Formula 1 Driver in 45 Years
Jamie Chadwick, the potential new poster girl of Formula 1, dreams of developing a new relationship with social icon Lewis Hamilton.
Along with becoming the first female to compete as a driver in an F1 event in 45 years, Chadwick envisions partnering with Hamilton as teammates one day.
The two-time defending W Series champion, Chadwick, is confident she can handle the pressure of racing with the boys.
She needs a chance.
And if it happens to be as the teammate of the seven-time world champion, well, so much the better.
Jamie Chadwick only started thinking about an F1 future over the past few years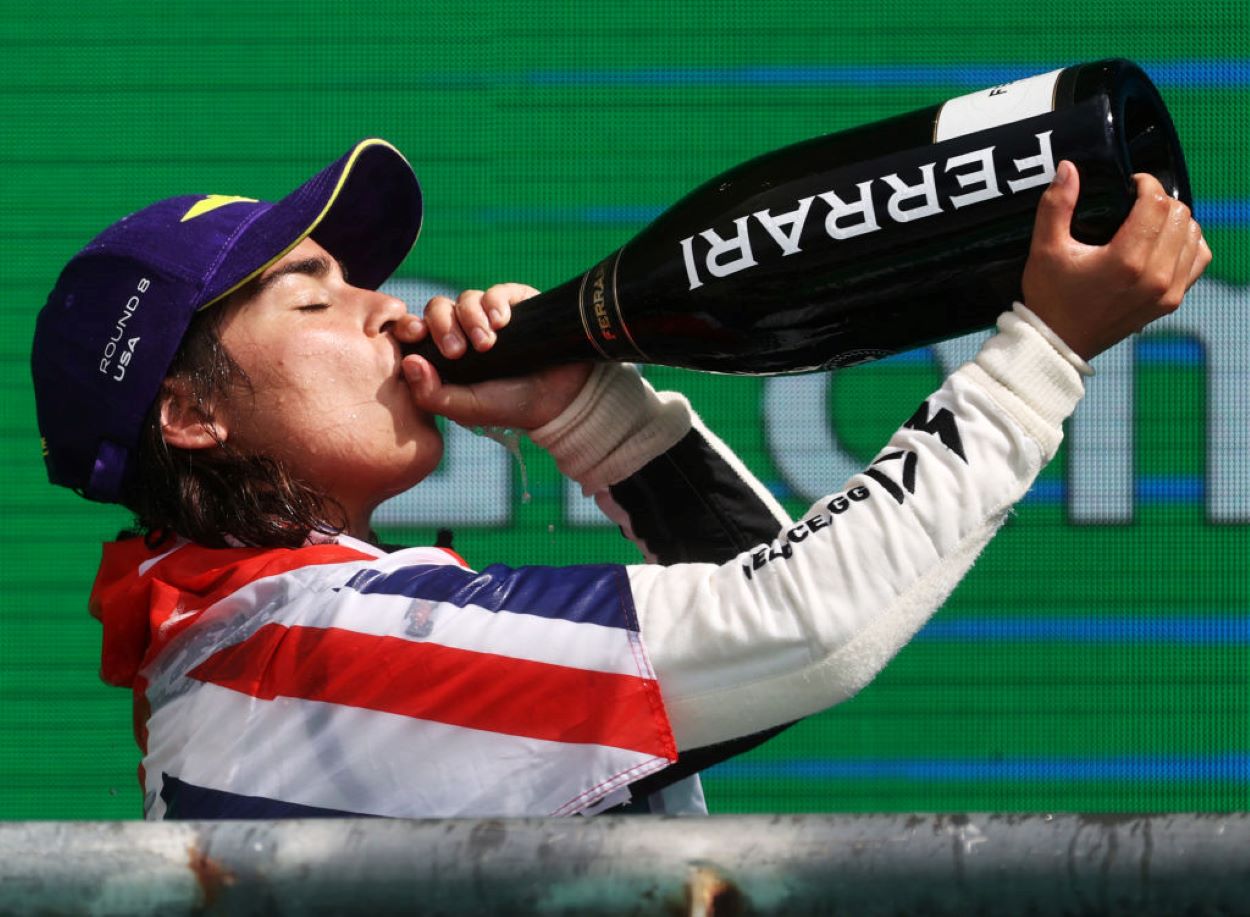 "In my opinion, (Hamilton) is the greatest of all time," Chadwick told insider.com. "I wouldn't say I'd beat him, but I'd love to go up against Lewis.
"He's incredible, and I think what he's achieved in the sport is amazing."
Some would suggest that what Chadwick, 23, has accomplished on the W Series is "incredible." In 14 career starts, she has compiled 12 podiums and two championship titles. Chadwick also gained valuable F1 experience by serving as a developmental driver for Williams Racing since 2020.
The marketing momentum surrounding Chadwick is beginning to build.
How much longer can F1 officials keep her from debuting on the world stage? The last female to compete in an F1 event was Lella Lombardi in 1976.
As recently as 2019, Chadwick didn't dream about an F1 racing career – or ever having the chance to meet Hamilton. She is now, however,
"(F1 has only) become the goal … in the last few years," Chadwick said. "Before that, it was in the distance. It's amazing that now I can see it as maybe a goal to have."
Chadwick started racing go-karts when she was 11 years old
Like most other aspiring F1 drivers, Chadwick started racing go-karts when she was 11 years old. She fell in love with the adrenaline and the thrill of taking the machine to its limits. She also admired the way teams worked together.
"So many different things appealed," she said. "Obviously, there was the sporting element. I come from doing different sports, so straight away, I felt at home with that but also the speed, the adrenaline, the thrill of that.
"Alongside the fact that it's also a massive team sport which I think people don't realize as well.
"There were so many different factors initially that struck my interest."
Chadwick: 'That would be pretty special' to be teammates with Lewis Hamilton
Chadwick outraced her youthful competitors on eight different series growing up.
Chadwick balked when first presented with the opportunity to race on the W Series for the 2019 season. She was hesitant that the level of racing would decline and it could stall her driving development.
Fear not.
Next stop, F1?
Chadwick is confident the opportunity will come soon.
"I think it's pressure that I probably warrant myself, but it's something I try not to think too much about," she said, "but at the same time, it's a goal I want to achieve, so I'm happy to take that pressure."
Chadwick said he would be happier if she could partner with Hamilton, adding, "… That would be pretty special."
RELATED:
Related post url: