Jared Allen Made Nearly $100 Million and Is Now Pursuing an Olympic Career
Jared Allen has an opportunity to go from elite NFL pass-rusher to Olympic curler. Nearly five years after his last NFL game, the five-time Pro Bowler and legendary sack artist has transitioned from the trenches to a curling career.
Curling is a long way from taking down quarterbacks in the cold, but Allen has made the most of it.
What is Jared Allen's fascination with curling, and will the two-time sack champion realistically qualify for next year's Olympics? Let's catch up with Jared Allen and his new career path.
Jared Allen was an underrated pass-rusher
Of the great sack artists from the past two decades, the likes of DeMarcus Ware, J.J. Watt, and Terrell Suggs always rightfully earn recognition. Yet Jared Allen, a two-time sack leader and four-time All-Pro honoree, never is mentioned in those conversations. Allen ended his career in 2015 with 136 sacks. He is only 3.5 sacks outside of the top seven and 5.5 sacks away from the top-five.
Jared Allen had two double-digit sack seasons in four years with the Kansas City Chiefs. He achieved that feat in all six years with the Minnesota Vikings before Allen finished his career with the Chicago Bears and Carolina Panthers.
Jared Allen will likely remain in the top 15 sackers indefinitely. Von Miller is the NFL's active leader with 106 sacks and Cameron Wake, whose 100.5 sacks are second among active players, is nearing the end of his career. Arizona's Chandler Jones and Houston's J.J. Watt each have 96 sacks entering 2020.
Allen has a serious Hall of Fame case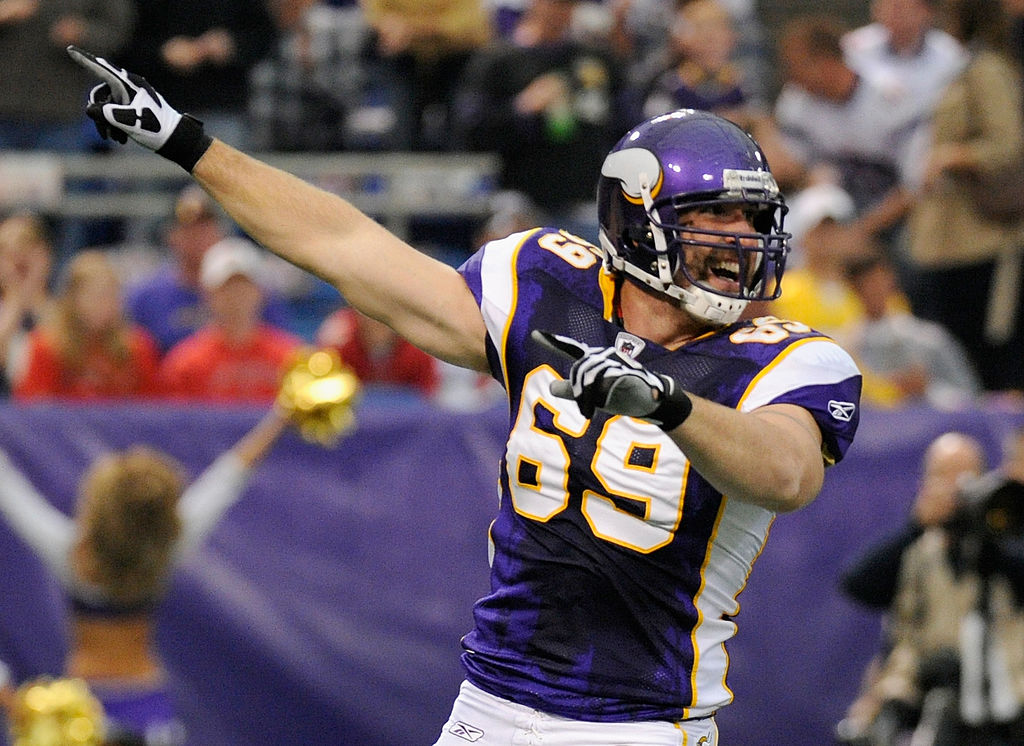 The 2021 Pro Football Hall of Fame class will be a stacked one. Colts legend Peyton Manning is a lock to get in and All-Pro defensive back Charles Woodson is likely to join him. Ex-Detroit Lions receiver Calvin Johnson is also among the new entries on the ballot.
The presence of those three, as well as holdovers like Alan Faneca and John Lynch, could make induction tough for Allen next year. Allen's place on the all-time sack list, as well as his overall dominance in the NFL's pass-happy era, make him a fair candidate.
Jared Allen told the St. Paul Pioneer Press earlier this year he believes he is a Hall of Famer.
"It's not up for me to decide, but I'm 100 percent satisfied with my career. My career speaks for itself. If I'm blessed to get in, that's amazing, but that's the voter's decision. They'll compare and figure out if I was worthy or not."
How did Jared Allen end up in curling?
Most NFL players either go into television or coaching if they pursue a post-football career that doesn't involve general retirement. Jared Allen chose to walk another path.
Allen joined former Rams quarterback Marc Bulger, Titans linebacker Keith Bulluck, and Titans offensive lineman Michael Roos on a competitive curling team.
Although the four hoped to qualify for the 2020 Olympics, that didn't quite happen. The team lost all four games during the 2018 World Curling Tour and lost all three games in last year's US Men's Challenge Round.
Jared Allen persevered from being a fourth-round pick and multiple DUI arrests to become one of the best pass-rushers of his generation. If Jared Allen wants to take down curlers like he did quarterbacks, he can certainly do so.