Jared Goff Adamantly Claims He's Over His Breakup With the Rams: 'I Got People Who Do Like Me'
It's almost time for a new NFL season, and we have some old faces in new places, including former Los Angeles Rams quarterback Jared Goff, who is now on the Detroit Lions. Goff's breakup with the Rams was well documented for a while, but given that he's in Detroit's small market now, NFL fans may not hear about him as much as they did the last five seasons when he played in LA.
So, since we're seven months removed from the Rams agreeing to send Goff and picks to the Lions for Matthew Stafford, how's Goff feeling?
He sounds like someone who's over their ex.
The Rams traded quarterback Jared Goff to the Lions
You may hear otherwise, but Jared Goff had a lot of success in his years as the Rams' quarterback. He went to LA with the No. 1 overall pick in the 2016 NFL Draft, and after having a poor rookie season, Goff became a Pro Bowler in 2017, throwing for 3,804 yards, 28 touchdowns, and seven interceptions.
However, in 2018, Goff was arguably one of the best quarterbacks in the NFL, and the Rams were one of the best teams. The Cal product threw for 4,688 yards, 32 touchdowns, and 12 interceptions, which helped him earn Pro Bowl honors again, and it also led the Rams to a 13-3 record. They then even reached the Super Bowl that year, but lost to Tom Brady and the New England Patriots.
Goff then played well but not as well in 2019, recording 4,638 passing yards, 22 touchdowns, and 16 interceptions before struggling significantly in 2020. He only had 3,952 yards, 20 touchdowns, and 13 interceptions in 15 games for the Rams last season, as he struggled with accuracy before suffering a thumb injury late in the year. Goff played through the thumb pain in the playoffs and helped the Rams win in the wild-card round over the Seattle Seahawks, but they lost to the Green Bay Packers in the divisional round.
LA then saw a chance to upgrade at quarterback this past offseason and traded Goff, two first-round picks, and a third-round selection to the Lions for Matthew Stafford.
Following the trade, Goff said he "really enjoyed" his time on the Rams, but given that he was on a team that didn't want him, he said the feeling was "mutual" regarding the decision to move on, per NFL.com.
But what is he saying now?
It seems the quarterback has moved past his breakup with the Rams
Goff recently appeared on The Dan Patrick Show, and Patrick, of course, had to ask the quarterback about his breakup with the Rams. But it seems he has moved on from the team that essentially doesn't like him anymore.
"It's the same way as anything else; I got people who do like me, and you focus on that," Goff said to Patrick on the Aug. 27 episode. "You focus on what you have and all the good things. It's part of this league; it's part of the business. I'm sure, it's not quite the same, but in some regards, you guys go through it in the media with ESPN or where you're at now. You got people that do love you, and you got people that don't anymore, and that's the way things go."
Patrick then responded by saying he's still "mad at ESPN."
"And you can be mad," Goff said. "There's parts of me that still are, of course, but I've got some things to look forward to here that I'm excited about."
OK, so Goff might just be trying to say the right things, or he has actually moved past that notorious breakup. Either way, he has some work to do if he wants people to respect him as one of the top quarterbacks in the league again.
Expectations for Jared Goff on the Lions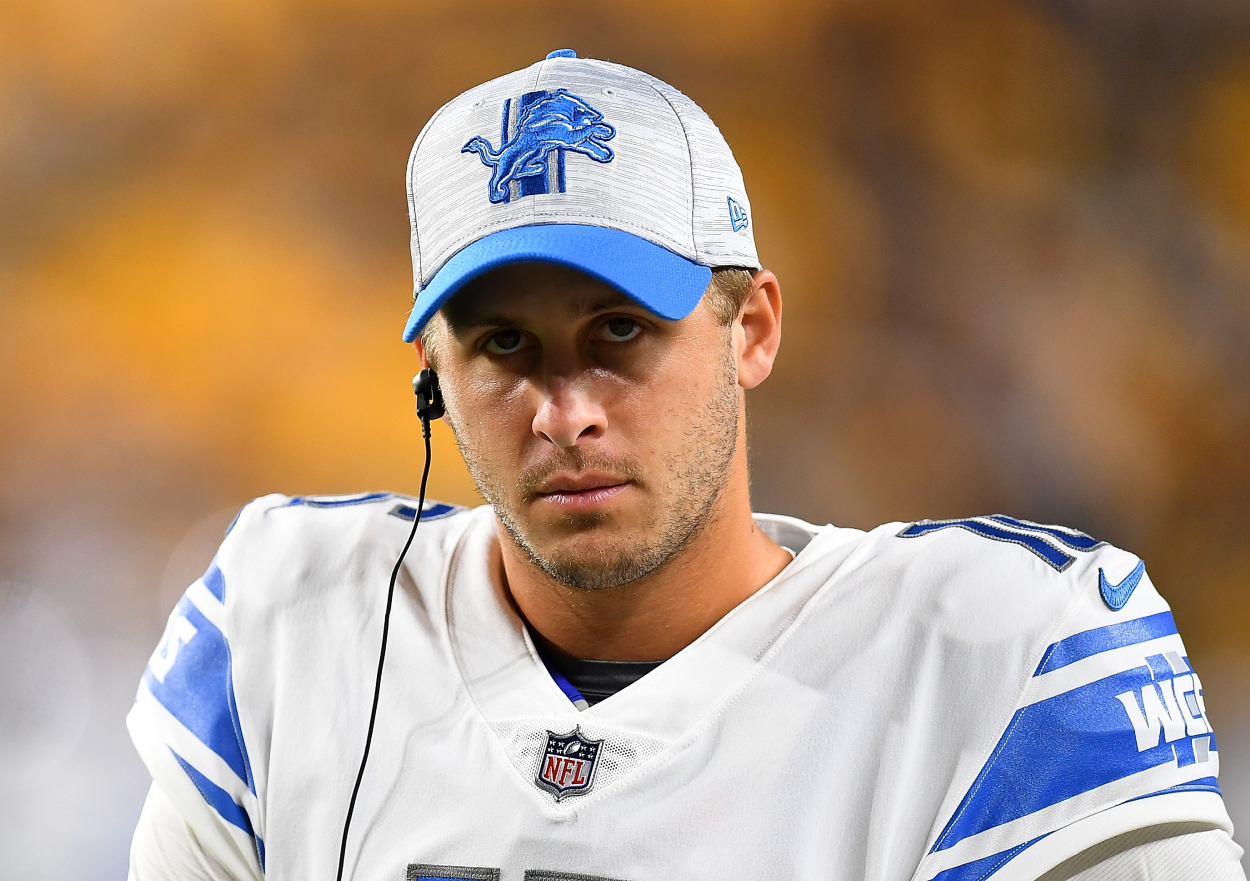 Goff played in a place the past few years where his team had high expectations, but on the Lions, he doesn't need to worry about living up to any lofty goals. He just needs to play well enough to prove he deserves a starting job in the NFL and that he's, in fact, one of the league's top quarterbacks.
Detroit likely won't win a ton of games in 2021. It had the worst defense in the NFL last year and, heading into the new season, doesn't have many offensive weapons other than tight end T.J. Hockenson. So, if Goff can somehow make lemonade out of lemons with his supporting cast, he has a chance to earn back the respect he once had.
It will be an interesting year for Goff and the Lions, as well as Stafford and the Rams. Their trade this offseason was blockbuster, so everyone will be looking to see who won it.
Stats courtesy of Pro Football Reference
RELATED: Lions' Rookie Wide Receiver Amon-Ra St. Brown is Part of the Most Interesting Family in Football