Jared Goff Still Owns Arguably the NFL's Most Embarrassing Streak, And He Shouldn't Expect It to End Soon
The Detroit Lions knew they were hitting the reset button when the team traded veteran quarterback Matthew Stafford to the Los Angeles Rams and acquired Jared Goff earlier this year.
As has historically been in the case in Detroit, however, the Lions can never really adopt a fresh coat of paint. Although Goff has played well at points this season, an embarrassing streak dating back to his rookie season has followed him all the way to Michigan.
Jared Goff is 0-11 in his career without Sean McVay as his coach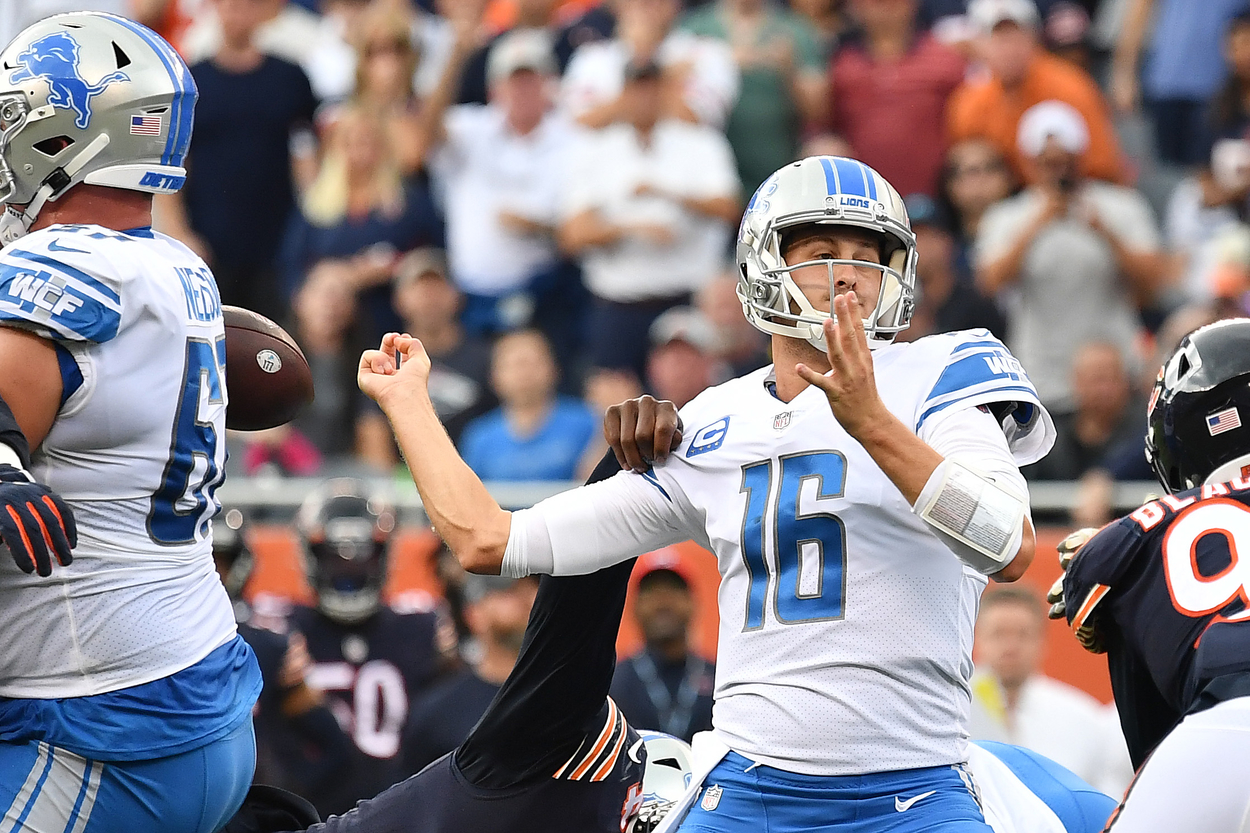 To fully understand why we're even writing this story, we need to start at the beginning.
When Goff entered the league as the first overall pick in 2016, he joined a Rams team that had just returned to California after two decades in St. Louis. After a 3-1 start in their new home, the Rams lost four of their next five and entered a Week 10 showdown with Ryan Tannehill and the Miami Dolphins at 4-5.
Then-Rams head coach Jeff Fisher benched Case Keenum, the veteran quarterback who completed 61% of his passes for over 2,100 yards, nine touchdowns, and 11 interceptions over the season's first two months. Goff took over a talented team in need of an offensive spark, one that was still technically alive in the NFC playoff hunt.
Those postseason aspirations didn't last long. Goff completed 54.7% of his passes for 1,089 yards, five touchdowns, and seven interceptions over seven starts. The Rams topped 20 points only twice and lost every game during that stretch en route to a 4-12 finish.
The Rams fired Fisher with three games left and hired Sean McVay, the Washington Football Team's wunderkind offensive coordinator, following the season. Whatever you think of him as a quaterback, we can't ignore the fact Goff served as the starting quarterback on a Rams team that made the playoffs three times in four years.
Now, Goff is in Detroit, and he quickly acclimated himself to Lions tradition by losing his first four starts. As of publication, he is 42-20 as a starter with McVay as his head coach and 0-11 when he's had someone else in that role.
The streak is an embarrassing indictment on Goff's overall career
Say what you want about Goff's overall career, but he's nowhere close to bust territory. Really, he's on pace to reside in the Alex Smith tier as a competent No. 1 overall pick who led his team to the postseason on multiple occasions and didn't look completely lost in the process.
All of that can be true while still establishing that Goff's winless-without-McVay streak is an embarrassing indictment on his career. There are expectations that come with being a first-round selection, let alone a No. 1 overall pick, in any sport. Those are the players who need to carry their teams and provide an extra push and turn a 21-17 deficit in the fourth quarter into a 24-21 victory.
Four of Goff's 11 losses were by eight points or fewer. That includes the Lions' controversial loss in Week 3 when officials didn't call a delay of game against the Baltimore Ravens. Two plays later, Ravens kicker Justin Tucker hit a game-winning 66-yard field goal.
Still, how much of that is on the officials, and how much is on the Lions' offense for only converting 30% of its third-down attempts? That's the scenario where you need someone who went first overall to show why they were selected that high.
Look no further than the Lions' Week 4 loss to Justin Fields and the Chicago Bears when Goff threw for 299 yards, two touchdowns, and no interceptions. However, he also lost two fumbles, including one at the Bears' 8-yard line. Fields quickly led a six-play, 89-yard scoring drive and gave Chicago a 14-0 lead.
That fumble isn't entirely on Goff, but the same can't be said for Detroit's 4-of-11 performance on third down. The Lions also only converted one of their three fourth-down attempts.
Goff shouldn't expect the streak to end any time soon
If Lions fans are expecting to see Goff break his streak anytime soon, they must have been born in the early years of the Stafford era and are unfamiliar with the team's propensity for providing pain.
Detroit travels to Minnesota for a Week 5 matchup with Kirk Cousins and the Vikings. The Vikings have won seven straight games against the Lions dating back to 2017.
The Lions return home and welcome Joe Burrow and the Cincinnati Bengals to Ford Field in Week 6. Goff and teammates may have trouble keeping up with the Bengals' much-improved offense.
Stafford and the Rams host the Lions in Week 7. Enough said.
The Lions might not be favored until they host the Philadelphia Eagles (1-3) on Halloween. As for when they'll win next? Well, now would be an ideal time for Goff to remind us why he went atop the 2016 NFL Draft.
RELATED: Matthew Stafford Went to Sean McVay's Rams Because the 49ers' Kyle Shanahan Stayed at the Wrong Hotel in Cabo