Jarrett Allen's Ridiculous All-Star Snub Further Proves the Cavaliers Still Aren't Getting the Respect They Deserve
With the NBA playing its All-Star game in Cleveland this year, Cavaliers fans were hoping to root on not one but two of their team's players. However, despite hearing third-year point guard Darius Garland's name get called, one star was outrageously snubbed from the event: Jarrett Allen.
Allen is a major reason why the Cavs have gone from being one of the league's worst teams the last three years to becoming one of its best. And his absence from the initial All-Star roster further proves that Cleveland isn't getting the respect it deserves.
Jarrett Allen was one of the biggest snubs of this year's NBA All-Star Game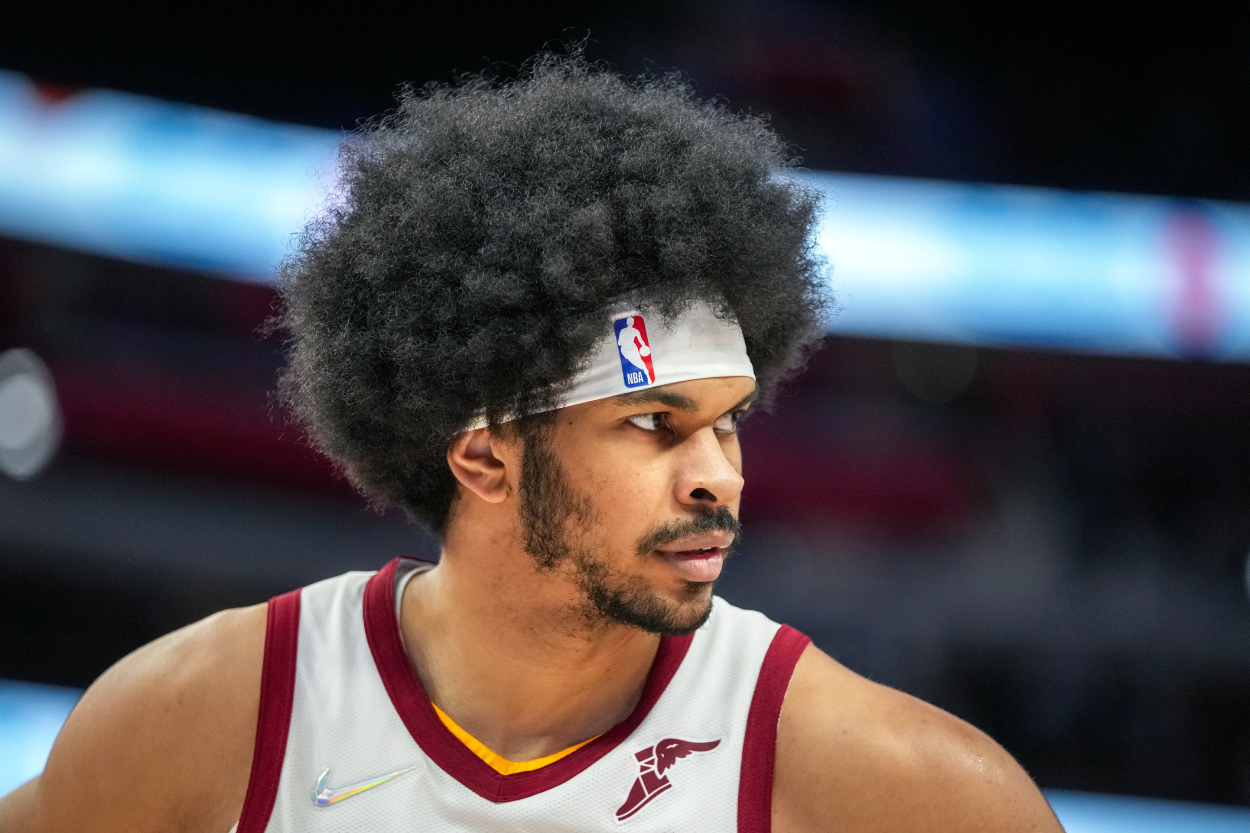 After revealing its starters last week, the NBA announced its All-Star reserves on Feb. 3. Among the Eastern Conference reserves (which are chosen by coaches in the East) are Jimmy Butler, James Harden, Darius Garland, Kris Middelton, Zach LaVine Jayson Tatum, and Fred VanVleet.
Not on that list was Cavs big man Jarrett Allen.
Allen, who signed a $100 million contract in the offseason, went to the Cavaliers via trade last year and has developed from a solid role player into one of the best centers in the league.
He recorded 12.8 points and 10.0 rebounds for the Brooklyn Nets and Cavs last season. This year, he's averaging career-highs in points with 16.0, rebounds with 10.7, and assists with 1.9. He's also shooting a career-best 67.8% from the field.
However, he has been most valuable for the Cavaliers on the defensive end. Allen is averaging 1.4 blocks, and he has the fifth-most defensive win shares in the league with 2.7. (Defensive win shares look at an estimated number of wins his defense provides for the Cavs.)
Allen's play, along with that of his fellow young stars Garland and rookie Evan Mobley, has helped the Cavs rise from the bottom of the NBA to the top. They have a 31-21 record and are just 1.5 games out of first place in the Eastern Conference.
His absence proves the NBA still doesn't respect the Cavs
Jarret Allen's absence from the All-Star roster left his teammates pretty frustrated.
"Jarrett Allen better be a damn replacement I know that!!!" Cavs forward and five-time All-Star Kevin Love tweeted.
Another Cavaliers forward, Lamar Stevens, also emphatically named him in response to a SportsCenter tweet that asked about this year's biggest snub.
But while the decision to leave Allen off the roster proves other teams don't respect him as much as they should, it also shows how little respect they have for the Cavs.
The Cavaliers wouldn't be where they are in the standings without Allen. They are 31-21, but they are 24-10 in games where he, Garland, and Mobley have started. There are also teams with worse or similar records who have multiple All-Stars in the Brooklyn Nets, Milwaukee Bucks, Utah Jazz, and Chicago Bulls. Someone like Jayson Tatum, who has had a great season but is on an underperforming team, also made the roster.
No, winning shouldn't mean everything, but it should still play a little role in deciding All-Star rosters. And Allen's value to the Cavs' success is certainly significant enough for him to earn the recognition.
Luckily for him, though, he may still play in the game.
Jarrett Allen could still make the All-Star game
Despite not making the initial All-Star roster, Jarrett Allen could still receive honors and play in the game.
If someone cannot play due to injury, NBA commissioner Adam Silver chooses a replacement. Among the Eastern Conference players, Kevin Durant likely won't be able to go due to an MCL sprain, and a few others could potentially get banged up sometime between now and NBA All-Star Weekend, which takes place Feb. 18-20.
So, no, not all hope is lost for Allen and Cavs fans. But his initial absence still sent out a clear message: The Cleveland Cavaliers deserve more respect.
Stats courtesy of Basketball Reference
RELATED: Dwyane Wade Showers Cavs Rookie Evan Mobley With Massive Praise, Compares Him to Hall of Fame Teammate Chris Bosh