Jarrett Allen Is Flexing His $100 Million Contract by Promising the Cavaliers a Fast-Food Field Trip
The Cleveland Cavaliers are a ways away from contending for an NBA championship. But the Cavs seem to be on the right track with center Jarrett Allen.
Allen was rewarded with a handsome nine-figure contract this offseason. Naturally, his teammates are hoping the 6-foot-11 center will pony up for a lovely dinner. And it looks like they'll get their wish … but it just won't be on a Sunday.
Jarrett Allen became an integral part of the Cleveland Cavaliers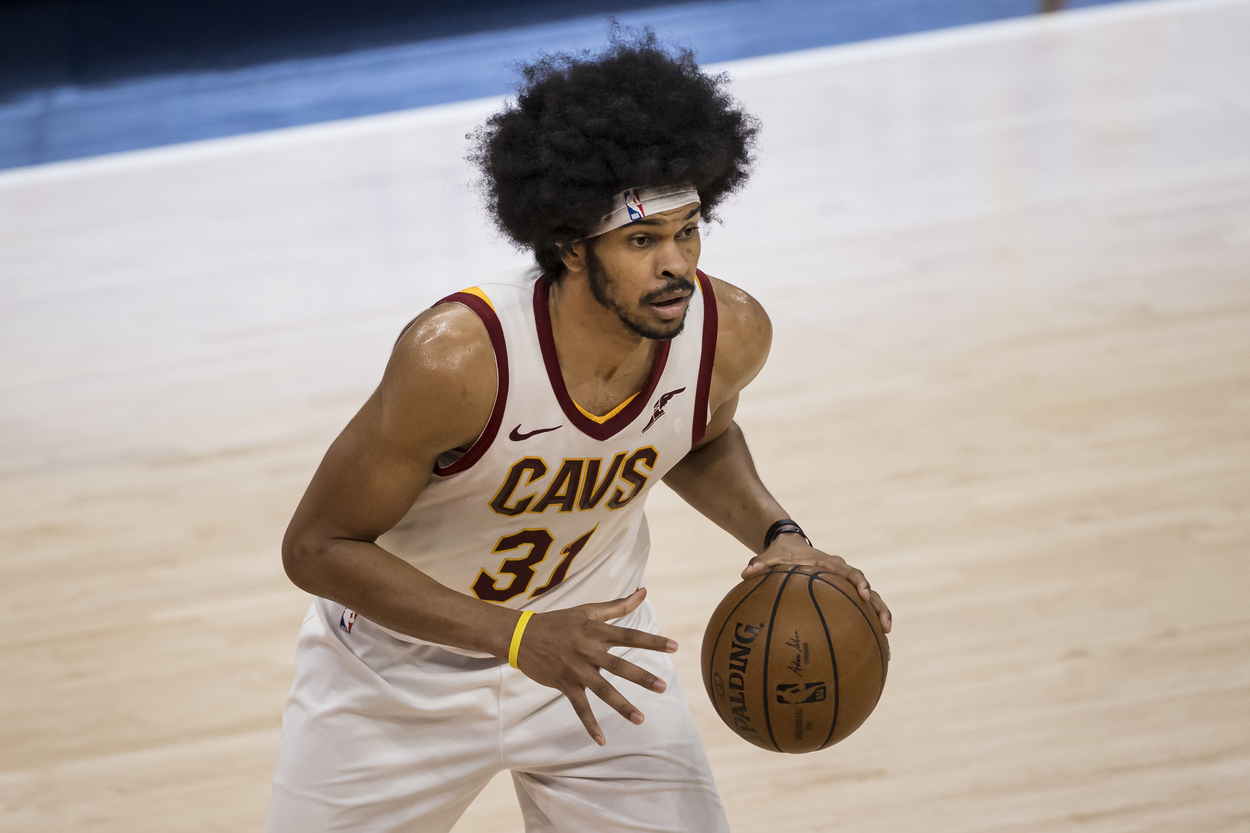 Allen, a former Texas Longhorn, was a first-round pick of the Brooklyn Nets in 2017. After a rookie season in which he averaged 20 minutes per game, Allen became a full-fledged starter by year two. In 80 starts, he averaged nearly 11.0 points and 8.5 rebounds with 1.5 blocks per game. He improved even more in his third season, particularly with his field-goal percentage increasing from 59% to just under 65%.
However, Brooklyn's search for a superstar to join Kevin Durant and Kyrie Irving spelled the end for Allen. The Nets traded the 23-year-old to the Cavaliers as part of the four-team James Harden deal. The change of scenery worked for Allen as the big man averaged 13.2 points and nearly 10.0 boards in 51 games for Cleveland. After weighing some options as a restricted free agent, Allen chose to re-sign with the Cavs on a five-year, $100 million deal.
"Seeing a team like this, knowing what it takes, we have all the right guys and the right mindsets to do it," Allen said after signing. "So, I thought, 'Hey, I'm willing to be part of this again, especially with these guys.' I see a bright future here that I fit in perfectly."
Allen promised to buy Chick-fil-A for his team
The $100 million man doesn't want his Cavs teammates to look at him any differently. But he does plan to foot the bill for Chick-fil-A, telling Evan Dammarell of FearTheSword that he'll take his team out to the popular fast-food chain in the near future.
Allen is set to make $20 million this season. Should he decide to go the fiscally irresponsible route and spend it all at Chick-fil-A, he would have a bevy of options:
6,493,506 Original Chicken Sandwiches ($3.08 per sandwich in Ohio pre-tax)
5,420,054 Deluxe Sandwiches ($3.69 each)
4,454,342 12-count Chick-fil-A Nuggets ($4.49 each)
10,695,187 Large Waffle Fries ($1.87 each)
6,289,308 Large Milkshakes ($3.18 each)
He could also go with some healthier salad options or even breakfast, but you get the idea.
The fully-fed Cavaliers have some promise
It's going to take a lot to feed the Cavaliers this season.
The team made headlines this summer after drafting Evan Mobley, trading for Lauri Markkanen, and signing Tacko Fall, giving them four players 6-foot-11 or taller.
The Cavs should be a lot more than just a bunch of tall guys, however. Guards Collin Sexton and Darius Garland have formed a strong backcourt tandem, with veteran Ricky Rubio coming in to provide stability and leadership. Isaac Okoro, the fifth overall pick in 2020, got plenty of minutes late into his rookie season and showed promise. And then there's five-time All-Star Kevin Love, who was limited to only 25 games last season and might be more of a reserve when he is healthy.
Regardless of how head coach J.B. Bickerstaff fills out the starting lineup, it's safe to assume Allen is going to be a part of it. But perhaps he should buy his coach a sandwich or two just in case.
All statistics courtesy of Basketball Reference and contract figures courtesy of Spotrac.
RELATED: Kevin Love Isn't Letting the Cavaliers Escape Their $60 Million Headache