Jarrett Allen's Untimely Injury Continues String of Horrendous Luck for Cavs
It seems the universe has tried everything in its power to keep the Cleveland Cavaliers from having a successful season. They started the year by losing Collin Sexton to a knee injury before later seeing Ricky Rubio also go down with a season-ending injury.
They have since added more weapons to make up for their lost stars, but the Cavs just received unfortunate news following a crucial win over the Toronto Raptors. Cleveland's $100 million big man, Jarrett Allen, reportedly fractured his finger during the win, and he is out indefinitely.
Losing anyone, especially an All-Star, is brutal. But Allen's injury is just a continuation of horrendous luck for the Cavs, especially in recent weeks. They are in a good position now, but their shorthanded roster has to keep racking up wins. If it doesn't, the team could lose its solid footing in the NBA's Eastern Conference playoff standings.
Jarrett Allen is reportedly out with a fractured finger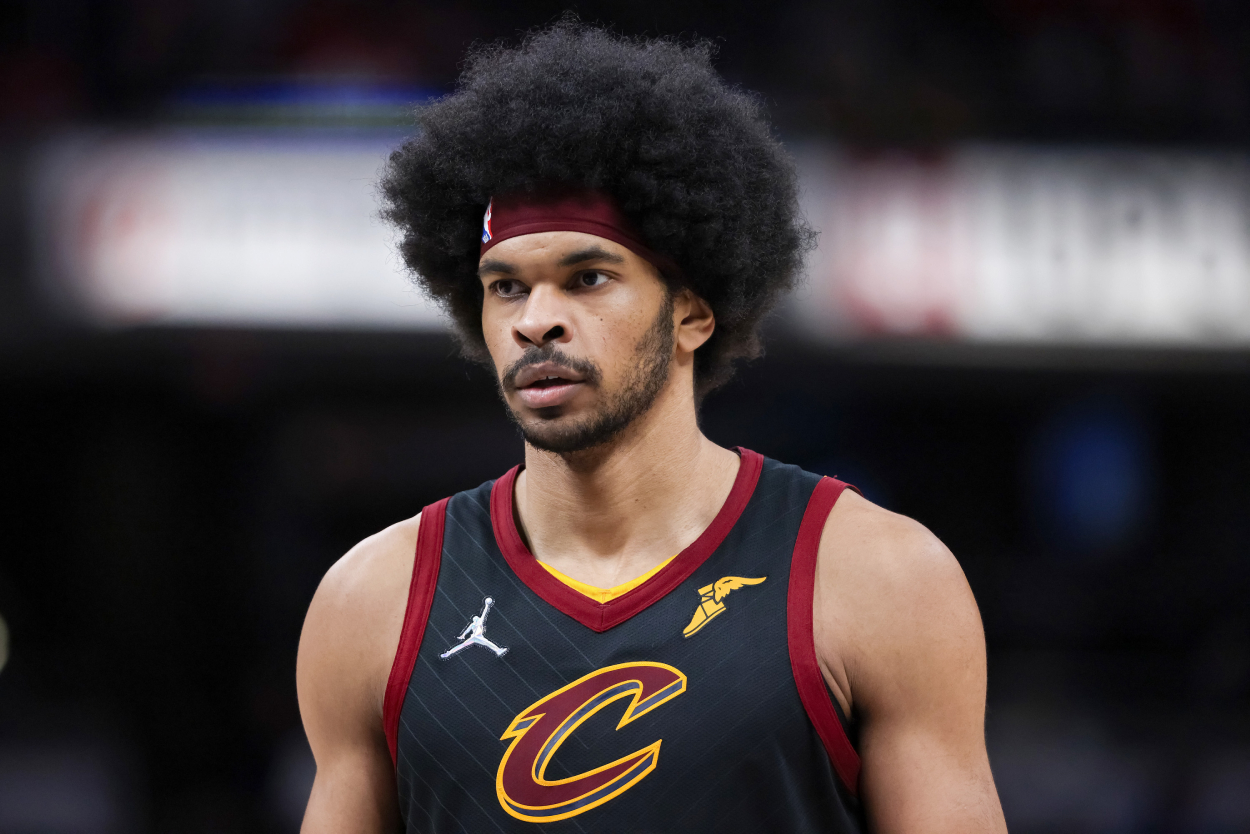 Jarrett Allen has become one of the best big men in the NBA this season for the Cavs.
After going to Cleveland in the James Harden-Brooklyn Nets deal last year, Allen is averaging career highs in points (16.1) and rebounds per game (10.8). He's also making a career-best 67.7% of his shots. But the Texas product has been most valuable on defense. Allen and rookie big man Evan Mobley use their length on almost every possession to make it hard for any opponent to drive into the paint.
The Fro's efforts on both ends of the court this season earned him his first career All-Star selection.
However, after the Cavs' March 6 game against the Toronto Raptors, Allen received horrible news. He had been playing well in the contest, recording six points, two rebounds, and two blocks during his first 10 minutes. But the big man left in the first quarter with a quad contusion and didn't return. After the game, Shams Charania of The Athletic reported that Allen suffered a fractured finger during the contest. He will likely be out indefinitely.
Obviously, the news is a brutal blow for Cavs fans, but it also just continues a string of horrendous luck for the team.
The injury continues the Cavs' horrendous luck this season
As mentioned earlier, the Cavs lost both Collin Sexton and Ricky Rubio to season-ending injuries this year. The former was the team's leading scorer in each of the last two campaigns.
However, in addition to COVID-19 impacting them more than most teams (h/t ESPN), the Cavs have had to work through several injuries in recent weeks. It has resulted in them losing contests they otherwise wouldn't have lost.
Lauri Markkanen missed a month in late January and early February with an ankle injury. Caris LeVert, who the Cavs traded for before the NBA Trade Deadline, has missed the last six games with an injured foot, and Rajon Rondo has missed the team's last five contests with a hurt toe.
Darius Garland's injury, though, has been the most consequential. Garland returned to the lineup on March 2 and has played in the last three games, but he missed eight of 11 contests between Jan. 31 and Feb. 28. His absence played a role in the Cavs losing to the awful Detroit Pistons before falling to the Minnesota Timberwolves by five points a couple of games later.
Cleveland lost six of seven games from Feb. 12 through March 4, resulting in them dropping to sixth in the Eastern Conference standings. They are currently 37-27. Garland didn't miss all of those games, but he could have helped them win a few they should have won over struggling teams.
Now, the Cavs have to embark on a tough stretch of their schedule without Allen.
How will the Cavs manage without Jarrett Allen?
It's unclear how many games Jarrett Allen could miss, but he, thankfully, isn't as vital to the Cavs' success as Darius Garland. Cleveland is deep in the post, so while Allen's absence will provide the team with a challenge, it should be able to manage if guys like Evan Mobley, Lauri Markkanen, and Kevin Love can step up.
Without Garland, the Cavs lacked offensive flow and didn't have a primary scorer to turn to when they needed points, especially since they don't have Collin Sexton this season. Cleveland traded for Caris LeVert and Rajon Rondo for that reason, but their injuries threw a wrench into things.
Now, though, the Cavaliers have to jump into a brutal stretch of their schedule without their All-Star big. After playing the Indiana Pacers on March 8, Cleveland has to face the Miami Heat, Chicago Bulls, Los Angeles Clippers, Philadelphia 76ers, and Denver Nuggets.
Playing multiple teams with talented bigs could hurt the Cavs, and losing just a few of those contests could result in Cleveland falling into the NBA Play-In Tournament race (they are three games ahead of the seventh-seeded Raptors).
Hopefully, LeVert and Rondo return sometime soon, and perhaps Allen's injury won't keep him out as long as anticipated.
But the Cavs need to be careful these next few weeks. If their bigs don't step up in Allen's absence, they could go from sitting comfortably in the playoffs to having to fight for their lives in the play-in tourney.
Stats courtesy of Basketball Reference
RELATED: Kevin Love's Resurgence Is Highlighted by an Overlooked Stat