Jarvis Landry's Recent Comments About Odell Beckham Jr. Could Be the AFC's Worst Nightmare
The Cleveland Browns were (finally) a pretty good team in 2020, as they made the playoffs for the first time since 2002 and won a playoff game for the first time since 1994. However, the Browns' offense didn't have one of its best players for most of the season: Odell Beckham Jr.
Beckham tore his ACL in Week 7 against the Cincinnati Bengals and has been on the road to recovery ever since. The injury, and his decline statistically while in Cleveland, have made many wonder whether he'll ever get back to where he was a few years ago or not. His teammate Jarvis Landry, though, recently made some interesting comments about him. In fact, if the comments prove true, they could end up being the rest of the AFC's worst nightmare.
The Cleveland Browns made the playoffs in 2020
The Browns had an excellent turnaround from 2019 to 2020, going from 6-10 to 11-5 and making the playoffs. A big reason they made the postseason was because of the offensive weapons they have around quarterback Baker Mayfield.
Cleveland has two excellent running backs, as Kareem Hunt gained 841 rushing yards and 304 receiving yards, while Nick Chubb was a Pro Bowler who ran for 1,067 yards in 12 games. The Browns also have Jarvis Landry at receiver and a couple of other solid pass catchers in Rashard Higgins and Austin Hooper, and they all helped Mayfield have a solid year in 2020. Mayfield ultimately threw for 26 touchdowns last season and cut down on his turnovers by only throwing for eight interceptions.
This was all good enough for the Browns to dominate the Pittsburgh Steelers in the wild-card round, winning 48-37. They then gave the reigning champion Kansas City Chiefs a run for their money in the divisional round, but lost 22-17.
Despite falling to the Chiefs, Cleveland's success has given their fans a lot to hope for — especially in 2021 as the offense will have another year of experience under its belt and Beckham will hopefully be back at full strength.
Browns WR Jarvis Landry had a strong message about Odell Beckham Jr.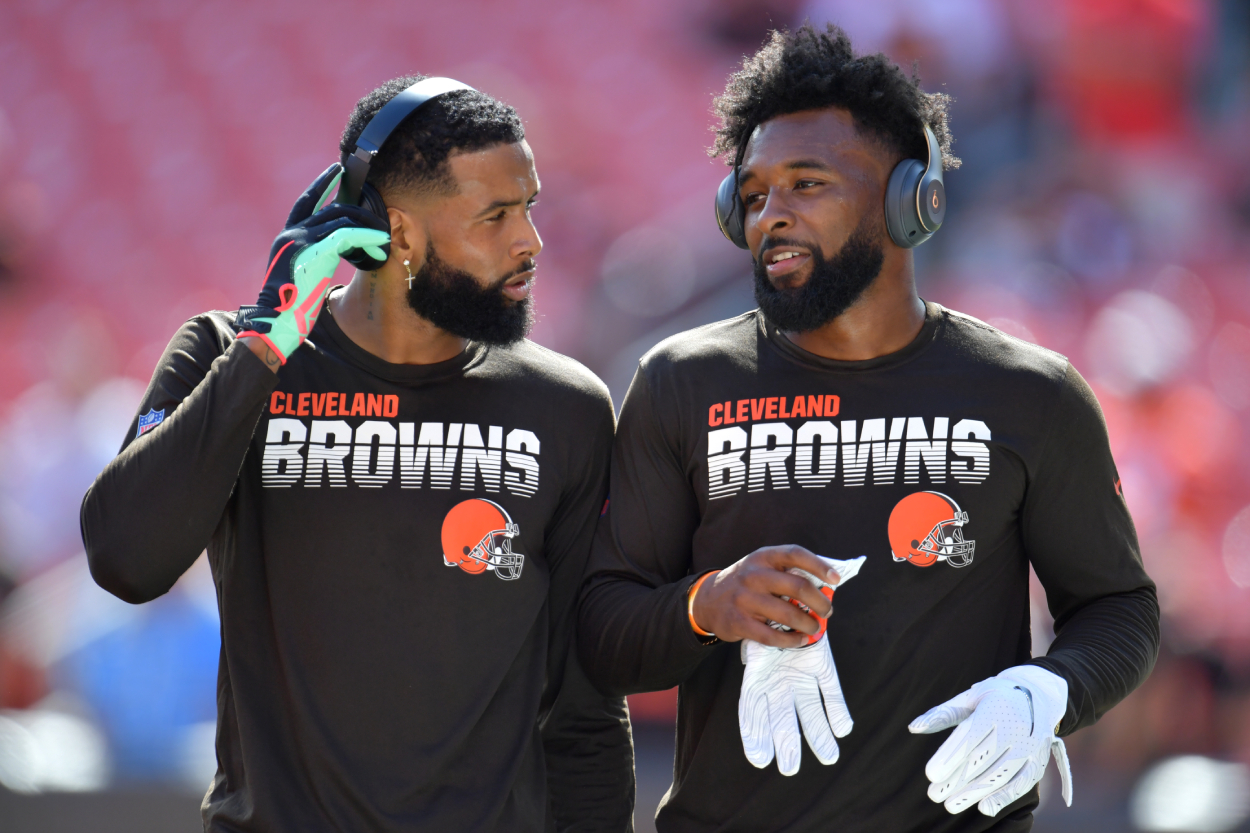 It's scary to think about how good the Browns could have been in 2020 had Beckham not tore his ACL in Week 7.
However, his Browns and former LSU teammate, Landry, recently had a strong message about how he looks heading into 2021.
"Man, he looked amazing," Landry said of Beckham and what he saw from him at a passing camp Mayfield hosted, according to Cleveland.com. "I can't wait for you guys to see him. I can't wait for him to get back out there. He'll be around today. He's in fantastic shape and he's ready to go. He's only what, 6 1/2 months and he's already doing some things that will blow your mind away."
In fact, Landry said Beckham looks like he did before his injury.
"He ran a post route, sticking off the same injured leg and exploding out of it, then going up, jumping off that same leg and making a catch, doing his thing — what he does with one hand," Landry said, per Cleveland.com. "You sit back and you're like, 'Wait. He's even better than he was last year.' So it's going to be amazing to see as time [goes on] and the further he gets away from surgery how much better he's going to get."
A healthy Odell Beckham Jr. on the Browns is the AFC's worst nightmare
The Browns showed how special of a team they can be without Beckham last year. They nearly dropped 50 points in the wild-card round and almost beat the Chiefs in the divisional round.
However, while Landry played well throughout the season, Cleveland lacked an elite playmaker in the passing game once Beckham went down.
If Beckham can play at the level he did before his injury, and maybe even take things back to his New York Giants days on occasion, this offense can be unstoppable. Beckham has gained over 1,000 receiving yards in every season he has played in 12 games or more. He also even led the NFL in yards per game in his rookie year in 2014. 
His out-of-this-world athleticism gives the Browns' offense a luxury not many teams have, as he can essentially make a big play at any time. That's something they could have used in the playoffs against Kansas City, as not one player had over 90 receiving yards in the game, which was compared to the Chiefs, who had two in Tyreek Hill and Travis Kelce.
A healthy Beckham not only gives the Browns a playmaker they didn't have, but he also makes them strong enough to be co-favorites for the AFC North title, especially seeing how much they grew up as a team toward the end of last season. Then, once it gets to playoff time, Cleveland can beat anyone. It proved that by nearly knocking off the Chiefs last year.
The Browns ended last season as one of the hottest up-and-coming teams in the NFL. A healthy Beckham, though, makes them legit contenders to represent the AFC in the Super Bowl.
Stats courtesy of Pro Football Reference
RELATED: Baker Mayfield Is on Pace To Make History When the Cleveland Browns Open the 2021 NFL Season