Jarvis Landry Finally Opens up About Odell Beckham Jr.'s Shocking Browns Departure: 'It Definitely Was Something That Hurt'
The Cleveland Browns' Odell Beckham Jr. experience ended up being a bizarre one. Despite all the hype surrounding pairing OBJ with former LSU teammate and roommate Jarvis Landry, the Browns could never figure out a consistent way to get everyone the football.
These struggles ultimately resulted in Beckham Jr. forcing his way out of Cleveland and signing with the Los Angeles Rams as a free agent.
While plenty of Browns fans are frustrated at Beckham Jr. and his lack of desire to stick things out in Cleveland, at least one former teammate is upset at how everything ended.
Jarvis Landry opened up about Odell Beckham Jr.'s departure
When asked about Beckham Jr.'s swift and surprising Browns departure, Landry offered a pretty honest and unhappy response.
"It definitely was something that hurt. It stung. It still does," Landry said.
For Landry, it's reasonable to assume he feels a bit of responsibility toward how the whole situation played out. Landry was traded to the Browns before OBJ was, and he was likely ecstatic at the idea of teaming back up with a former college teammate and close friend.
However, Browns quarterback Baker Mayfield proved time after time he preferred targeting Landry over OBJ. Even when he did throw the ball Beckham Jr.'s way, the two were rarely on the same page.
This isn't to say OBJ forcing his way out of Cleveland is Landry's fault. However, he presumably envisioned a scenario where he and Beckham Jr. finish their careers together with the Browns. For that dream to come crashing down just a few seasons into their partnership is frustrating.
Life didn't magically get better for Jarvis Landry and the Browns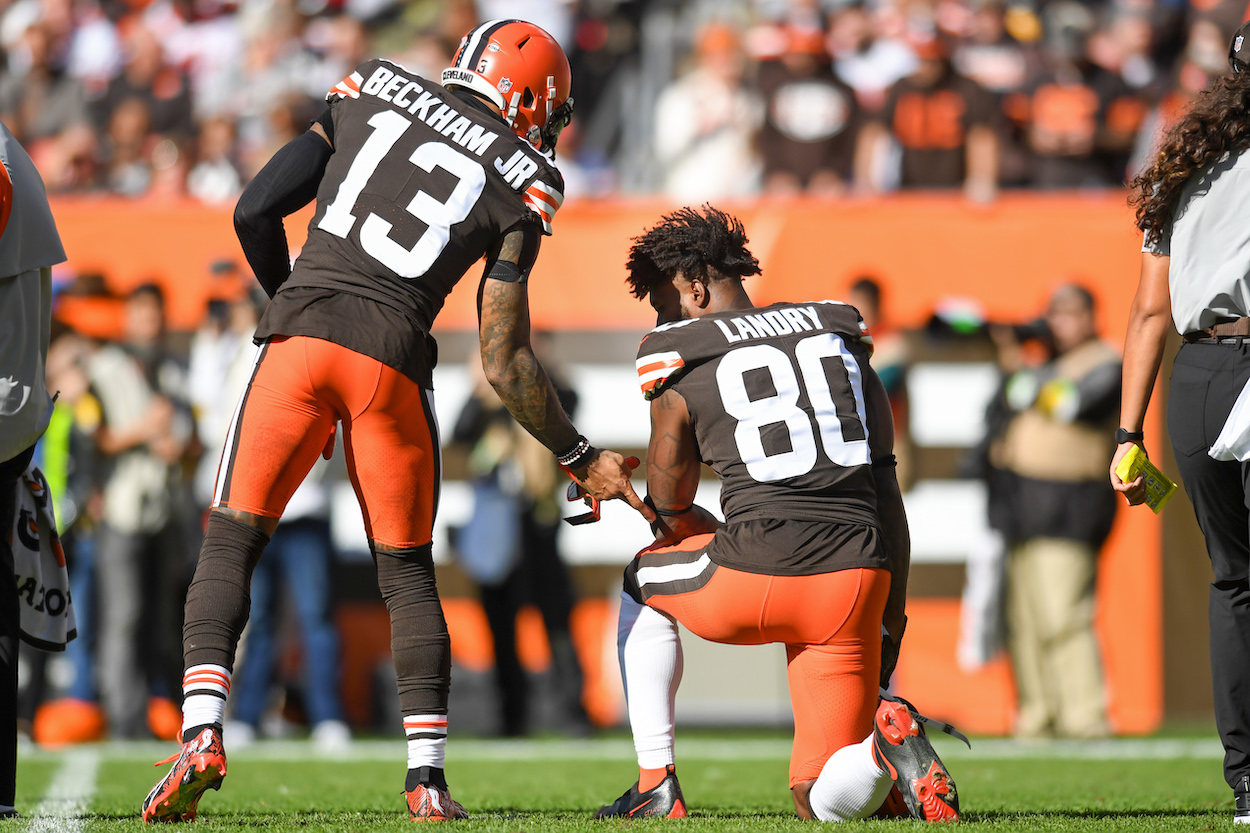 When it was first announced the Browns were releasing Beckham Jr., a sense of relief spread across several Cleveland supporters. While both sides are ultimately at fault for their failed partnership, it's reasonable to assume some people in the Browns' building felt OBJ was too much of a distraction.
However, this logic came crashing down during Week 10. The New England Patriots massacred the Browns by a score of 45-7, proving to everyone that the Browns had far more internal issues than just Beckham Jr. wanting the football.
Landry, Mayfield, and the rest of the Browns have some serious work to do if they want to remain in the AFC playoff picture post-OBJ.
Odell Beckham Jr.'s LA career is off to a rough start as well
On the flip side of the discussion, Beckham Jr.'s life didn't magically improve post-Cleveland either. He lost his first game as a member of the LA Rams playing against the San Francisco 49ers and only managed to haul in two catches for 18 yards.
He and quarterback Matthew Stafford were noticeably not on the same page.
Ultimately speaking, Landry put it best when discussing the OBJ/Browns breakup. It stung. The Beckham Jr., Landry, Mayfield trio should've been an elite one.
All stats courtesy of Pro Football Reference.