Jarvis Landry and Other NFL Stars Explain Parenting During the Pandemic: 'Before We're Football Players, We're Fathers'
People often forget that pro athletes are real people. Sure, they may seem like they're larger than life while playing in front of tens of thousands of fans, but when they get home they experience the same issues as everyone else. For athletes with kids, this includes parenting issues. Like all parents, athletes had even more challenges than normal to deal with during the pandemic. Here's a look at how Jarvis Landry and other NFL stars dealt with parenting during COVID-19.
Jarvis Landry's NFL career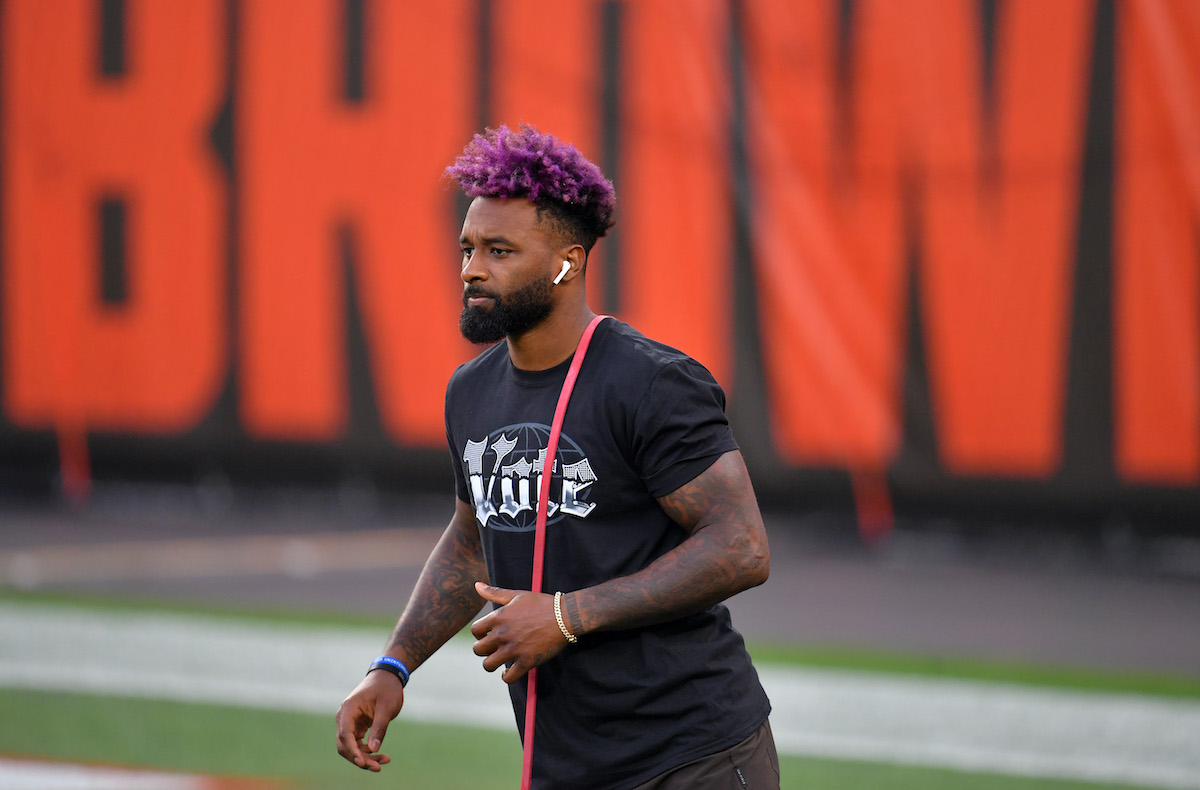 The Dolphins took Landry in the second round (No. 63 overall) of the 2014 NFL draft, out of LSU. Pro Football Reference tells us he played four seasons with the team, catching 400 passes for 4,038 yards and 22 touchdowns. He led the league with a career-high 112 receptions in 2017.
After that season, the Dolphins traded him to the Browns for a draft pick in each of the 2018 and 2019 drafts. His production has taken a considerable downturn since going to Cleveland. In three seasons with the team, Landry has 236 receptions for 2,990 yards and 13 touchdowns. He had 83 catches in 2019 — his highest single-season total since the trade, but it's lower than his worst season with the Dolphins.
Landry's family and parenting in the pandemic
Sports Illustrated reports on how NFL players parented during the pandemic. At the start, Landry wondered how he would keep his 4-year-old daughter and 2-year-old son entertained while being quarantined in their home. He was ordering so much from Amazon that boxes were arriving nearly every day. Landry feels he excelled in that task, admitting he "bought so much stuff, toy trains, soccer goals, Nerf guns, man, One hundred-piece Legos." But the kids' most popular activities were already in the house, like simply painting on pieces of paper.
During the virtual offseason of 2020, players had to train on their own and were able to actually be at home and with their families, which wasn't usually the norm during training camp. That inspired Landry to ask the Browns to bring back family days during training camp. A past institution, family days allowed siblings and children to pile onto the field after practices. The request was met with enthusiasm from head coach, and father of three, Kevin Stefanski, who plans to lobby for such a move when pandemic restrictions are dialed back. Which is good news for Landry, who acknowledges "before we're football players, we're fathers, we're men," and kids are a common topic of conversation among teammates.
Other players' pandemic parenting
Landry is far from the only NFL player who had to figure out how to best parent during the pandemic. Falcons cornerback Erik Harris says he got a taste of being a "full-time dad" during the pandemic, which isn't easy with four kids, all 8 years old or younger. He experimented with fishing, according to GQ, but they ended up just feeding the kids instead.
During the pandemic, Harris says he focused on child psychology, a passion of his wife's, and grew his understanding of what kids can comprehend. He was happy about being able to experience in 2020 some of what he misses during a normal season. That's important to Harris because he says his kids learning to be good people "starts in the house."
Patriots cornerback Justin Bethel has his first child due later this summer, so he didn't get a chance to parent during the height of the pandemic. It did, however, give him time to reflect on what he wants for his daughter once she is born. His goal is to be the man he wants her to eventually marry, something he learned from his own parents. He has also become more tuned in to fathers' conversations about their kids, trying to gain some advice and insight.