Jason Giambi Earned Nearly $140 Million and Is Now an Internet Meme
Jason Giambi was once one of Major League Baseball's most dangerous hitters. A 6-foot-3, 240-pound left-handed slugger, Giambi the American League in both an Oakland Athletics and New York Yankees uniform.
Nearly six years after his final MLB game, Jason Giambi has remerged among baseball fans as a popular internet meme. Just how good was Giambi in his prime, and how did he, of all people, become a meme? Let's take a look.
Jason Giambi had an excellent MLB career
A second-round pick of the Oakland Athletics in 1992, Jason Giambi terrorized MLB pitchers for nearly two decades. Giambi hit .277 with 440 home runs, 1,4441 RBIs, and 405 doubles from 1995-2014.
A bruising first baseman who moved to designated hitter later in his career, Giambi earned five All-Star nods and won AL MVP honors in 2000.
Jason Giambi is best known for his seven-year stint with the New York Yankees. Giambi hit .260 with 209 home runs and 604 RBIs in a Yankees uniform from 2002-08.
Although his time in pinstripes featured several injuries, including a tumor in 2004, and a steroid scandal, Giambi remained a fan favorite across those seven years.
After a disappointing 2007 season, Jason Giambi hit 32 home runs and 96 RBIs for the 2008 Yankees. Giambi inspired his teammates with a long mustache and a "magic" gold thong.
Giambi returned to Oakland for half a season in 2009 and played out the rest of his career with the Colorado Rockies and Cleveland Indians.
Steroids taint Giambi's legacy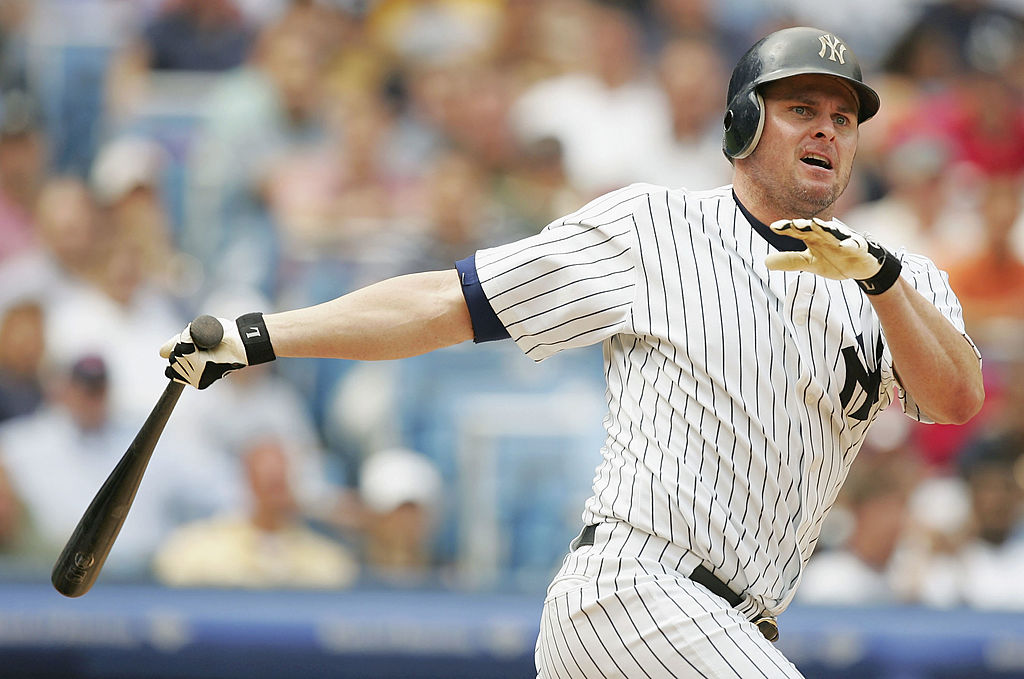 Jason Giambi was one of the first baseball stars who admitted to using steroids and human growth hormone. In 2003, Giambi told a federal grand jury he used steroids obtained from Greg Anderson, the personal trainer for San Francisco Giants outfielder Barry Bonds.
Jason Giambi's younger brother, Jeremy, also admitted he received steroids from Anderson. Jason told the grand jury that Anderson wanted to keep the transactions private.
Using Baseball-Reference's Wins Above Replacement system, Jason Giambi retired with a 50.5 career WAR. Giambi ranks 293rd place all-time and, interestingly, is barely behind Mark Teixeira, who replaced Giambi at first base in 2009.
Jason Giambi lasted only one year on the Baseball Hall of Fame ballots. He received just 1.6% of votes. Giambi's steroid ties and low career WAR made him a long shot to begin with, although he may eventually have a chance with the Today's Game Committee.
Giambi's 50.5 career WAR is far higher than Harold Baines' 38.7. The Today's Game Committee inducted Baines to the Hall of Fame in late-2018.
Why is Jason Giambi now an internet meme?
Jason Giambi retired after the 2014 season with nearly $140 million to his name. Of all the former MLB players who one would think would somehow become an internet meme years after retirement, Jason Giambi doesn't seem to fit the bill.
Yet, Giambi's name has become a running joke on sports Twitter, especially in the mentions of legendary New York radio host Mike Francesa. A caller asked Francesa in the fall of 2013 if the Yankees would consider hiring Jason Giambi as a player-manager.
There were rumors the Yankees would part ways with manager Joe Girardi and the caller believed Giambi, who admitted to using steroids, could help third baseman Alex Rodriguez handle his own performance-enhancing drug scandal. Rodriguez missed all of the 2014 season because of a PED-related suspension.
From there, the joke took on a life of its own. Callers asked Francesa if the Denver Broncos would sign Giambi as a backup quarterback, if the Knicks would hire Giambi as the team's next head coach, and if the New York Rangers would "go out and get Jason Giambi."
Francesa's sarcastic responses, including asking callers if they "got a star" for mentioning Giambi's name, quickly went viral.
Jason Giambi's baseball career ended with millions in the bank and 440 career home runs. But for a new generation of baseball fans, his name is only associated with prank calls and internet memes as opposed to his long home runs and glorious mustache.