Jason Kelce Returns to Eagles: Why Jalen Hurts Is the Biggest Winner
Jason Kelce announced it himself a few days on social media. However, now it's official. The Philadelphia Eagles inked their long-time starting center to a one-year, $14 million deal. Kelce is locked in through the remainder of the 2022 season.
For the Eagles, this is obviously a massive win. Kelce has been one of the best centers in football since debuting in 2011 and has primarily done a fantastic job of staying healthy. He's an elite run blocker and an elite pass blocker, and a big reason the Eagles have done such a great job of developing offensive linemen over the years.
His leadership at the center of the line makes everyone else's jobs easy.
Jason Kelce keeps the Eagles O-Line elite
The Eagles are eventually going to be forced into replacing Kelce. However, for at least one more season, they don't have to worry about it. Instead, Philadelphia gets to enter 2022 with one of the best offensive lines in football once more.
Jordan Mailata and Landon Dickerson both developed into legitimate starting pieces last season. Lane Johnson is still one of the better right tackles in football. Plus, former starting left guard Isaac Seumalo is returning from injury. He'll likely slide over to right guard and replace the retired Brandon Brooks.
Including Kelce, that's five excellent starting linemen.
The Eagles also have a strong blocking tight end in Dallas Goedert. He was often asked to help deal with elite pass rushers last season.
Jason Kelce's return benefits Jalen Hurts the most
Kelce returning for another season helps everyone. Howie Roseman doesn't have to worry about drafting or signing a replacement. Nick Sirianni doesn't have to worry about coaching up a new starting center. The run game should remain elite. However, quarterback Jalen Hurts is by far the man who benefits the most from this return.
Hurts flashed some serious potential during his first year as the Eagles' starting quarterback. However, there was a lot left to be desired regarding his passing. The hope in Philadelphia is he will take the necessary steps to improve this offseason.
Believe it to not, the center plays a significant role in how the passing game operates. Kelce is tasked with calling out protections and blocking assignments. The relationship Hurts shares with Kelce is just as meaningful as the one Hurts shares with his pass-catchers.
Hurts won't have to worry about adjusting to a new starting center in 2022. It's one less variable for him to account for.
All eyes will be on Jalen Hurts in 2022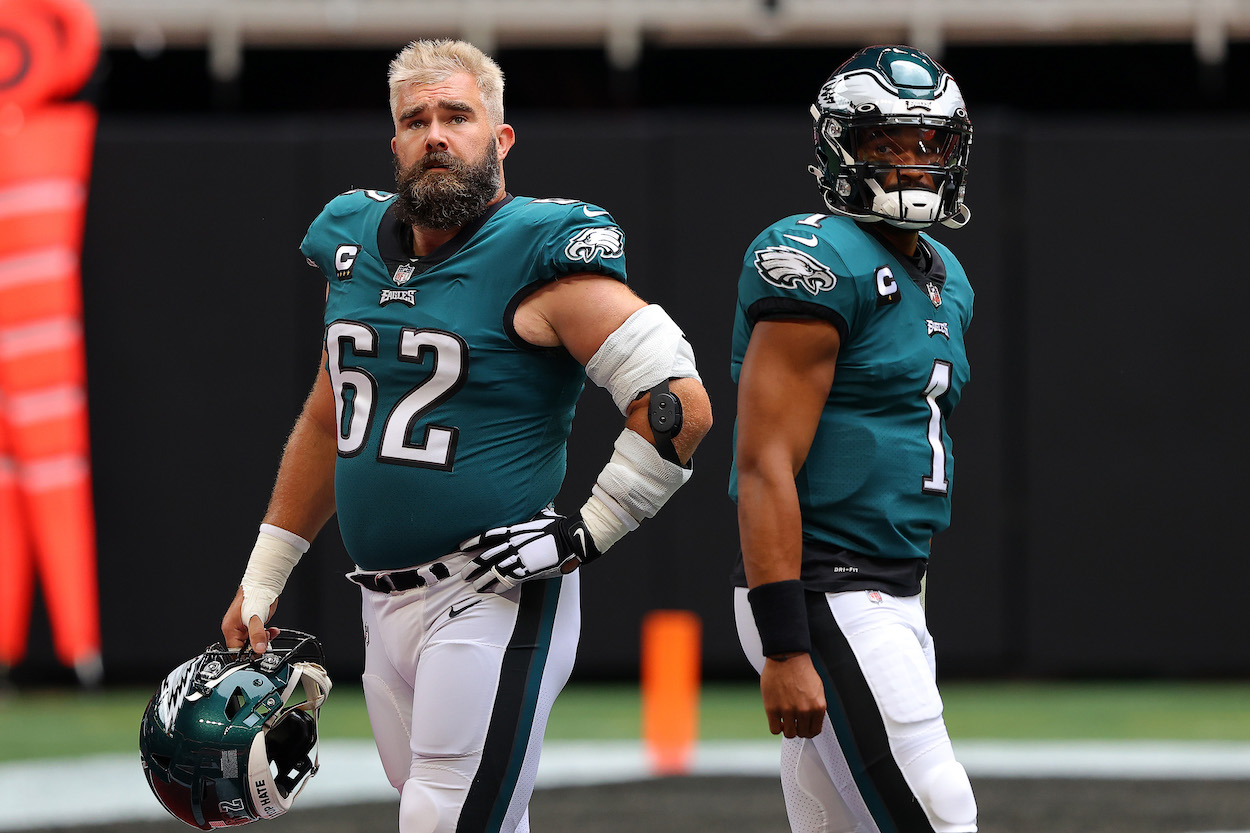 Now that Kelce is re-signed and the Eagles appear poised to add an impact WR this offseason, all eyes will point toward Hurts.
He needs to take advantage of this opportunity. Few young quarterbacks can say they've played behind the caliber of O-Line that Hurts gets to. He gets to operate in a clean and safe pocket 99% of games. That's a significant luxury.
If Hurts want to keep the starting job in Philly past 2022, he needs to prove he's taken the appropriate steps toward improvement. The odds are stacked in his favor following Kelce's return.
Like Sportscasting on Facebook. Follow us on Twitter @sportscasting19.
RELATED: Eagles Trade Rumors: Fletcher Cox Could Be on the Move