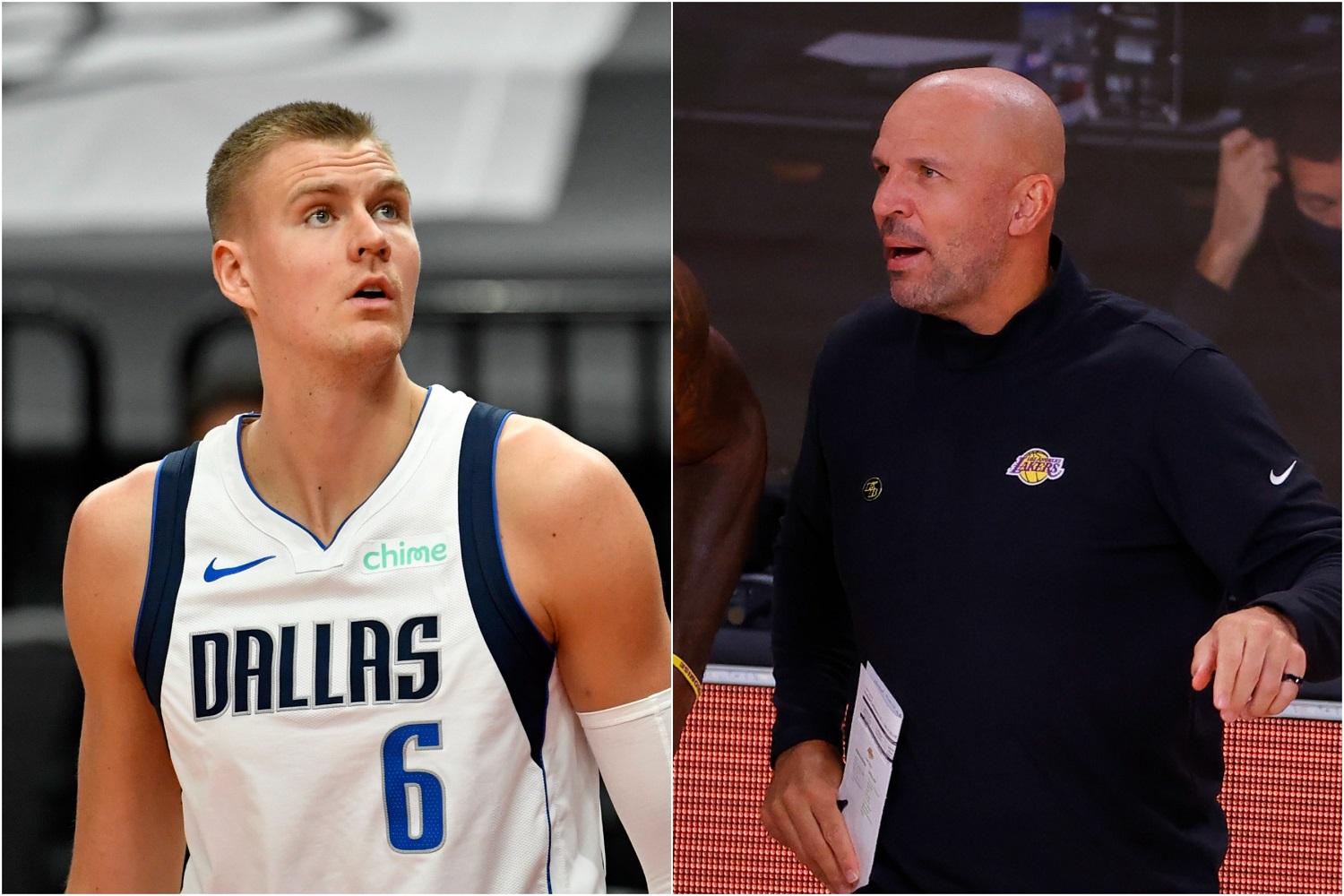 Jason Kidd Goes Out of His Way and Delivers Surprising News That Should Excite Mavericks Fans
New Dallas Mavericks coach Jason Kidd detoured to Latvia during a European trip that began with a visit to Luka Doncic. He returned to Dallas reporting encouraging news about Kristaps Porzingis.
Your idea of a detour might be swinging through the supermarket for bread on the way home from work. Jason Kidd's idea of a detour recently was to swing through Latvia on his way back from Slovenia. Dallas Mavericks fans should be happy about the trek. Their incoming coach came home with reassuring news about an important piece of the team.
The Dallas Mavericks are shaking things up this offseason
The Mavericks plateaued last NBA season after two years of steady improvement. Their 42-30 regular-season record was virtually identical to their mark from the previous season, and the Mavericks bowed out again in the first round of the Western Conference playoffs. Dallas still hasn't made it as far as the conference semifinals since winning its first league championship in 2011.
The Mavs will take on a different look next season, starting at the top. Head coach Rick Carlisle left with time remaining on his contract, and the Mavericks fired general manager Donnie Nelson. Kidd took over as the head coach, and owner Mark Cuban named Nico Harrison as general manager.
As far as the roster goes, the Mavericks' most important move was extending the contract of star guard Luka Doncic. Close behind was re-signing Tim Hardaway Jr., coming off the most effective of his eight NBA seasons. Free-agent signings Reggie Bullock and Sterling Brown may not be sexy additions, but they'll help.
Jason Kidd delivers surprising Kristaps Porzingis news for Mavericks fans
When last we saw Kristaps Porzingis, the 7-foot-3 Latvian was on the outs with Doncic and projected to be on his way out of Dallas. Never durable enough to play a full season, he missed 29 games last season, reportedly irritated Doncic at times, and seemed unhappy with his role.
He did average 20.1 points a game and shot well enough from the perimeter to force opposing bigs to chase him. Still, the combination of his salary ($29.47 million) and his high-maintenance behavior briefly qualified Porzingis as trade bait. Perhaps it was a function of not being able to move him, but Harrison started speaking positively about the center last month.
Kidd, previously the head coach of the Milwaukee Bucks from 2013-18, has joined the chorus. With players not due in camp until Sept. 28, Kidd put a trip to Porzingis' home on his overseas itinerary this summer and came home pleased.
"I know that he's healthy. I know he's excited. And then I just wanted to talk to him about things basketball-wise as well as off the court," Kidd told the Dallas Morning News. "We always talk about basketball, but I wanted to see where he was off the court.
"He's in a great place."
Porzingis will still have to work side-by-side with Doncic, who may not be as sold yet as Kidd is, but the coach's report is still a positive sign.
Kristaps Porzingis was a great host for his coach
Give Kidd props for making the trip to Riga, Latvia, to visit Porzingis early this month. The junket began in Ljubljana, Slovenia, where a contingent of Mavericks personnel presented Doncic with his $207 million contract extension in person as a show of how much he means to the organization.
When that two-day visit finished, most of the travel party returned home. Butt Kidd and Mavericks director of player health and performance Casey Smith flew approximately 1,000 miles northeast to drop in on Porzingis for three days.
"I wanted to see where he lived, that is home for him," Kidd told the newspaper. "Beautiful place. We always talk about family. Sometimes we need to show our 'care factor.' I care. I wanted to let him know that I care."
The visit went better than Kidd could have hoped.
"KP was an incredible host," Kidd said. "We had dinners. We got to see him work out and we got to talk a lot. He's in a good place, physically and mentally, and I'm excited about the opportunity to coach him."
Gestures like that can go a long way toward solidifying the relationship between a new coach and an athlete who can be an impact player night after night, so Mavericks fans have a reason to be excited.
Like Sportscasting on Facebook. Follow us on Twitter @sportscasting19.