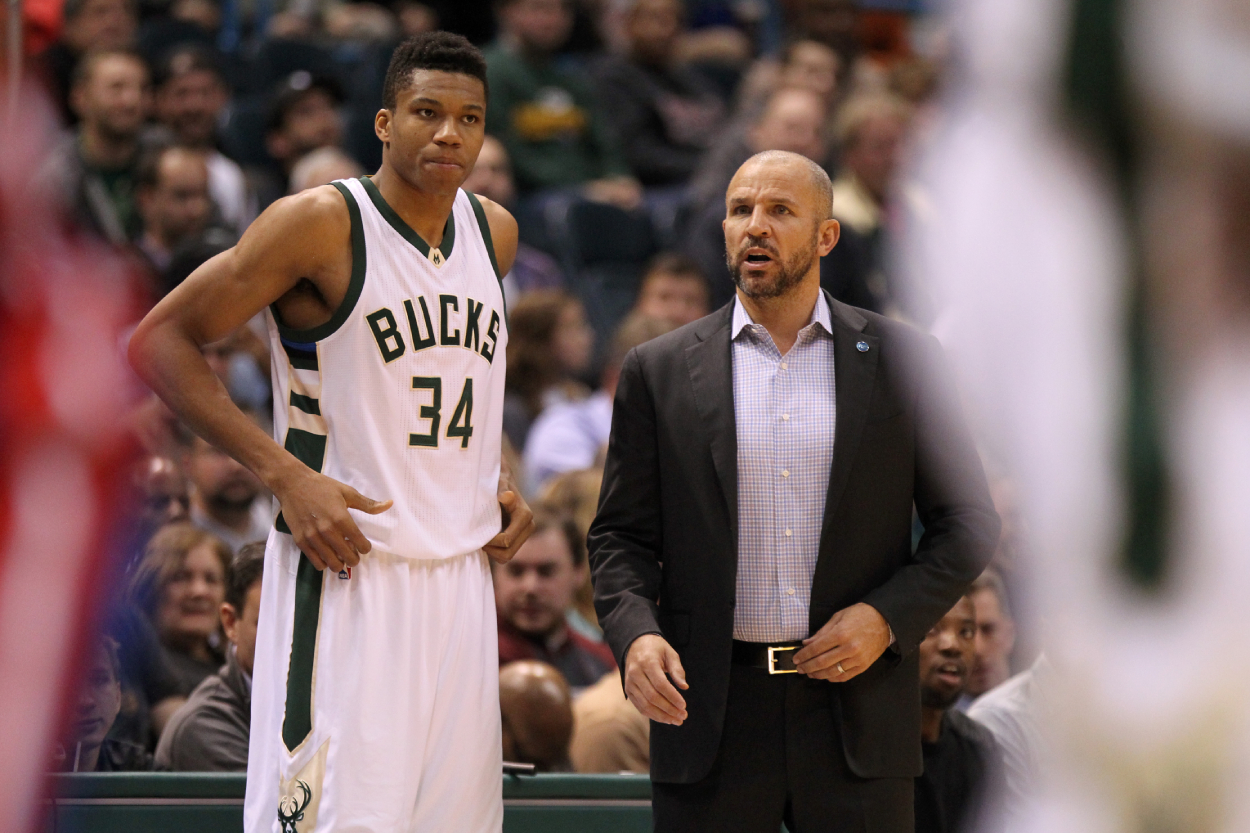 Jason Kidd Vehemently Chooses to Ignore the Controversial Claims Made About Him in the New Giannis Antetokounmpo Biography: 'Did Giannis Write It?'
In a biography about NBA star Giannis Antetokounmpo, controversial claims came out about current Dallas Mavericks and former Milwaukee Bucks head coach Jason Kidd. However, Kidd recently addressed the issue and he doesn't seem too bothered by the book, especially since Antetokounmpo didn't actually write it and someone else did.
Giannis Antetokounmpo led the Milwaukee Bucks to an NBA championship this past season, but he didn't get there without going through his fair share of on-court struggles first. In fact, a recently-released Antetokounmpo biography may have revealed just how difficult some of those tough times were, especially when Hall of Fame player Jason Kidd coached the Bucks a few years back.
However, Kidd recently addressed the book about Antetokounmpo, and it appears he's choosing to ignore it.
Jason Kidd's coaching style on the Bucks was described as 'psychological warfare'
In a book recently published about Giannis Antetokounmpo called Giannis: The Improbable Rise of an NBA MVP, author Mirin Fader wrote some controversial claims about Jason Kidd, the former Milwaukee Bucks coach who is now the head coach of the Dallas Mavericks.
According to Sports Illustrated, Kidd wasn't happy after the Bucks lost a close game on Dec. 23, 2014. He then allegedly put former Milwaukee big man Zaza Pachulia on the spot and asked him — in front of all the other players — if the team deserved to get the next couple of days off, including Christmas Day. Kidd then allegedly tried to put former Bucks player Jared Dudley on the spot as well. But after not liking their answers, he allegedly told the team they would practice at 9 a.m. the next day.
At that practice, Kidd allegedly made the players take part in a significant amount of running and called former Bucks player Larry Sanders a "piece of s—" while going off on him. He then later made the team work out in the pool, despite some of them not even knowing how to swim. Kidd allegedly kept going at Sanders as well, who later suffered from "full-body convulsions," per SI.
In the book, a former player also went as far as to say his coaching style was "psychological warfare," per the Fort Worth Star-Telegram.
Many of these claims would make anyone question why Kidd is a head coach in the NBA again, but it appears he isn't giving the book much thought.
The NBA coach is ignoring the claims made in the Giannis Antetokounmpo biography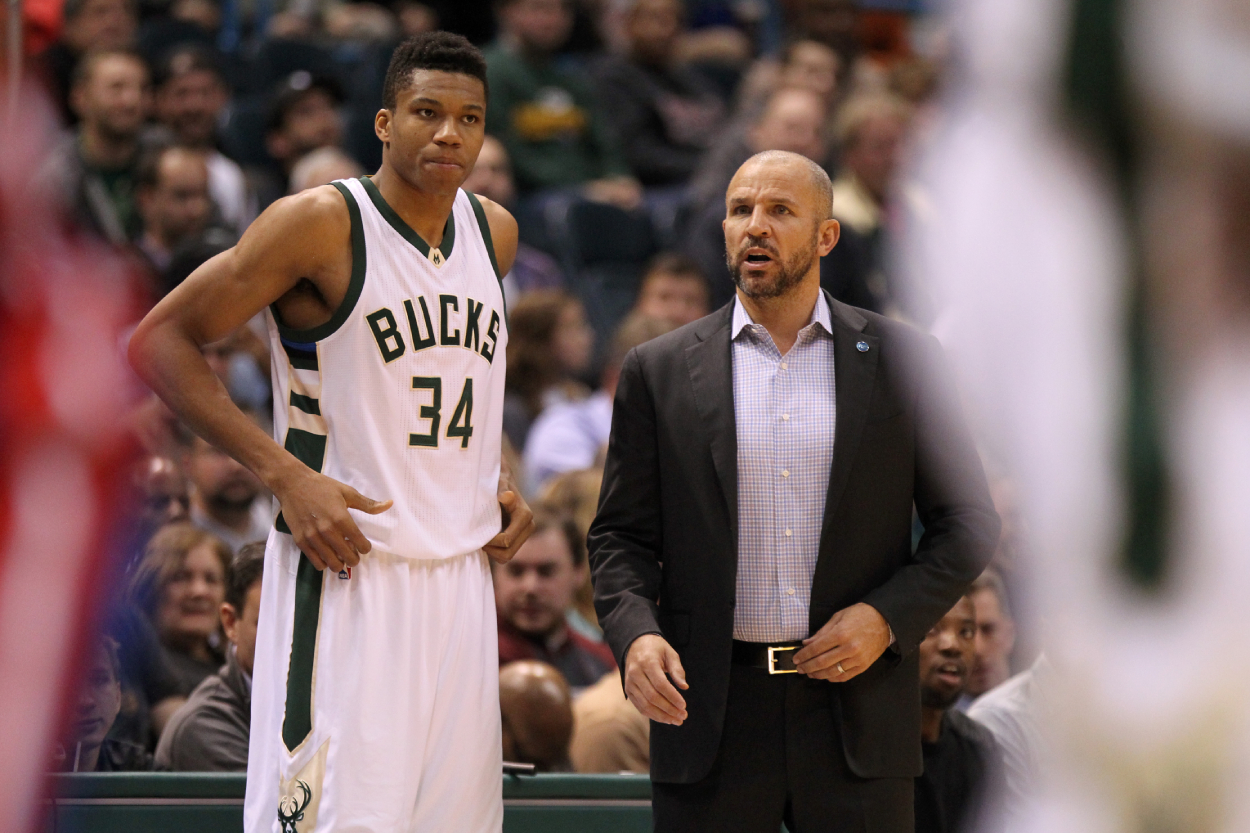 Kidd recently addressed the book while talking to the media, but he didn't actually discuss what the author and former players reportedly said about him. Kidd simply asked, "Did Giannis write it?"
"I'm waiting for Giannis for when he writes it," Kidd said, per the Fort Worth Star-Telegram. "I'm aware of [the book], but if it's not from Giannis I won't pay attention to it."
Kidd then continued to point out that Antetokounmpo — who has spoken highly of him since his departure from Milwaukee — didn't write the biography and that he and the Bucks superstar have a special relationship.
"There are no feelings about it because it was not Giannis' book. The cool thing is my relationship with Giannis goes beyond basketball," Kidd said, per the Star-Telegram. "I talked to him a couple of hours after his son was born. Cool little name, 'Maverick.'"
He continued: "See, you guys didn't know that. That's how close we are."
Kidd also said a few people who the book quoted have since told him that what they said to Fader "didn't come across the right way," per the Star-Telegram,
But, for now, it appears Kidd has no interest in addressing what Fader wrote. His focus appears to solely be on coaching his new team, the Mavericks.
Jason Kidd now must focus on coaching the Dallas Mavericks
Kidd failed when coaching an NBA superstar in Giannis Antetokounmpo, although the 15th pick in the 2013 NBA Draft didn't actually become the dominant force he is today until Kidd's final season with the team in 2017-18. Kidd finished 139-152 with the Bucks.
Now, though, he has a chance to get redemption by coaching a star on the Mavericks in Luka Doncic.
Doncic has only been in the NBA for three seasons but averaged over 27.5 points and 8.5 assists each of the last two years. He also recorded 8.0 or more rebounds per game. However, Dallas lost in the first round of the playoffs in both years, which eventually led to head coach Rick Carlisle's departure and Kidd's hiring.
"We helped build [the Bucks]," Kidd said, per the Star-Telegram. "Different companies, right? We did that. And here, this is a company that has a superstar. He has similarities to Giannis. They can dominate a game. It will be fun."
Hopefully, whether the controversial excerpts are true or not, Kidd has learned from his mistakes and can have more success with Doncic than he did with Antetokounmpo. He may not get another chance at being an NBA head coach if he doesn't.
Stats courtesy of Basketball Reference