Jason Kidd Adds to the Kristaps Porzingis Hype Train With Encouraging Yet Meaningless Description of KP's Mentality: 'It's the Joy'
Count new Dallas Mavericks head coach Jason Kidd among the list of people expressing unmitigated excitement about Kristaps Porzingis heading into the 2021-22 NBA season.
Kidd spoke about the Latvian big man during Wednesday's preseason win over the Charlotte Hornets, saying Porzingis has been in excellent shape throughout camp. The Hall of Fame point guard offered an explanation for Porzingis' change in mentality, one that will likely encourage Mavs fans.
Yet the description Kidd offered is ultimately meaningless until the season begins and Porzingis shows he can make certain adjustments on the floor.
Kristaps Porzingis is drawing praise from Jason Kidd and others ahead of the regular season
Teammates and coaches alike sound excited about Kristaps Porzingis' outlook heading into the new campaign.
Tim Hardaway Jr., a teammate of Porzingis' since the New York Knicks days, is adamant about this being a new and more dangerous version of KP. He also expressed optimism about the Unicorn's potential to be the true second star Dallas needs to get over the hump in the Western Conference.
Jason Kidd has pretty consistently stumped for Porzingis, as well. He met with the 26-year-old individually shortly after being named Mavs head coach and even said earlier this week he believes Porzingis will be an All-Star this season. Kidd noted this is the first time Porzingis was afforded a normal ramp-up during the preseason in the past several years.
"If that's the history, then we'll sign up and take that," Kidd said, via Callie Caplan of the Dallas Morning News. "I think he has the skill set to be an All-Star. He is an All-Star in this league.
The Mavs head coach explained the Porzingis hype during Wednesday's preseason game against the Charlotte Hornets, invoking the "love of the game" clause.
Kidd said Porzingis has rediscovered his "joy" for basketball after a frustrating 2020-21 season
Commentators asked Jason Kidd why everyone seems so jazzed about Kristaps Porzingis this offseason. According to Kidd, the big man needed to find love in the game again.
"It's the joy. I think he's having a lot of fun, and with that, you're going to be at your best," Kidd said, via Callie Caplan of the Dallas Morning News. "He's healthy. He feels great, and we've been seeing it all preseason and training camp."
Perhaps Porzingis truly feels motivated after such a tumultuous 2020-21 campaign.
The former All-Star struggled to stay healthy and never appeared to have the strongest relationship with Mavericks star Luka Doncic. Porzingis looked totally lost in the playoffs, as he averaged a mere 13.1 points and 5.4 rebounds in a first-round loss to the Los Angeles Clippers.
Kidd himself may offer Porzingis a change of pace. He might have more freedom or feel he is a better fit in J-Kidd's system, thus incentivizing him to give more to the team.
An energized Porzingis is good for Dallas. But, realistically, Kidd's description of Porzinigis' renewed love means absolutely nothing if he cannot translate his success in the offseason to the regular season.
Porzingis needs to stay healthy and prove his worth on the floor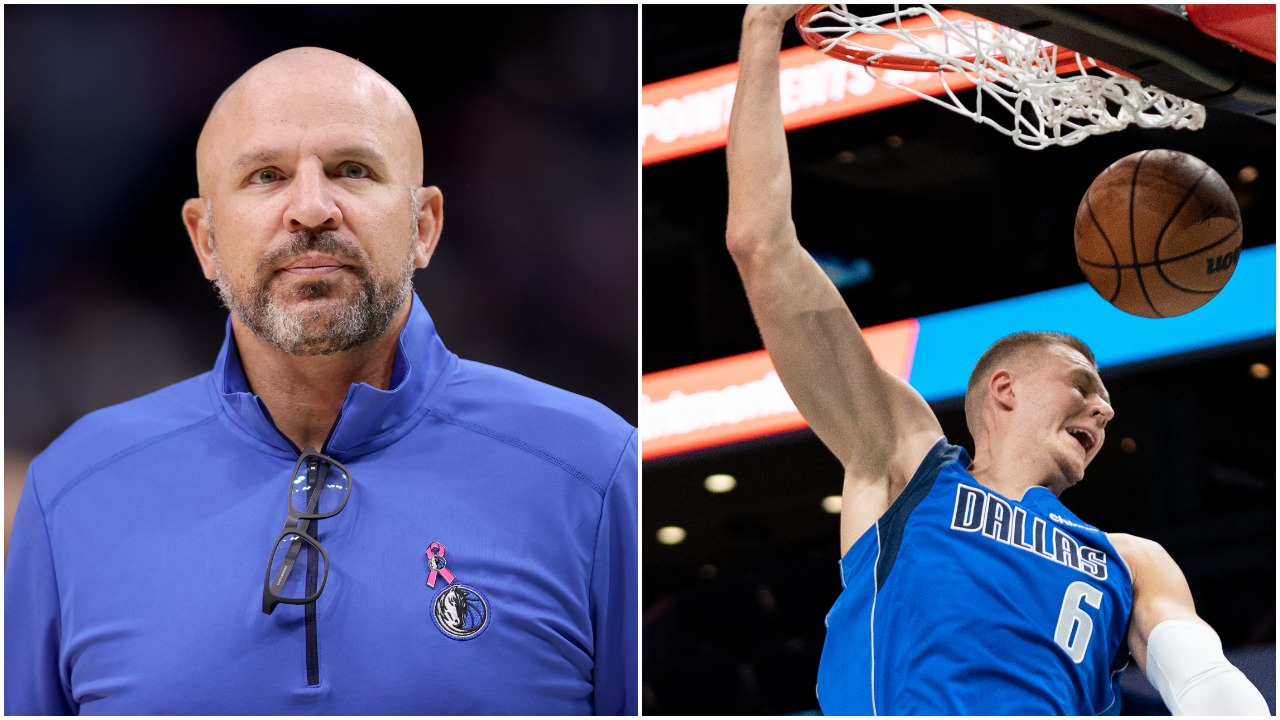 None of the hype surrounding Porzingis will mean very much if durability issues resurface or he struggles to perform.
Frankly, Porzingis' injury history is a concern. The shaky dynamic with Doncic also looms large, even if Mavericks governor Mark Cuban believes it's a non-issue. How might the two stars react at the first sign of adversity?
Porzingis has looked more involved in Kidd's offensive system during the preseason, both on and off the ball. He's been surprisingly active on the defensive end as well, particularly as a weak-side defender.
Still, it's one thing for the excitement of a new season to serve as a motivator and source of joy. Keeping that same energy during an 82-game regular season is something else entirely.
Thus, while Kidd's appraisals of Porzingis and the big man's apparent clarity is a plus for Mavs fans, they also mean nothing until KP shows he can be an adequate No. 2 guy.
Stats courtesy of Basketball Reference.
RELATED: Mark Cuban Claims the Dallas Mavericks Nearly Finalized a Trade That Also Would Have Prevented the Most Disastrous Deal in Brooklyn Nets History