Jason Kidd Lost $50,000 Over the Funniest Timeout in NBA History
Jason Kidd has coached Hall of Famers and future MVPs, but the only thing most fans recall about his stints on the sidelines involve spilled water and a last-ditch maneuver to pull a timeout out of thin air. The rest of his time in Brooklyn didn't go as planned as title aspirations dissolved into dust.
After an acrimonious departure, Kidd coached a disappointing Milwaukee team, although Giannis Antetokounmpo gives him some credit for his development into a superstar. After rehabbing his reputation working for the Lakers, is there a chance Kidd gets a head coaching job anytime soon?
The 'highlight' of Jason Kidd's tenure with the Nets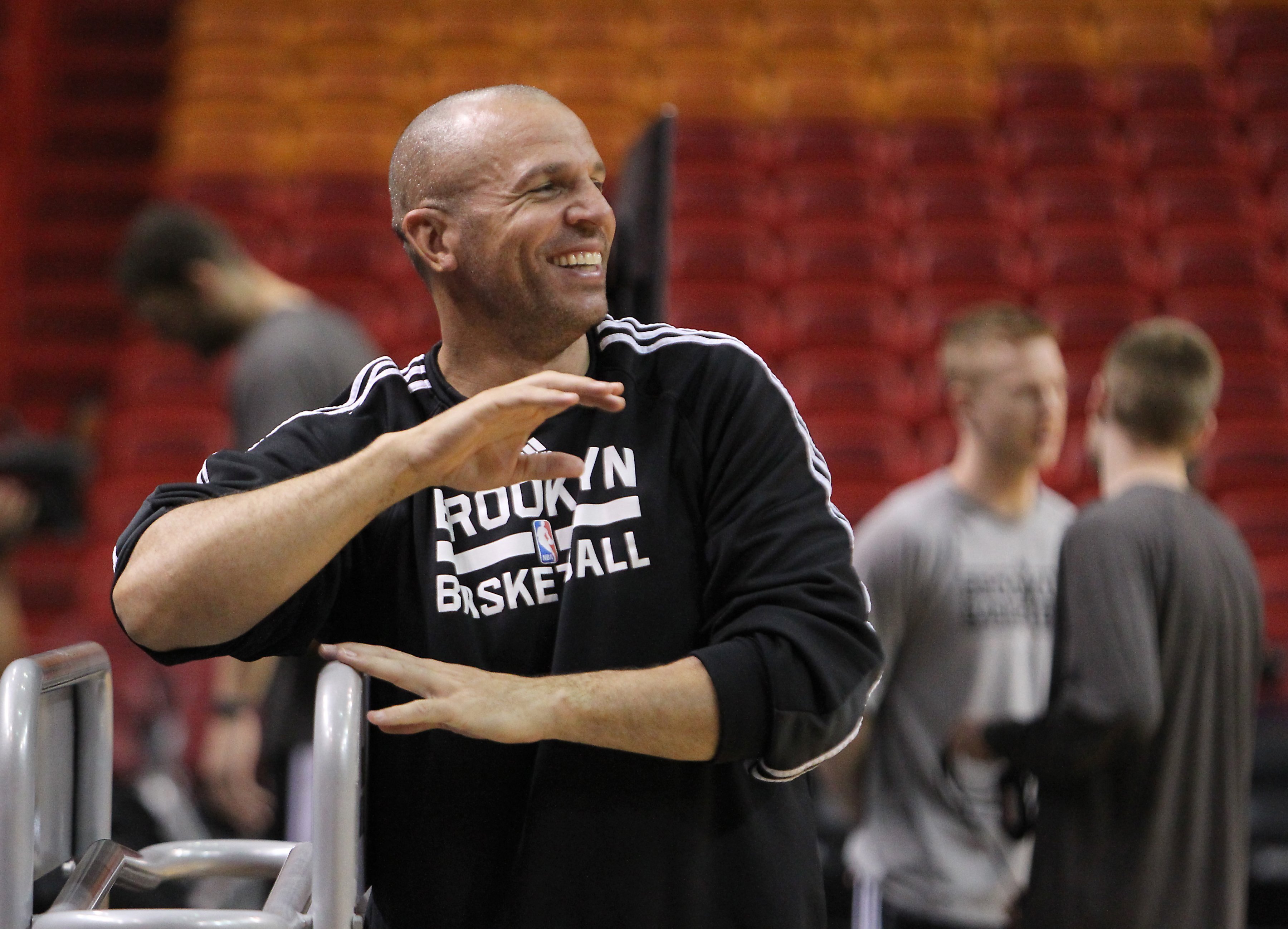 When Jason Kidd played out one of the finest careers in NBA history, he was often spoken about as if he were a coach on the floor. It was inevitable that someone would give him a chance as an actual head coach.
After being one of the greatest players in their history, Kidd became the coach of the Nets in 2013. It was a time of transition and optimism for the franchise. Their second year in Brooklyn, they had the largest payroll in the league after trading all of their future drafts for Kevin Garnett and Paul Pierce to add to a team that already employed Deron Williams and Joe Johnson. 
Kidd's coaching got off to a bad start. He got suspended for the first two games of the season after pleading guilty to a misdemeanor DWI charge. His inexperience with the responsibilities of the role became more comical a few weeks into his tenure. 
With eight seconds remaining in a late November game against the Los Angeles Lakers, Brooklyn was down two with no timeouts and Lakers guard Jodie Meeks going to the free throw line. The Nets had no timeouts, so Kidd engineered one out of nothing.
Kidd tried to play it off as an accident, but no one in the league office believed him. Kidd received a $50,000 fine for instigating the bump, reports Sports Illustrated. Brooklyn lost the game 99-94 and fell to 4-11 on the season. Things didn't get much better afterward. They finished with a 44-38 record, sixth in the Eastern Conference, and lost in the second round of the playoffs. 
The expensive foursome of Garnett, Pierce, Williams, and Johnson were all gone within two years as the franchise went into full tank mode for a few seasons.
His Bucks teams underwhelmed, but he helped with Giannis Antetokounmpo
RELATED: What Does David Blatt Mean for New York Knicks' Dream of Signing Giannis Antetokounmpo?
Kidd left the Nets after that one season after a failed attempt to attain more power in the front office. He popped back up as the head coach for the Milwaukee Bucks. The team improved immediately — Milwaukee won 26 more games in his first season. Kidd finished third in Coach of the Year voting — but consistent success proved evasive. 
They only won 33 games the following year, and Kidd missed much of the season after undergoing hip surgery. The one bright spot of the year was the growth of Giannis Antetokounmpo, who Kidd moved to point guard. 
But the Greek Freak's emerging stardom could only prop up the team for so long. They only won 42 games in the 2016-17 season, with Kidd's unimaginative offense drawing increasingly strong criticism. They lost to the Toronto Raptors in the first round of the playoffs.
Kidd managed to keep his job going into the next year. But after the team went 23-22 to start the year, Kidd was fired. Antetokounmpo tried to save his former coach before the decision went public, according to Bleacher Report. But it's not a coincidence that the team has improved greatly since he was replaced. 
Will Kidd get another chance as a head coach?
RELATED: Giannis Antetokounmpo's Massive Hands Are a Key Part of His Freakish Physique
Kidd's coaching career doesn't inspire confidence, but this hasn't stopped people from linked him to coaching jobs. He agreed to be an assistant coach for the Lakers this year. Some speculated he was in a position to take Frank Vogel's job because of Vogel's lack of celebrity and Kidd's relationship with James. 
The Lakers are so good that a change of coach is highly unlikely any time in the near future. But Kidd may get another opportunity to be a head coach thanks to his proximity to the winning. 
People linked him to the Nets job in recent months, mostly on the idea that he can connect to stars better than no-name coaches, even though Kidd had a lot of problems managing the egos the first time he was in Brooklyn, especially with Garnett. 
Kidd has shown multiple times that he is an average coach at best. But his fame, connections, and desire to have the job again means that he'll probably get another chance in the next couple years.