Jason Kidd to Coach Milwaukee Bucks After Failed Brooklyn Power Grab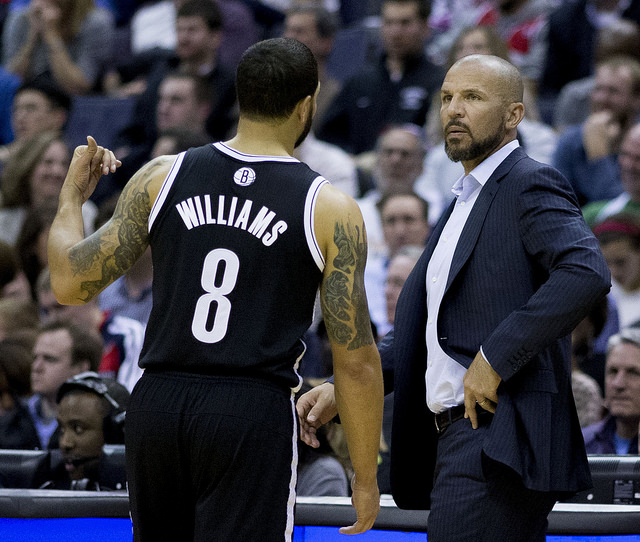 It appears that money can't buy happiness or championships when it comes to the NBA (unless that money's being used to pay LeBron James), as Jason Kidd, the triple-double maestro, pending head coach of the Milwaukee Bucks, and possibly not the best decision-maker of all time, cut ties with the Brooklyn Nets after a single season with the team as a head coach. Kidd made the leap from playing at the highest level to coaching at the highest level with exactly zero stops between the two, and the questions he faced about his readiness and coaching acumen remain about as relevant as they were this time last year, which goes a long way toward explaining why this story gets so odd so quickly. Because, apparently, Jason Kidd left the Nets over a denied request for even more authority.
Whether or not Kidd really was really unhappy with Deron Williams — which, if you've seen Deron Williams play since leaving Utah, is understandable — the narrative of D-Will: Coach Killer doesn't really apply here, since Kidd was looking for a gig akin to what Doc Rivers and Stan Van Gundy have going on in Los Angeles and Detroit, respectively. The details in that link, which is a Zach Lowe piece that is very much worth reading, remain relatively cloudy as far as timelines are concerned. Since Kidd might have been amicable for simply having Billy King, the current GM of the Nets, deposed rather than taking the job himself, and the veterans on the team liked him, there would be ample reason to stay. Especially when the alternative is Milwaukee.
The rabbit hole goes deeper still as The Bucks, who will send Brooklyn a pair of second round draft picks in 2015 and 2019 as compensation, are reportedly offering Kidd a strictly coaching gig, with no input into front office affairs. So, to recap: Kidd leaves Brooklyn after being rebuffed over a pitch for more front office control to go to Milwaukee where he'll have the same amount of say as he did at his old job, but on a worse team in a smaller market. Makes perfect sense, if by "perfect sense" you mean "no sense at all."
As the first HC to switch teams after a single season of coaching since 1980, Kidd is standing on strange and unfamiliar territory. While he reportedly asked the owners for the coaching position as "[h]e was intrigued by the challenge of coaching a young, rebuilding team that just added the No. 2 pick in the draft in Duke's Jabari Parker," per ESPN's Chris Broussard. The coach has some kind of relationship with one of the new Milwaukee owners, but the exact nature seems to be in some dispute on the Internet.
What isn't in doubt, though, is that the Bucks have moved strictly into the head scratching zone. The new ownership group, apparently,  "[n]ever told current Bucks coach Larry Drew what he was doing. Never let GM John Hammond know what the plan is. A couple of days after that, the Bucks have a new coach." For a team that's professing to leave Kidd out of the decision-making process, he sure seems to have the favor of his bosses.