Jason Peters Still Has a Lot of Faith in Former Teammate Carson Wentz: 'He's Going to Get Back to His MVP Caliber of Play'
The greatest left tackle in Philadelphia Eagles history, Jason Peters finally found a new home during free agency. The veteran offensive lineman signed a one-year deal with the Chicago Bears, likely to operate as their starting blindside blocker as they look to keep rookie quarterback Justin Fields safe.
The 39-year-old tackle is coming off a 2020 campaign hobbled by injury. Peters did not look impressive when healthy and on the field either — regression is clearly beginning to catch up to the 17-year veteran.
Jason Peters is joining the Chicago Bears
While Peters will have to get used to blocking for Fields in Chicago, the longtime Eagles tackle always appeared to have a bit of a soft spot for former Philly quarterback Carson Wentz. Peters was the starting left tackle throughout Wentz's Eagles career.
During an offseason interview back in March, when Peters was still a free agent hunting for a new team, he spoke glowingly about Wentz and what he believes he'll be able to accomplish with the Indianapolis Colts moving forward.
"I think Frank [Reich] is going to bring the best out of Carson because I've seen it when we were on the Super Bowl run. They were great together and that's a good fit for Carson, I think," Peters said.
"He's going to get back to his MVP caliber of play."
Jason Peters believes in former Eagles quarterback Carson Wentz
Was this pandering by Peters in an attempt to land a gig with the Colts? Maybe.
Or maybe it was Peters simply understanding some of the behind-the-scenes foolishness that occurred in Philadelphia during Wentz's final season there. Wentz experienced a drop-off between 2019 and 2020 that hasn't been seen before from a young quarterback, leading many to believe that greater factors were at play, causing the regression to occur.
Eagles general manager Howie Roseman ruffled some serious feathers during the 2020 offseason by drafting Jalen Hurts in the second round, and rumors emerged regarding major dysfunction in the Eagles front office. An offseason "Athletic" article detailed a lot of the back-stabbing and childlike behavior that had been taking place around the organization.
Seeing Wentz escape this mess and land in a more stable environment (Colts), with a former coach (Frank Reich), could explain why Peters feels confident in Wentz's ability to bounce back in 2021.
The Bears are looking to mirror the 2016/2017 Eagles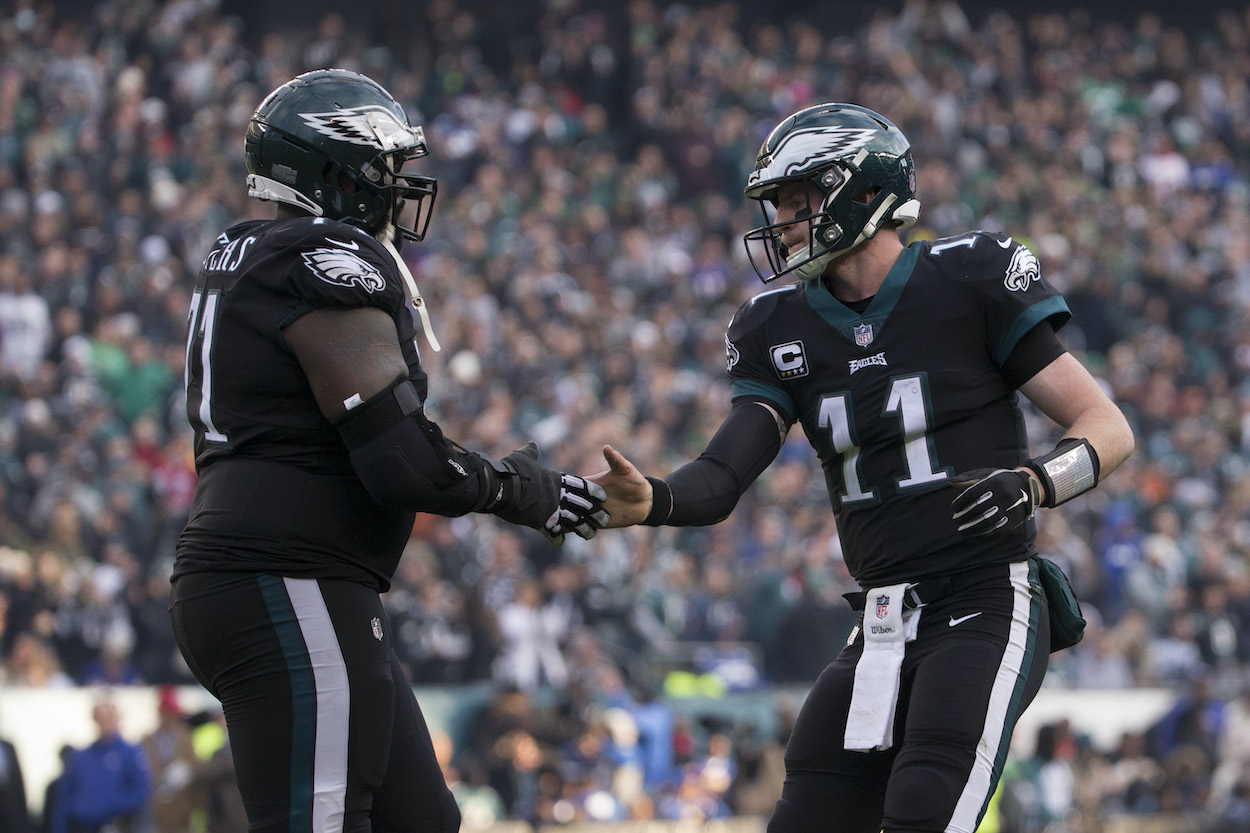 There are several striking similarities when comparing where the Eagles were when they first drafted Wentz and where the Bears are now with Fields.
Both teams' head coach is from the Andy Reid coaching tree, both teams traded up for their franchise quarterback, both teams were coming off years of mediocrity, and both teams had/have a future Hall of Famer in Jason Peters running the show across the offensive line.
If everything goes according to plan for the Bears, they'll be competing for their own respective Super Bowl in year two of Fields' NFL career.