Jason Whitlock Demands the NFL Fire Roger Goodell and Find a New Commissioner: 'Weak Men Are Weak Leaders'
Article Highlights:
Former Fox Sports 1 commentator Jason Whitlock recently called for NFL Commissioner Roger Goodell's dismissal
In an essay for The Blaze, the veteran journalist called the longtime commissioner "weak" and said he is incapable of defending the NFL
Unfortunately for Whitlock, Goodell isn't likely to lose his job anytime soon
As the football world attempts to navigate through Brian Flores' lawsuit against the NFL and some of its teams, outspoken sports journalist Jason Whitlock believes the problem starts at the top.
In some regards, Whitlock isn't alone in suggesting the league's oft-criticized hiring practices go beyond the Rooney Rule and social media campaigns for teams to hire proven Black coordinators like the Kansas City Chiefs' Eric Bieniemy and the Tampa Bay Buccaneers' Byron Leftwich. However, he instead directed his frustration at NFL Commissioner Roger Goodell, a man he believes is unfit for the job.
Jason Whitlock demanded the NFL fire Roger Goodell and find a new commissioner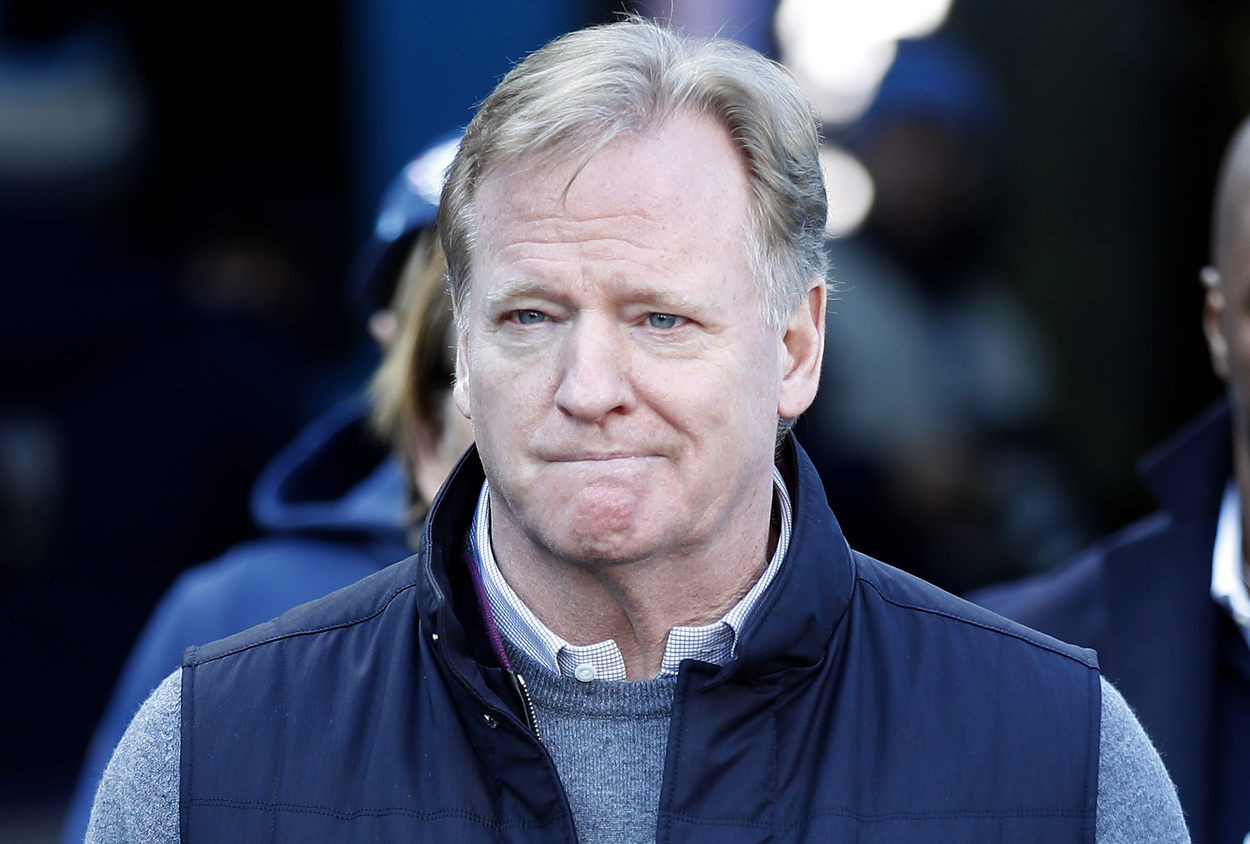 In a Feb. 7 essay for The Blaze, Whitlock criticized Goodell and Troy Vincent, the league's executive vice president of football operations, for failing to "protect the shield," a longtime football term created by former commissioner Pete Rozelle. The former Speak for Yourself co-host accused Goodell and Vincent of using the past decade to "cover their asses" and "protect" their salaries rather than the league at large.
Two days after Goodell issued a memo regarding teams not hiring Black coaches in recent years, Whitlock, who is Black, unleashed on the longtime commissioner:
"Goodell should be fired. Immediately. He's paid more than $50 million a year to defend the league. He can't muster the courage to do it because he lacks the backbone and intellectual heft to recognize and articulate what ESPN, Fox Sports, The New York Times, and Big Tech's social media apps have done to the NFL."

Jason Whitlock
Whitlock, who worked for the aforementioned Fox Sports from 2016-20, said he believes Goodell failed to properly lead amid various controversies in recent years, including the DeflateGate scandal and former San Francisco 49ers quarterback Colin Kaepernick's protests. He felt Goodell did not "protect the shield," as Rozelle would have, which allowed the media to create narratives and viewpoints as a result of the commissioner's seemingly absent leadership.
"Weak men are weak leaders," Whitlock added. "Their lone concern is protecting their paychecks and their power."
Unfortunately for Whitlock, Goodell isn't likely to lose his job amid recent events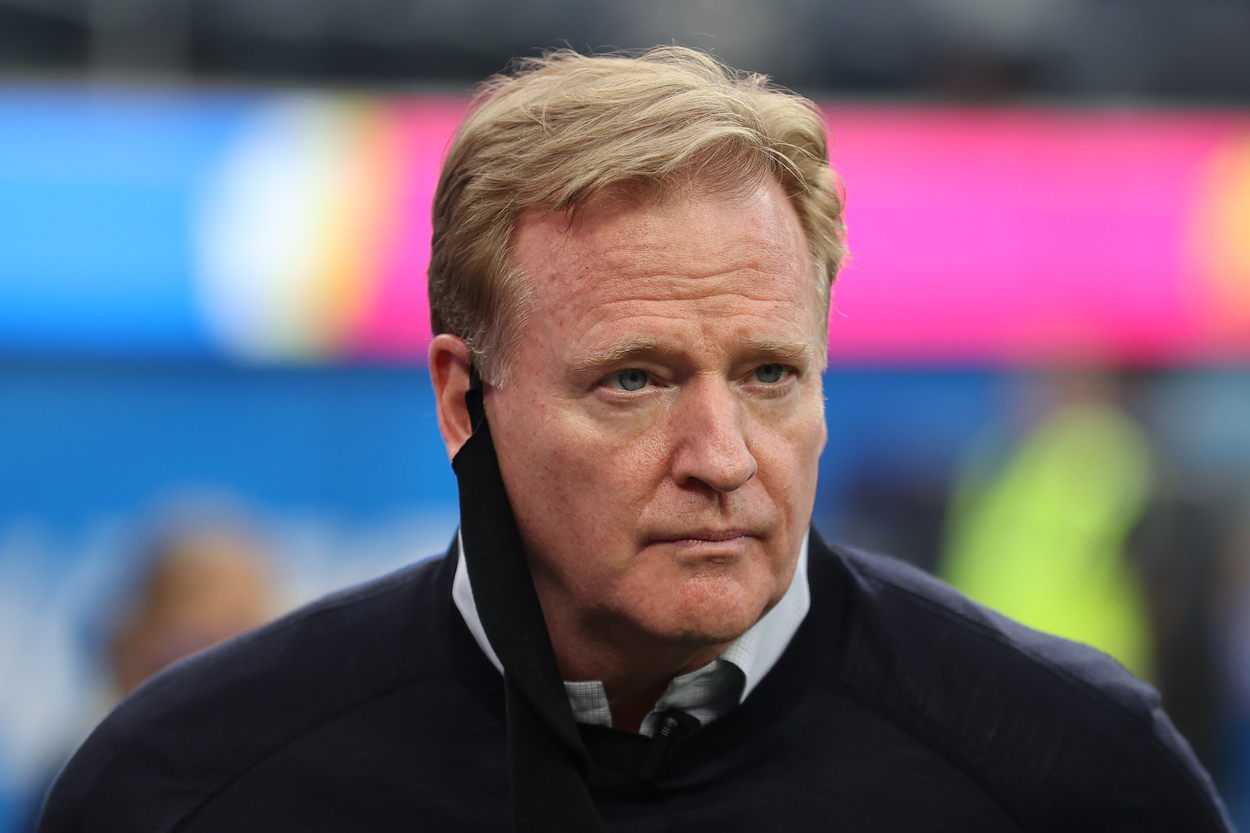 Whitlock isn't wrong about how many significant controversies the NFL has had in Goodell's 16 years as commissioner. Several of those issues, specifically Kaepernick's social justice platform, became politically-charged weapons the league couldn't control.
However, Whitlock needs to accept an important reality: If the NFL owners intended to fire Goodell for lack of leadership and inability to protect the shield, they would have done so years ago.
The NFL owners agreed to extend Goodell's contract in December 2017, only months after then-President Donald Trump attacked the league and Kaepernick. Dallas Cowboys owner Jerry Jones had even criticized Goodell earlier that year for suspending Cowboys running back Ezekiel Elliott and for allegedly mishandling players kneeling during the national anthem.
Eventually, Jones and the other 31 owners realized Goodell excels in one specific area: making money.
If the NFL owners cared about whether Goodell could lead (as is Whilock's issue), they wouldn't have given him a significant extension. They can afford to live with a bad PR hit, but losing money is another story entirely.
If the other scandals, whether it was former Baltimore Ravens running back Ray Rice's suspension or DeflateGate, didn't cost Goodell his job, Flores' lawsuit over alleged racist hiring practices won't force a change at the top anytime soon.
The NFL's oft-criticized hiring practices go far beyond Goodell, even if he is the commissioner
Whitlock's issue with Goodell is an alleged inability to lead and protect the league. Others have used the last few coaching cycles to criticize the commissioner and the league's lack of Black head coaches.
However, as Whitlock himself noted, that issue goes far beyond Goodell and his power. Owners are almost always going to try hiring who they feel is the best candidate or who they believe will win a Super Bowl. Sometimes, the two aren't mutually exclusive.
ESPN's Louis Riddick said ahead of the 2022 Pro Bowl that the owners have to be the ones who hire Black candidates. Neither Goodell nor Vincent can mandate anything. A team has to be the one that wants former Indianapolis Colts head coach Jim Caldwell or Los Angeles Rams defensive coordinator Raheem Morris, each of whom are Black.
For now, Whitlock isn't likely to get his wish about Goodell losing his post. Only time will tell if recent events allow others to get their wish and see more teams hire Black candidates in the next coaching cycle.
Like Sportscasting on Facebook. Follow us on Twitter @sportscasting19.
RELATED: Troy Vincent Will Make NFL History if Roger Goodell Names Him the League's Next Commissioner