Jason Whitlock Praises Brian Flores and Takes Shot at Colin Kaepernick
Article Highlights:
Former Fox Sports commentator Jason Whitlock ripped former San Francisco 49ers quarterback Colin Kaepernick while praising Pittsburgh Steelers assistant coach Brian Flores
The veteran journalist commended the ex-Miami Dolphins head coach, who is suing the NFL over alleged racist hiring practices, for taking "a step back to move forward"
Although Whitlock isn't wrong in aspects of what he said, it is also important to note the issue in comparing Flores and Kaepernick
Former Miami Dolphins head coach Brian Flores is back in the NFL, and Jason Whitlock is glad to see it, especially if the four-time Super Bowl champion's newest job allows the outspoken journalist to fire a shot at ex-San Francisco 49ers quarterback Colin Kaepernick.
Whitlock, the former Fox Sports commentator and current podcast host, has an extensive history of criticizing Kaepernick, the quarterback-turned-social justice activist. In a recent Twitter thread, the Ball State graduate used his platform to simultaneously commend Flores, now an assistant coach for the Pittsburgh Steelers, and rip the 49ers' former dual-threat signal-caller.
Jason Whitlock took aim at Colin Kaepernick in praising Brian Flores
Reports of the end of Flores' coaching career were evidently both premature and greatly exaggerated.
Only weeks after filing a class-action lawsuit against the NFL and its 32 teams for conducting "sham interviews" and discriminatory practices against minority coaching candidates, the former Dolphins head coach joined the Steelers as a senior defensive assistant and linebackers coach.
In a team-issued statement, Steelers head coach Mike Tomlin said Flores' resume "speaks for itself" and the team is excited to bring him aboard. The Steelers understandably did not reference Flores' lawsuit in the press release.
Some football fans might be perturbed, or even outright offended, by the idea of a head coach who went 24-25 in the last three seasons needing to settle for a position coaching job. The Boston College product served as the New England Patriots linebackers coach from 2016-18 and called defensive plays in his final season with the team.
For his money, the 54-year-old Whitlock is impressed by Flores' decision to join the Steelers.
"No disrespect to Tomlin/Steelers, but Brian Flores deserves most of the praise. He swallowed his ego, took a step back to move forward. That's what grown men do. Flores put himself back in the game. It's what Kap should've done, instead of demanding big money and starting job."

Jason Whitlock
In a follow-up tweet, Whitlock wrote, "This is what happens when common sense and self-awareness rule rather than Twitter and Pride."
Whitlock isn't exactly wrong, at least not from a certain point of view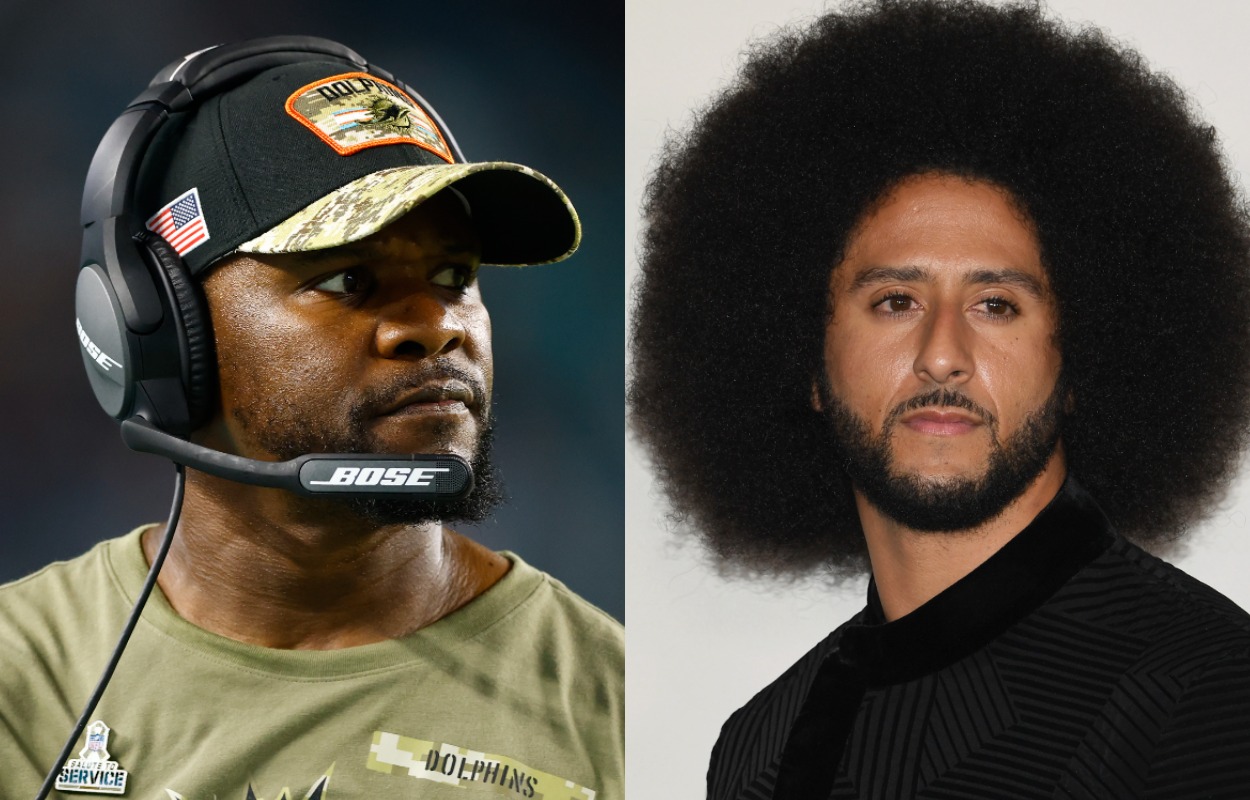 Before going any further, now is the perfect time to address Whitlock's claim that Kaepernick demanded a large salary — rumored to be in the $10 million range — and a starting job. The quarterback's representatives declined those allegations in a 2019 press release and said no team offered the Nevada product a workout or brought him in for an official workout; the Seattle Seahawks brought him in for a visit, not a workout, in 2017.
With that said, Whitlock's overall point isn't entirely inaccurate, at least with regards to Flores. The longtime journalist praised the ex-Dolphins coach for being willing to take a lesser job and taking a "step back to move forward." In short, Flores compromised, and in an instance like this, settling for a position coaching job shouldn't be viewed as a weakness.
Football fans are free to feel however they want about Whitlock, but he's right that Flores should be commended for joining the Steelers. The veteran coach could have easily stood his ground and insisted he wouldn't take anything but a head coach or defensive coordinator position. Instead, he accepted a job that will keep him in the NFL as his lawsuit progresses.
There is zero shame in Flores settling and joining the Steelers. If things go well enough next season, the four-time Super Bowl champion could find himself in a position to earn his second career head coaching gig. That alone should have been an incentive for him to join the Black and Yellow.
There are still significant flaws in comparing Flores and Kaepernick
Whitlock wasn't the first to compare Flores and Kaepernick, and he certainly won't be the last. Both risked their professional football careers to fight against systemic racism and improve the lives of others.
However, social media users need to exercise caution when comparing the two. Kaepernick initially took a knee in 2016 to protest police brutality. Flores sued the NFL over what he believes are discriminatory hiring practices. Although both are trying to create significant change, their missions are substantially different.
Both also had different odds of returning to the NFL after hitting the open market. There are 32 teams, and each employs as many as three quarterbacks on the 53-man roster per season. According to Ourlads, 97 quarterbacks were on 53-man rosters in Week 18 of the 2021 campaign; that doesn't include players such as Cleveland Browns quarterback Baker Mayfield and New York Giants signal-caller Daniel Jones who had already been placed on injured reserve.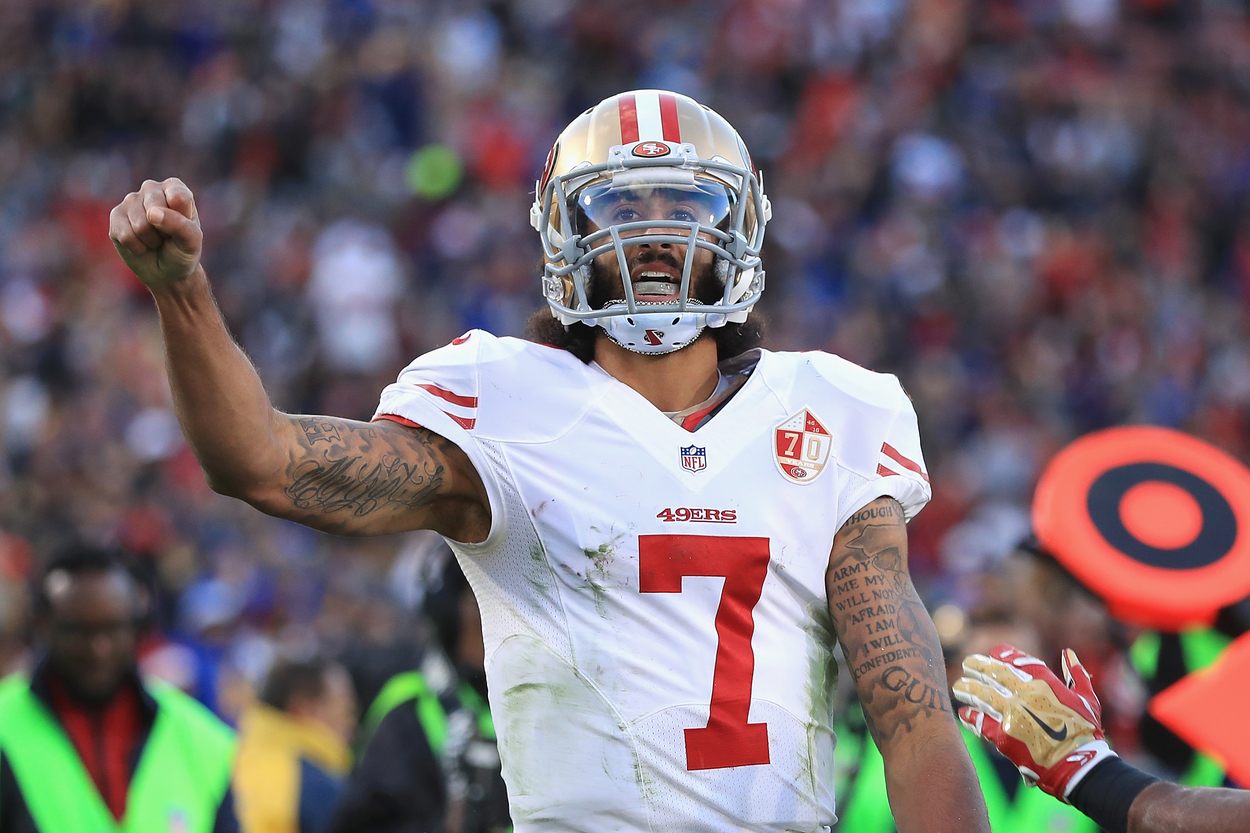 Compare that to NFL coaching staffs, where teams can create seemingly any job they want. The Steelers could have hired Flores as their linebackers coach, senior football analyst, or assistant to the traveling secretary, so long as he was willing to take any of those positions.
Even if he hadn't taken a knee, Kaepernick would have faced the reality that there are a finite number of quarterback roster spots. If a team desperately wanted Flores, they could have created a position for him, which is arguably the most important difference here.
As tempting as the thought of comparing Flores and Kaepernick is, the reality is things aren't that simple. The most significant parallel between the two is they were willing to risk their football careers for a greater cause, and there is no shame in leaving the comparisons there.
Like Sportscasting on Facebook. Follow us on Twitter @sportscasting19.
RELATED: Kareem Abdul-Jabbar Lashes out Against the NFL and Has 1 Question for Brian Flores: 'What Took so Long?'