Ja'Wuan James and His Shocking Return Could Save the Ravens' Dwindling Super Bowl Odds
With an 8-4 record, the Baltimore Ravens are seemingly in a great spot. They currently possess the No. 3 seed in the AFC and could quickly leapfrog the Derrick Henry-less Tennessee Titans by the time the regular season comes to a finish.
However, penciling the Ravens into a top spot in the AFC at this point in the year isn't justifiable. Despite their impressive eight wins, the Ravens are actually struggling at the moment. They've lost three of their last six games, including a heartbreaker to the Pittsburgh Steelers in Week 13.
The Ravens' engine is starting to slow down
The Ravens came out of the gate roaring to begin the 2021 NFL season. They started the year 5-1, knocking off formidable AFC opponents like the Kansas City Chiefs, Los Angeles Chargers, and Indianapolis Colts. Lamar Jackson was playing like an improved version of his former MVP-winning self, and the Ravens' defense was doing just enough to keep games within reach.
After Jackson's massive 500-plus yard performance against the Colts in Week 5, many thought he was emerging as the frontrunner to win the league's MVP award for the second time in three years.
However, Baltimore's momentum halted to a stop after an embarrassing Week 7 loss to the Cincinnati Bengals. Injuries started piling up, the offensive line started to struggle, and Jackson's MVP-caliber play evaporated into thin air.
Jackson's recent four-interception game against the Cleveland Browns was a profound eye-opening moment for those who still had faith in Baltimore going all the way this year. The Ravens won the game. However, they hardly looked like a playoff-caliber team. Instead, they looked like a shell of their former selves against a weakened Browns team.
The Ravens are getting some last-second reinforcements
Following the recent loss of cornerback Marlon Humphrey to a season-ending injury, the Ravens' 2021 Super Bowl hopes were seemingly killed off. However, out of nowhere, the team is getting last-second reinforcements.
According to several reports, offensive tackle Ja'Wuan James is set to begin practicing with the Ravens for the first time this season.
Veteran tackle Ja'Wuan James signed with the Ravens in June despite a torn Achilles that made it uncertain that he'd be able to play at all this year and it looks like he might have a chance to make it back to action.

The Ravens designated James for return from the non-football injury list on Wednesday. He'll be able to practice for 21 days before the team will face a choice of activating him or shutting him down for the year…

If he can play, the Ravens could use some depth at tackle. Left tackle Ronnie Stanley is out for the season and Patrick Mekari, who took over at right tackle with Alejandro Villanueva moving to the left side, is expected to miss time with a hand injury.

Josh Alper, Pro Football Talk
Can Ja'Wuan James give Baltimore a big enough boost down the stretch?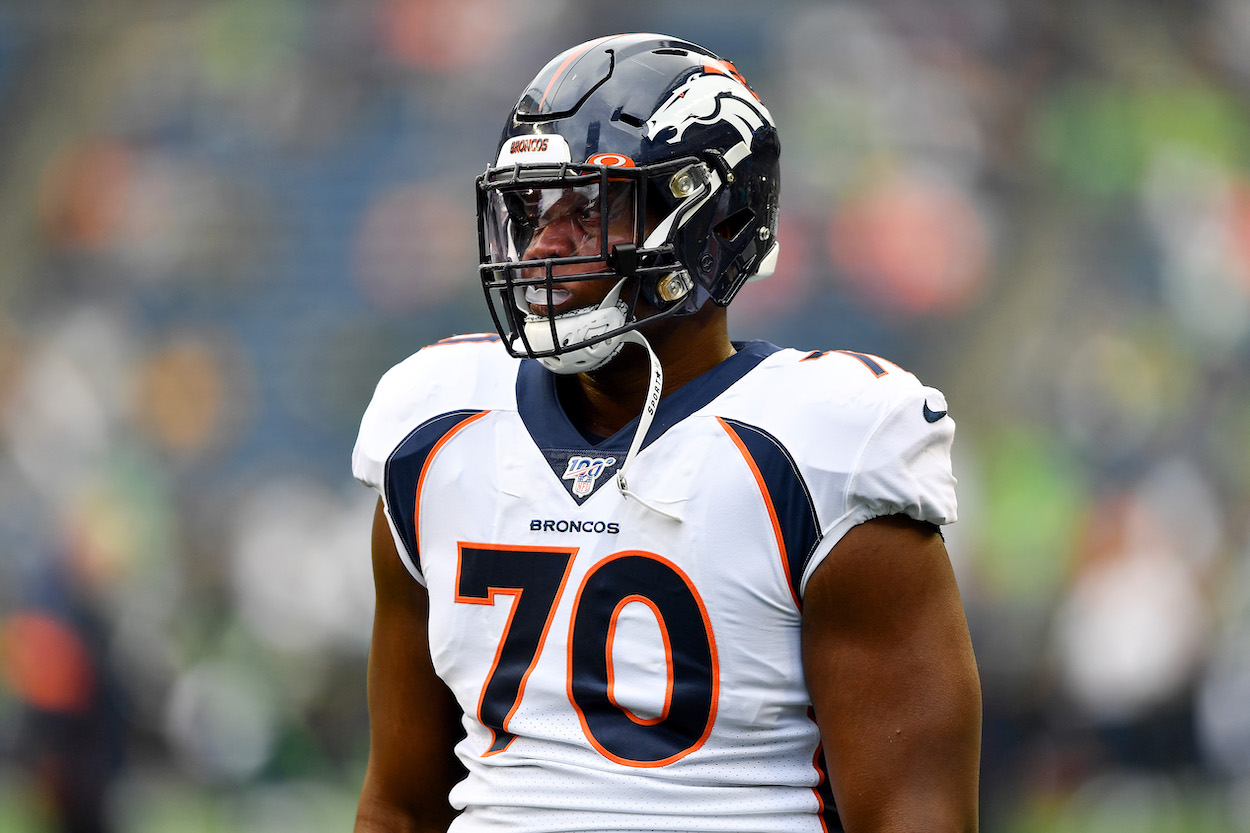 It's unclear whether James will be able to progress through practice fast enough to make an impact for the Ravens this season. It all depends on his health and current physical condition. However, it's impossible to ignore the upside he could provide to a battered Baltimore offensive line.
James was a multi-year starter at right tackle for the Miami Dolphins from 2014 to 2018 before making the switch to the Denver Broncos. Injuries have hobbled him since joining Denver. However, at just 29 years old, it's reasonable to assume he still has gas left in the tank.
If James can return to the active roster and find a way into Baltimore's starting line, their protection for Lamar Jackson will have significantly improved. Better protection equals more time to throw and bigger lanes to run through — both massive aspects of Jackson's game.
Only time will tell if James can make an impact in purple and black this season. However, returning to practice is a crucial step one for a player coming off a ruptured Achilles.
All stats courtesy of Pro Football Reference.