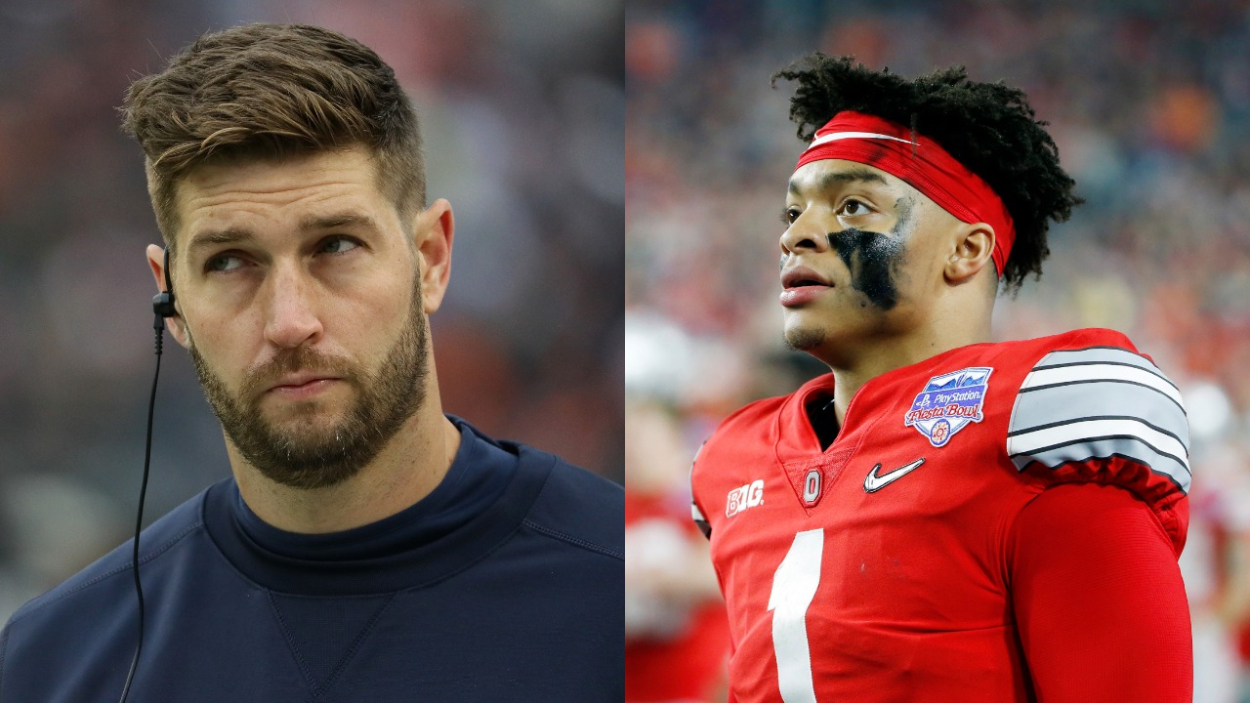 Jay Cutler Shares His Strong Opinions About Justin Fields and the Bears: 'This Isn't Ohio State'
If anyone knows how challenging it is to be an NFL quarterback, it's Jay Cutler, and while the Chicago Bears are trying to figure out the right time to play Justin Fields, Cutler has a strong opinion about the situation. So, does Chicago's former quarterback think the Bears should sit or start the rookie QB?
The Chicago Bears will have an interesting situation on their hands once the 2021 NFL season eventually kicks off. They have a veteran quarterback in Andy Dalton, as well as a rookie QB in Justin Fields, and they are both hoping to start for the Bears this upcoming year. Dalton has proven he is more than just a serviceable quarterback, but Fields has a chance to become a franchise guy, so the quarterback competition between the two should be pretty intriguing. What does a former Bears star who was also, at one point, Chicago's potential franchise QB in Jay Cutler think about the situation, though? He has a pretty strong opinion.
Will the Chicago Bears start Andy Dalton or Justin Fields?
The Bears signed Dalton to a contract earlier this offseason and pretty much named him the starter right away, tweeting a photo of him along with the caption "QB1."
However, they also drafted his potential replacement in Justin Fields with the No. 11 overall pick in the 2021 NFL draft.
Not long after the draft, Bears head coach Matt Nagy said on The Rich Eisen Show that he could use the time he spent with the Kansas City Chiefs in 2017 as a blueprint for the Dalton-Fields situation. The Chiefs started Alex Smith that year while Patrick Mahomes backed him up before ultimately starting for KC in 2018. Nagy also later said that the Bears must have "a successful entry plan" for Fields, per NFL.com.
When looking at those comments, it looks like Dalton should be the Bears' starter come Week 1, which isn't a totally awful plan. Dalton has a 74-66-2 career record as a starter and has thrown for 33,764 total yards and 218 touchdowns compared to 126 interceptions. Fields, on the other hand, has the chance to become a star after throwing for 5,373 yards, 63 touchdowns, and nine interceptions in 22 total games at Ohio State.
Given Fields' lack of experience, though, it's hard to say which QB is Chicago's best option for 2021, but former Bears quarterback Jay Cutler seems to have a strong opinion about the topic.
Jay Cutler thinks Justin Fields should sit for the Bears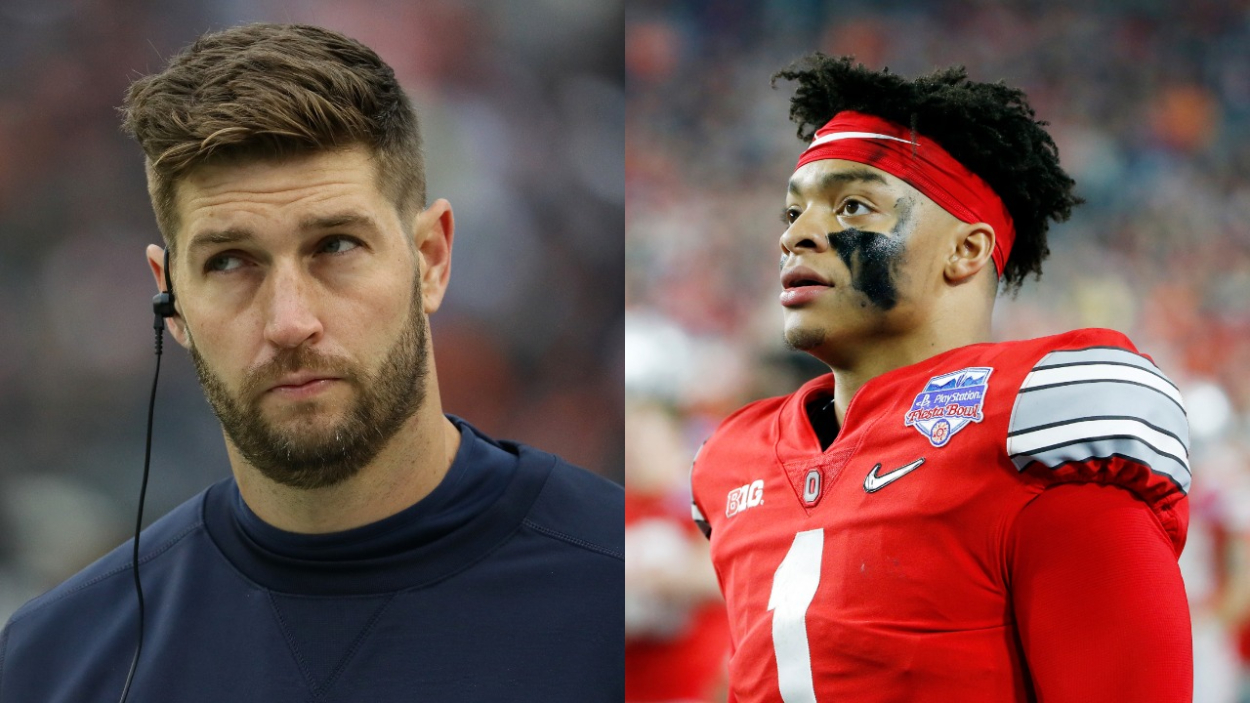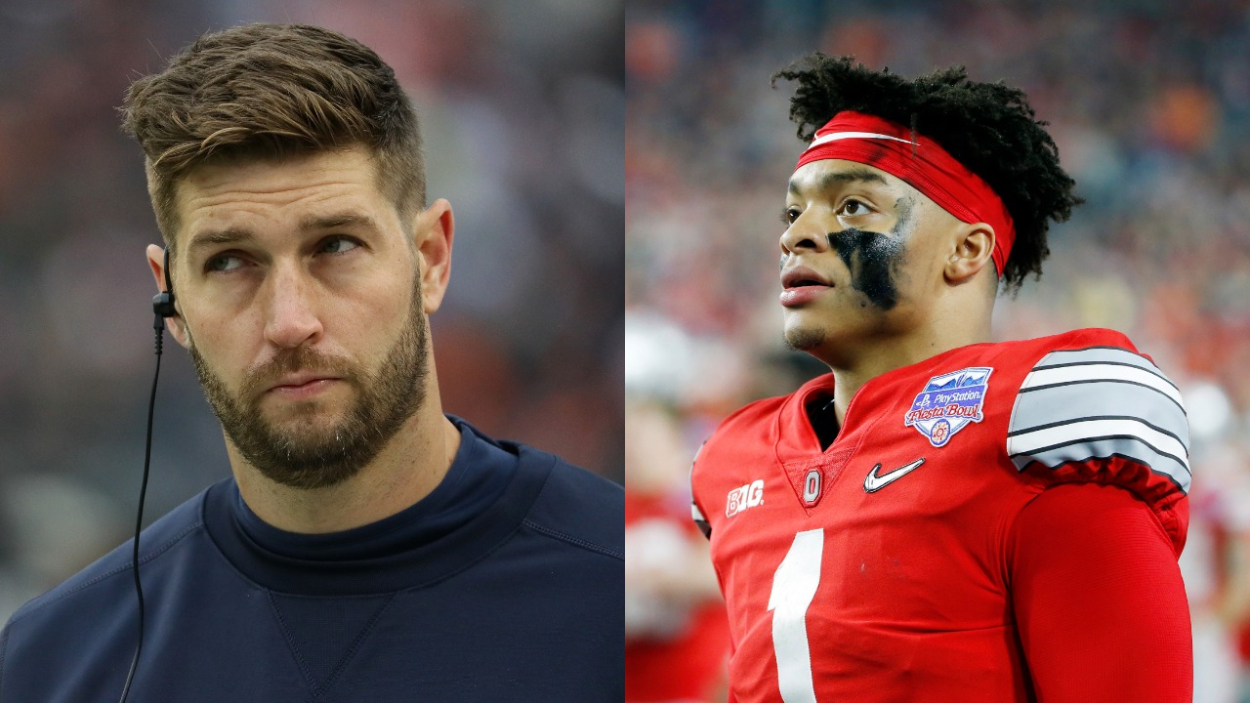 Cutler recently appeared on Waddle and Silvy, and he had a strong opinion about the Bears' situation with Dalton and Fields.
"I wouldn't play the kid to start," Cutler said of Fields, per the Chicago Tribune. "That's where I'd start. I'd let him watch. I think it's just a tough spot to just throw someone out there, especially in Chicago. And I think Andy is more than serviceable. I think they can win games with Andy and kind of pull the ship along until (Fields) is ready."
Cutler understands that Fields faced some pressure in college, but he doesn't think that it compares to the pressure he will face in the NFL.
"He came from Ohio State," Cutler said, per the Chicago Tribune. "He has played in big games before. So I don't think he's going to mind it much. But I will say this isn't Ohio State. This isn't college football. The playing field gets leveled really quickly in the NFL. You're going to get humbled. Bad things are going to happen. You're just going to have to deal with it."
Cutler, though, isn't saying that Fields doesn't have the talent to become a star.
"He's obviously talented," Cutler said, per the Chicago Tribune. "He can move. He can throw. He won a lot at Ohio State. He seems to have a little chip on his shoulder, which I don't think is a bad thing. But like we've talked about numerous times, when you're playing quarterback (in the NFL), there are a lot of moving parts."
The former Pro Bowler added that the Bears must improve their offensive line and get Fields some weapons in order for him to be successful.
However, whether he is right or not, Cutler certainly knows the pressure of playing NFL quarterback and playing it in Chicago.
Jay Cutler's experience proves that he may be right about Chicago's QB competition
If anyone knows how difficult it is to be a successful NFL quarterback, it's Cutler. Like Fields, he was also the No. 11 overall pick in the NFL draft, but in 2006 and with the Denver Broncos.
He spent three seasons with the Broncos and earned Pro Bowl honors in 2008, but Denver traded him to the Bears in 2009. While he then had some success in Chicago and helped the Bears reach the NFC Championship Game during the 2010 season, Cutler struggled throughout his eight years with the team. He went 51-51 as a starter in those seasons and threw for 23,443 yards, 154 touchdowns, and 109 interceptions. Cutler also led the NFL in interceptions in two different seasons.
Fields has the potential to be much better than Cutler was, but if anyone knows how hard it is to be an NFL quarterback, it's certainly Cutler. So, maybe we should listen to him on whether Fields should start or sit in 2021.
Stats courtesy of Sports Reference and Pro Football Reference