Jay Cutler Trolls Uber Eats and Angers Bears Fans With a 3-Word Tweet
Former NFL quarterback Jay Cutler is simply a polarizing figure. This is as true among Chicago Bears fans as with businesses like Uber, a company that didn't seem to appreciate Cutler's opposition to mask mandates.
Once upon a time, Cutler was one of the more talented but mercurial quarterbacks in the NFL. Nowadays, his status as a celebrity figure and pop culture icon seem to transcend his professional exploits. Yet, the former gunslinger still manages to find new and creative ways to irk people.
Uber Eats dropped Jay Cutler over his anti-mask views
Jay Cutler was supposed to begin a stint as an advertising partner with Uber Eats. However, that partnership was nixed because of Cutler's resistance to mask mandates.
The 38-year-old only just returned to Twitter and has been quite vocal in opposition to mask requirements, particularly regarding mask mandates in schools. He tweeted and deleted an angsty statement geared at the implementation of a new mask mandate in Tennessee, where he lives. He also applauded Tennessee Governor Bill Lee for signing an executive order allowing parents to opt their children out of school if said school institutes a mask mandate.
Uber responded to Cutler's mask antagonism fairly quickly. The company canceled plans for the Uber Eats spot and stated its desire to partner with people who support Uber's encouragement of vaccinations and public health and safety.
"We are proud of all the work Uber has done over the last year to help get as many people vaccinated as possible," an Uber spokesman said, via NBC News. "As such, we prefer to partner with those who support that work."
Cutler was forthright about why the partnership fell apart. He also added his vintage Smokin' Jay attitude in a tweet. He said, "Guess they don't like future School board members" and "Frees up my weekend."
However, that was only the start of Cutler's trolling campaign.
Cutler's 3-word tweet simultaneously trolls Uber and miffs Bears fans
Jay Cutler needed just three words and an image to kill two birds with one stone.
Cutler tweeted a picture of himself drinking New Glarus Spotted Cow with the caption "No mask needed." The caption alludes to the broken partnership with Uber, but the beer choice could irk Bears fans.
New Glarus is a brewing company located in Wisconsin, home to the archrival Green Bay Packers. The Bears-Packers rivalry is one of the oldest and fiercest in the history of North American sports. How dare Chicago's former signal-caller side with anything Wisconsin-based?
This is said in jest, of course. However, Dave Kluge of Fantasy Pros previously joked that Cutler was stripped of his "Bears Card" after professing his love for Spotted Cow. Kluge also named some Chicago beers as alternatives. Cutler joked Kluge should "Pump the brakes…"
Yet, just a day later, Cutler is once again hitching himself to the New Glarus train. Bears fans everywhere have a right to be aghast.
The Bears have yet to find a strong quarterbacking option since Cutler was under center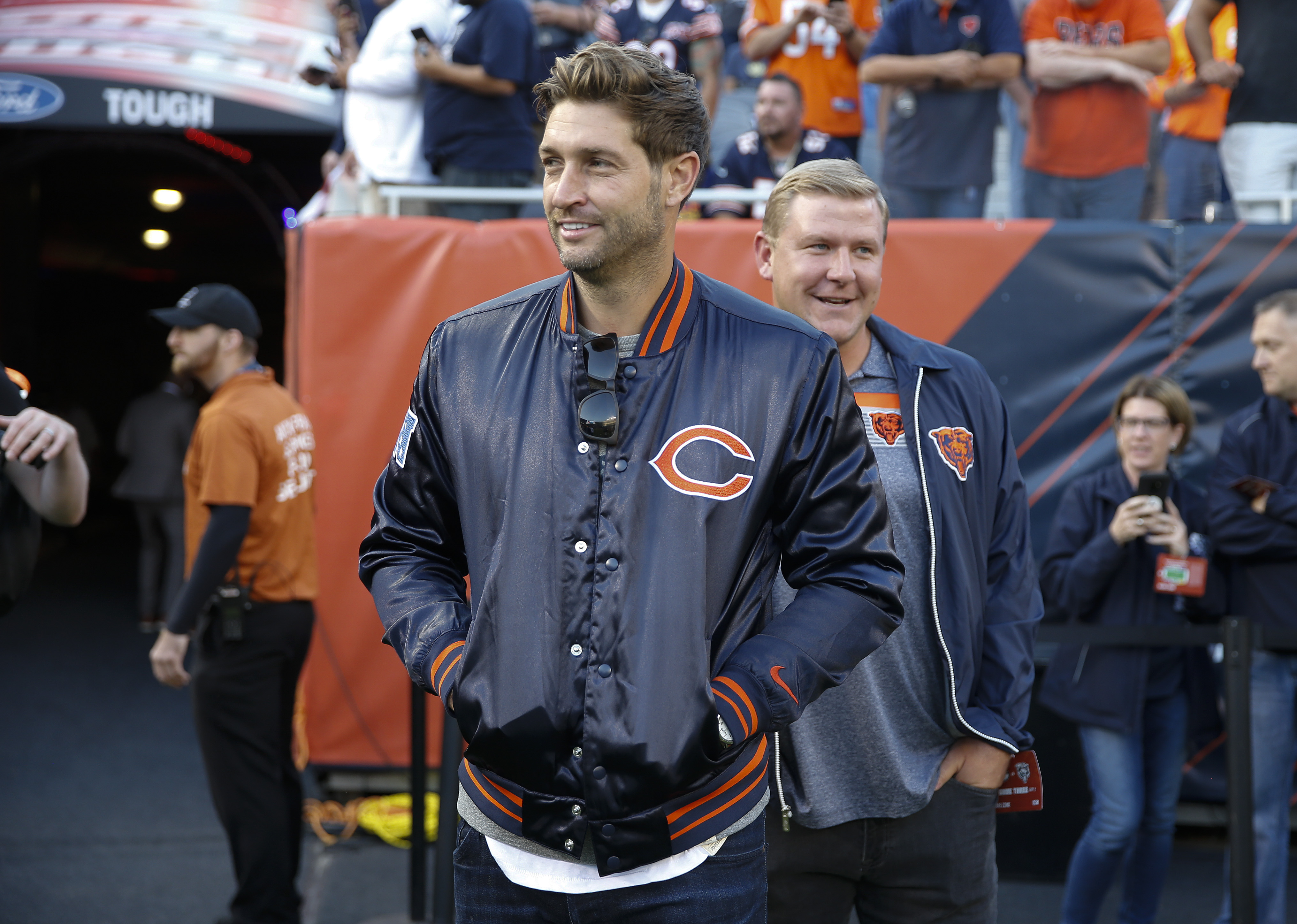 Cutler might not have lived up to the hype that preceded him as an NFL quarterback when he first joined the Bears. Still, he's probably the most accomplished signal-caller the franchise has had in years.
The former Pro Bowler helped lead the Bears to the NFC Championship Game in 2010. Coincidentally, that matchup pitted the Monsters of the Midway against the hated Packers. Chicago fell behind 14-0 in the first half and was doomed when Cutler suffered an injury early in the third quarter.
The rest of Cutler's Bears tenure was filled with frustration. He got off to a 7-3 start in 2011 before suffering an injury. Chicago was in a position to win the NFC Central in 2012 after a 7-1 start but went 3-5 in the second half of the season. Cutler dealt with more injuries and went just 17-29 in his final four seasons with the Bears.
Chicago hasn't had a quarterback of Cutler's talent since. Former No. 2 overall pick Mitchell Trubisky flamed out. The Bears likely hope Justin Fields can be the face of the franchise, but it's unknown whether the 2021 first-round pick will get the starting nod over veteran Andy Dalton.
Chicago is still looking for its next star QB. In the meantime, Cutler will keep being as authentic and polarizing as ever.
Stats courtesy of Pro Football Reference.