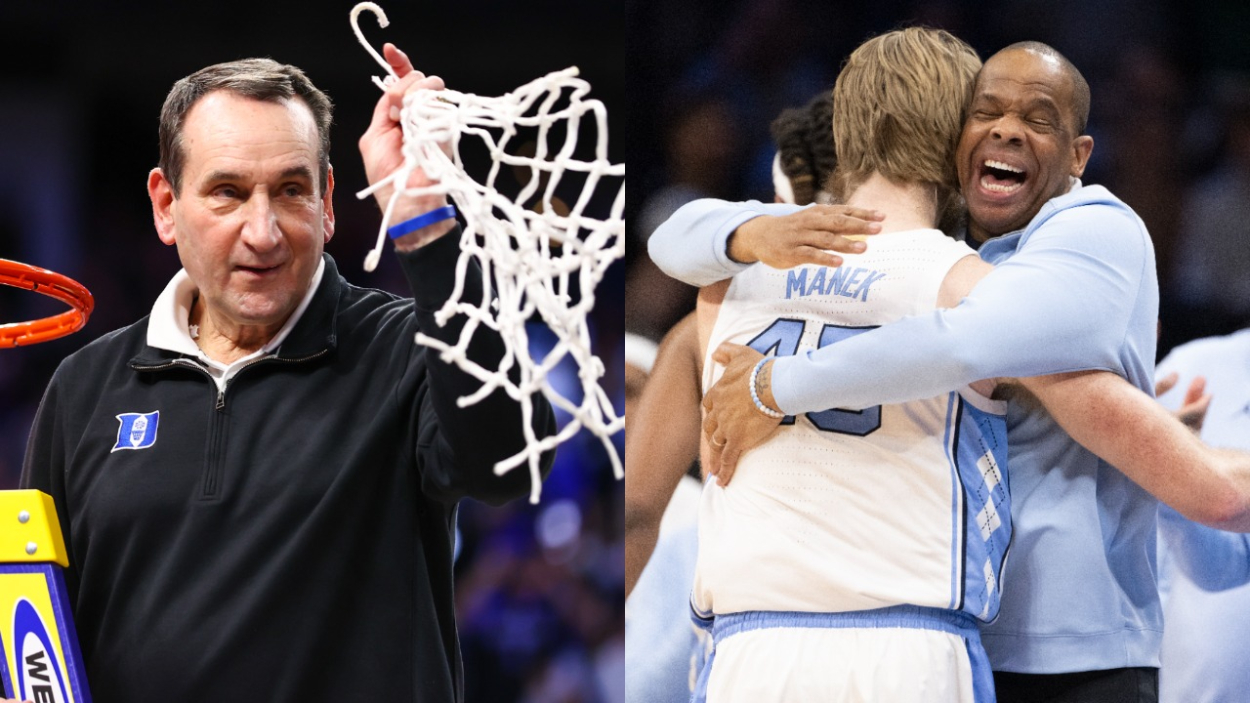 Jay Williams Passionately Declares Duke-UNC Final Four Matchup 'the Biggest Game in College Basketball History'
Duke and North Carolina will meet in the Final Four this weekend in the first NCAA Tournament meeting between the rivals. Is it the biggest game in college basketball history?
It's potentially the biggest rematch ever. Numerous legacies are on the line, and a spot in college basketball history is up for grabs.
On Saturday, the Duke Blue Devils and North Carolina Tar Heels, two of the biggest rivals in all of sports, play each other in the Final Four of the 2022 NCAA Men's Tournament. It's their first-ever meeting in the tourney, and there will be national championship game appearance on the line.
So, what else is at stake? Everything.
Former Duke star Jay Williams recently called it "the biggest game in college basketball history."
Duke and North Carolina will play in the Final Four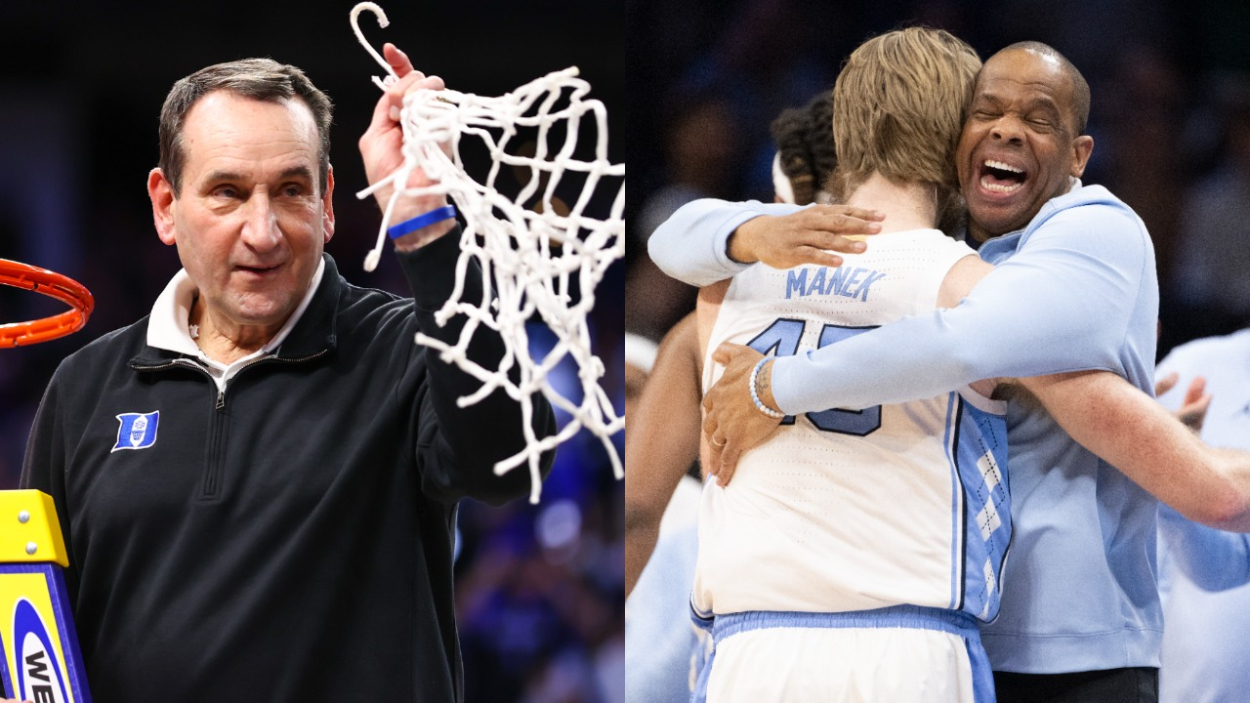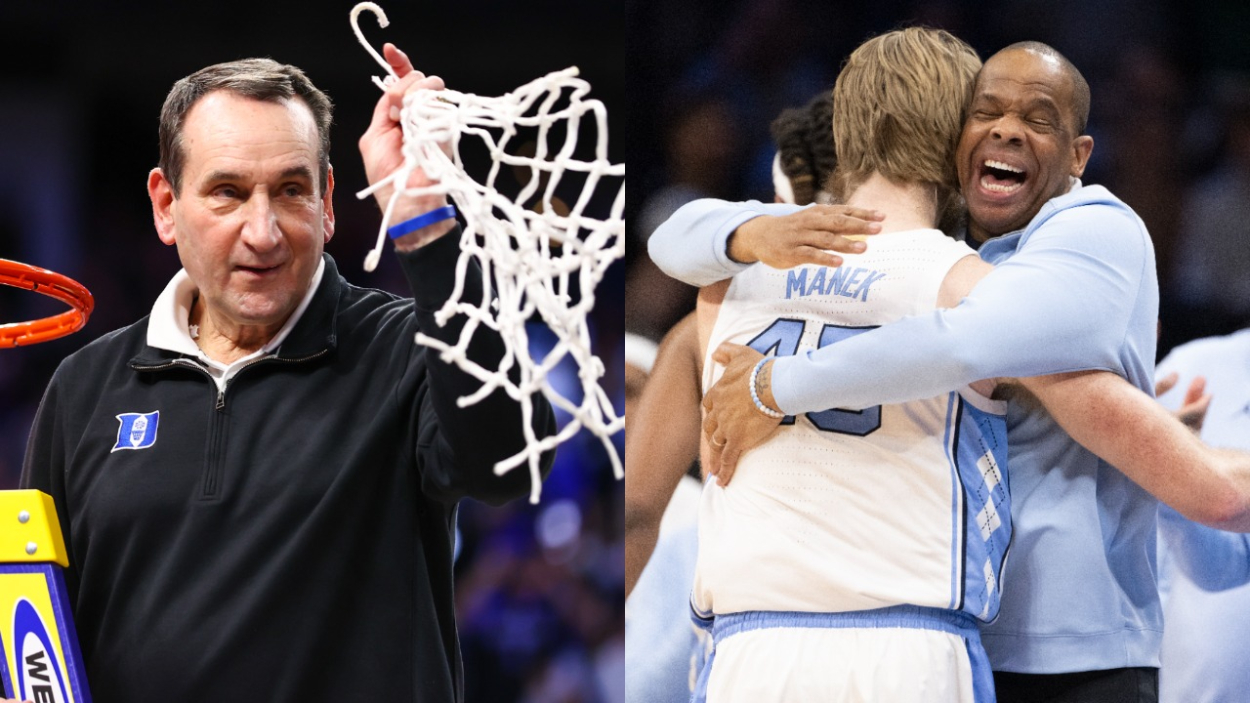 Not too many people had North Carolina in the Final Four of their 2022 March Madness brackets. In fact, only 3.17% of brackets on NCAA.com's Men's Bracket Challenge had UNC making it this far.
But the eight seed's miraculous run through the East Region has put it in a national semifinal game against its archrival, Duke.
Duke and North Carolina split their two matchups this season, which isn't uncommon. According to ESPN, Duke holds just a 51-50 advantage over UNC in the last 101 meetings between the schools.
This game is monumental, though, because of how North Carolina won earlier this season.
In soon-to-be-retired head coach Mike Krzyzewski's final home game at Cameron Indoor Stadium, the Tar Heels upset the Blue Devils 94-81 in front of a massive crowd and 96 former Duke players.
That means North Carolina not only has a chance to send Coach K, the five-time national champion, out with a loss in his final home game at Duke, but it can also end his career on Saturday.
The Blue Devils, though, can exact their revenge and beat the Heels to clinch a spot in the national championship.
Jay Williams called this 'the biggest game in college basketball history'
Jay Williams knows a thing or two about having success at Duke. He was a two-time consensus All-American under Coach K and the 2001-02 AP Player of the Year. He also helped lead the Blue Devils to a national championship in 2001.
So, Williams had a lot to say about the magnitude of this upcoming Final Four matchup.
"This is the biggest game in college basketball history," Williams said on the March 28 episode of Keyshawn, JWill, and Max. "…The pie in the sky would have been Duke-Carolina in the national championship. This is the next-closest thing."
Williams then backed up his claim by pointing to the fact that Duke-UNC is one of the biggest rivalries in sports. He also looked at how this season is Krzyzewski's "last hurrah."
"The fact that North Carolina ruined Coach K's senior night, his last season ever coaching, his last game ever at Cameron Indoor Stadium," Williams said. "North Carolina came in, and that was an event, and they won. They celebrated on the court. There was that coaching mishap with Chris Carrawell not shaking Hubert Davis' hand, you had Nolan Smith, who kind of gave him the look away. The rivalry is there, and there is nobody as a Duke fan that I want to see more in the Final Four than North Carolina."
He continued: "It would be so serendipitous to win against North Carolina, to have Coach K in his last season win a national championship to go through North Carolina. If we lose, we lose, but you can't ask for a better opportunity as a Duke player."
Everything is on the line in Duke and North Carolina's Final Four matchup
So, is Williams correct? Is this the biggest game in college basketball history?
A major factor to consider is that Krzyzewski is essentially the modern-day GOAT. He is second all-time in national championships, as his five are only fewer than John Wooden's 10. He also has the most Final Four appearances (13) and is No. 1 in all-time wins with 1,202.
But the programs are also two of the most successful in college basketball history. North Carolina has the third-most national championships ever with six, and Duke has won the fourth-most with five.
All of that, combined with UNC's dramatic win earlier this season, will make for a plethora of storylines in the contest.
So, is this meeting the biggest game in the history of college basketball? Duke and Kentucky's 1992 Elite Eight meeting, North Carolina's 1957 national championship game against Kansas, and Villanova's 1985 title game against Georgetown would probably all like to have a word. But you can still make a case for it.
This could be a game we all remember for the rest of our lives.