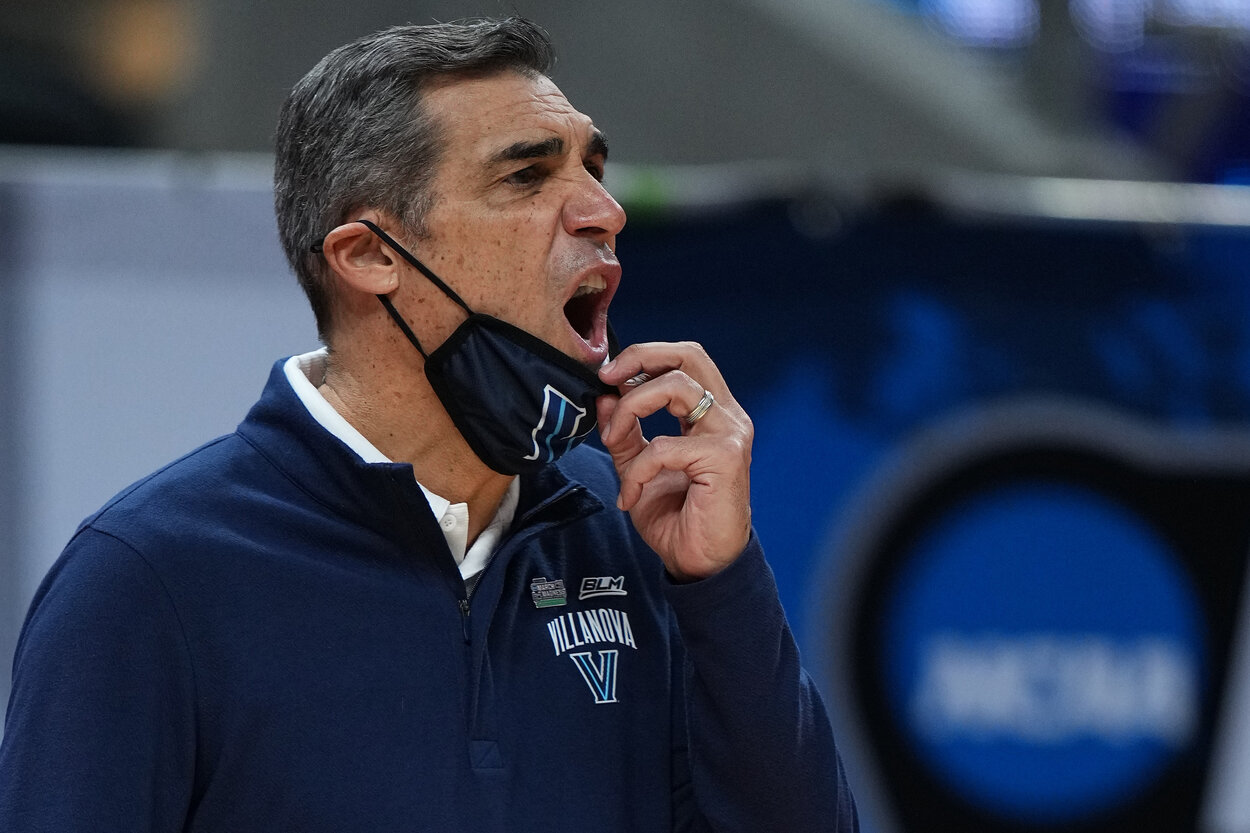 Jay Wright Makes Far More Money as Villanova's Head Men's Basketball Coach Than You'd Think
Jay Wright has been Villanova's men's basketball head coach since 2001, and he makes far more money than college basketball fans might think.
For much of the last 20 years, Jay Wright and the Villanova Wildcats have been a mainstay in the NCAA Tournament.
Wright and the Wildcats are back again this year, just as they were throughout the 2010s. Although the Big East isn't the premier conference that it once was, Villanova has remained one of the country's most consistently competitive tems.
Given that Wright has been Villanova's head men's basketball coach since 2001, it makes sense that the school would take care of him financially. Even the most devout Villanova fans might be surprised at how much money Wright is making this season, though.
Jay Wright has been Villanova's head coach since 2001
Since he first coached a college basketball game at Hofstra in the fall of 1994, Jay Wright has won wherever he's been.
Wright went 122-85 in seven seasons at Hofstra, reaching the NCAA Tournament in his final two years. Villanova hired Wright for the 2001-02 season, and the results have been more than they likely imagined.
As of March 25, 2021, Wright is 490-188 as the Wildcats' head coach. Wright, a two-time Naismith College Coach of the Year, has won 72.3% of his games at Villanova.
Villanova has won two championships in Wright's 20 seasons, and they're currently going for a third title in six years.
Wright makes far more money than one might think
Jay Wright is cashing in the big checks despite not coaching in a premier conference like the ACC or SEC.
According to USA Today, Wright will receive $6.14 million in total pay for the 2020-21 season. That ranks third among active men's college basketball coaches, and Wright only trails Kentucky's John Calipari ($8 million) and Duke's Mike Krzyzewski ($7 million). 
None of the three took reduced money this season amid the ongoing coronavirus pandemic. Many coaches across the country took pay cuts to assist their athletic departments. 
Those are the only three coaches making over $5 million this season. North Carolina's Roy Williams, Tennessee's Rick Barnes, and Texas Tech's Chris Beard are all also making over $4 million. 
Jay Wright and Villanova have a chance to win another title
Jay Wright and Villanova have an opportunity to come through and bring yet another title back to Pennsylvania.
Villanova, a No. 5 seed, defeated No. 12 Winthrop and No. 13 North Texas in the NCAA Tournament's first two rounds. To reach the Elite Eight, No. 5 Villanova will have to go through Baylor, the South Region's top seed.
If Villanova defeats Baylor, the Wildcats will play either No. 3 Arkansas or No. 8 Oral Roberts in the Elite Eight. Villanova has reached the Elite Eight four times in Wright's 20 seasons.
Although Wright turns 60 later this year, he has shown no desire to leave Villanova, either for another school or for an NBA team. It will be interesting to see if that changes in the offseason, especially given the potential ticking clock on Wright's clock.
Like Sportscasting on Facebook. Follow us on Twitter @sportscasting19.