Jaylen Brown Has Racked up a Nice Net Worth in Only a Few Seasons With the Celtics
When discussing some of the most promising young players in the NBA today, Celtics star Jaylen Brown is in that conversation. Brown has led the Boston Celtics to a lot of success in his first few seasons and has taken that next step production-wise this season. Even though this is just Brown's fourth season in the NBA, he has still made a decent amount of money so far in his career. With what he has made so far, what is his net worth?
Jaylen Brown has taken a big step in 2019-20
RELATED: Jaylen Brown Has Made $21 Million in the NBA, but He Hasn't Forgotten His Hometown
In the 2016 NBA draft, the Boston Celtics selected Jaylen Brown with the No. 3 overall pick. He maybe did not play up to those expectations in his rookie season, though. He only scored 6.6 points per game, but he, however, only played an average of 17.2 minutes per game.
Brown then saw his role on the Celtics increase in the next two seasons. He went on to average 14.5 points per game for the team in 2017-18 and also pulled down 4.9 rebounds. Then, in 2018-19 Brown averaged 13 points per game and 4.2 rebounds.
This season, though, Brown became an absolute star before the league suspended its season. He was averaging 20.4 points per game this season to go with 6.4 rebounds.
While he has had success individually in his first few seasons, Brown has helped lead the Boston Celtics to a lot of success as a team too.
The Celtics have been pretty successful the past few years
RELATED: Ray Allen and Rajon Rondo Once Got Into a Boxing Match to Try to Settle Their Beef
In just Brown's first season on the Celtics, the team went from losing in the first round of the playoffs the season before to reaching the Eastern Conference Finals in 2016-17. The Celtics ultimately lost in five games to the Cleveland Cavaliers, though.
However, in 2017-18, the Celtics were without their stars in Kyrie Irving and Gordon Hayward but took the Cavaliers to seven games in the Eastern Conference Finals. Brown really showed his potential in those playoffs too. In the Eastern Conference Finals, he averaged 19.7 points per game and 4.9 rebounds. He averaged 18 points per game in the playoffs that year overall.
The Celtics then went 49-33 in 2018-19 but lost in the Eastern Conference Semifinals. This year before the league suspended its season, Brown and the Celtics were 43-21.
So with Brown's individual success, and with him leading the Boston Celtics to a lot of success as a team, what is his net worth at this point in his career? 
Brown has a nice net worth for a 23-year-old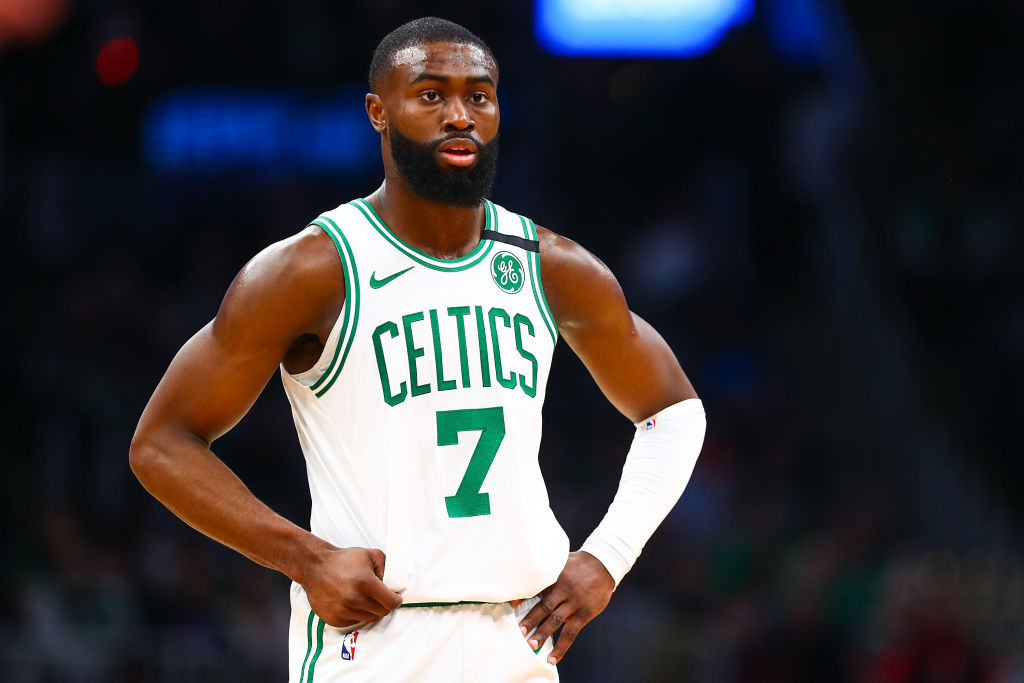 RELATED: Why the Celtics Gordon Hayward Believes Jaylen Brown is Worth Every Penny
Being a top-three pick in the NBA draft, Brown has made a good amount of money in his career so far. Not considering any money that he may lose this season due to COVID-19, Brown has earned an estimated $21.4 million in his career so far, according to Spotrac. He was supposed to make an estimated $6.53 million this season, and he earned an estimated $5.16 million in 2018-19.
He will earn a lot more in the next few seasons, though, as he signed a four-year extension worth $115 million with the Celtics in October, according to NBA.com. Because of that, he is supposed to earn an estimated $23.88 million next season, according to Spotrac.
Before earning over $20 million a season the next four seasons, though, Brown has already racked up an excellent net worth. Celebrity Net Worth estimates that he is worth $10 million. That is really nice for someone who is only 23 years old.
Jaylen Brown is a very talented young player with a lot of potential. His play has helped him rack up a nice net worth. That net worth will continue to grow in years to come too.
Stats courtesy of Basketball Reference