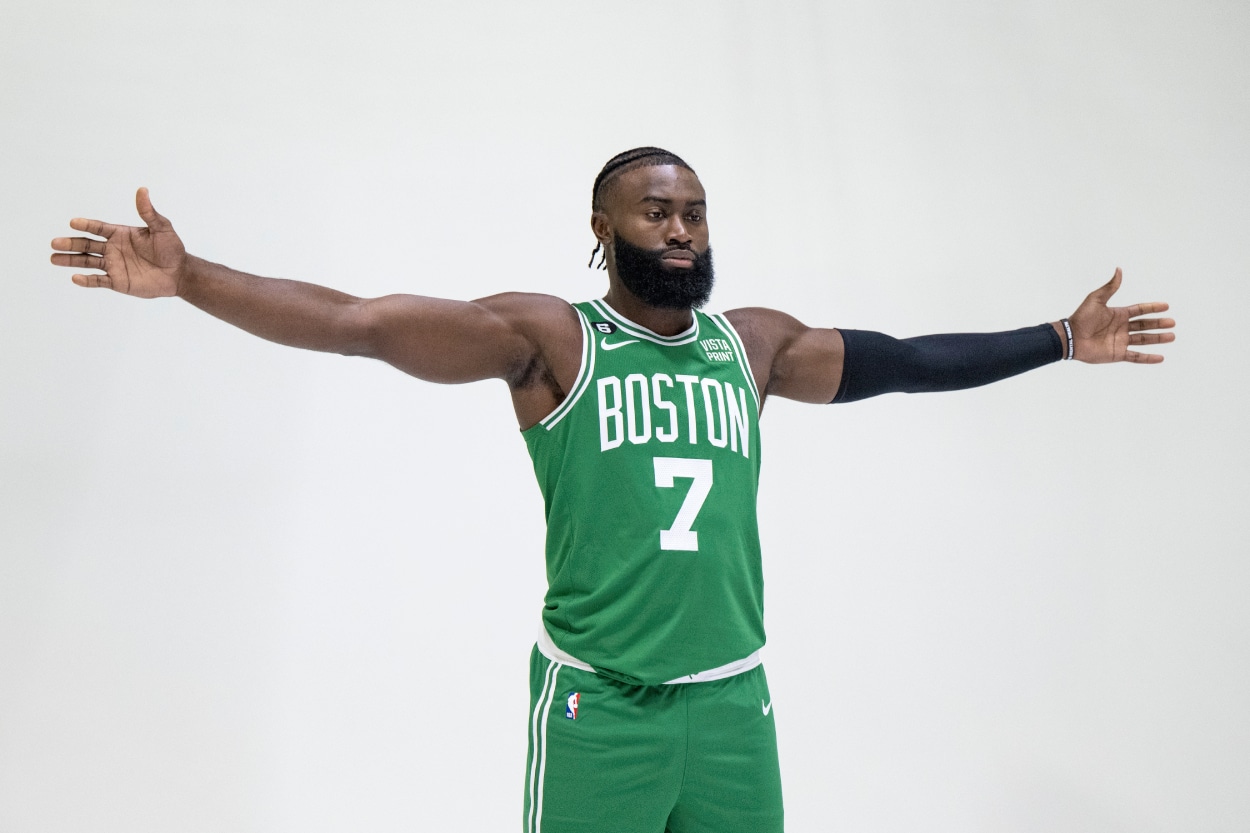 Jaylen Brown Mum on Trade Talk but Addresses Rough Week for the Boston Celtics: 'That's Life'
Jaylen Brown and the Boston Celtics will begin the 2022-23 season with a new coach after reaching the NBA Finals last year.
Jaylen Brown had an interesting summer, and now he and the Boston Celtics have seen chaos erupt this week. He refused to speak about one and offered little about the other.
Media Day took place Monday around the NBA, and there certainly was a lot to talk about in Boston. Brown, the subject of trade rumors this summer, offered nothing on that front. He also didn't say a whole lot about the Celtics suspending head coach Ime Udoka for the entire season, saying "that's life" when talking about the ugly events that took place this week.
Jaylen Brown keeps things in house regarding trade rumors
When Brooklyn Nets star Kevin Durant asked the team to trade him this summer, speculation ran wild. In Boston, Brown's name constantly came up as trade rumors swirled.
Word was Durant's top destinations were the Miami Heat and the Phoenix Suns. Neither of those teams had the trade power the Celtics have. Brown was reportedly the centerpiece of a deal involving the Celtics. On Monday, reporters asked Brown about dealing with those trade rumors.
"I've talked to my teammates," Brown said. "I've talked to ownership, organization, et cetera. I'll keep those conversations between us. All I have to say now is that I'm here, ready to play basketball. I'm in great shape, probably the best shape of my life. I'm excited to start the journey."
That journey begins without Udoka, who was suspended for the entire season by the Celtics after multiple violations of team policies. In his first season with the team, Udoka guided the Celtics to their first NBA Finals appearance in 12 years.
Brown addressed the team's rough week.
"Things haven't gone to the start that we wanted it to go," Brown said. "That's life sometimes. Put our best foot forward and do what we gotta do."
Brown said players were shocked and confused by the Udoka situation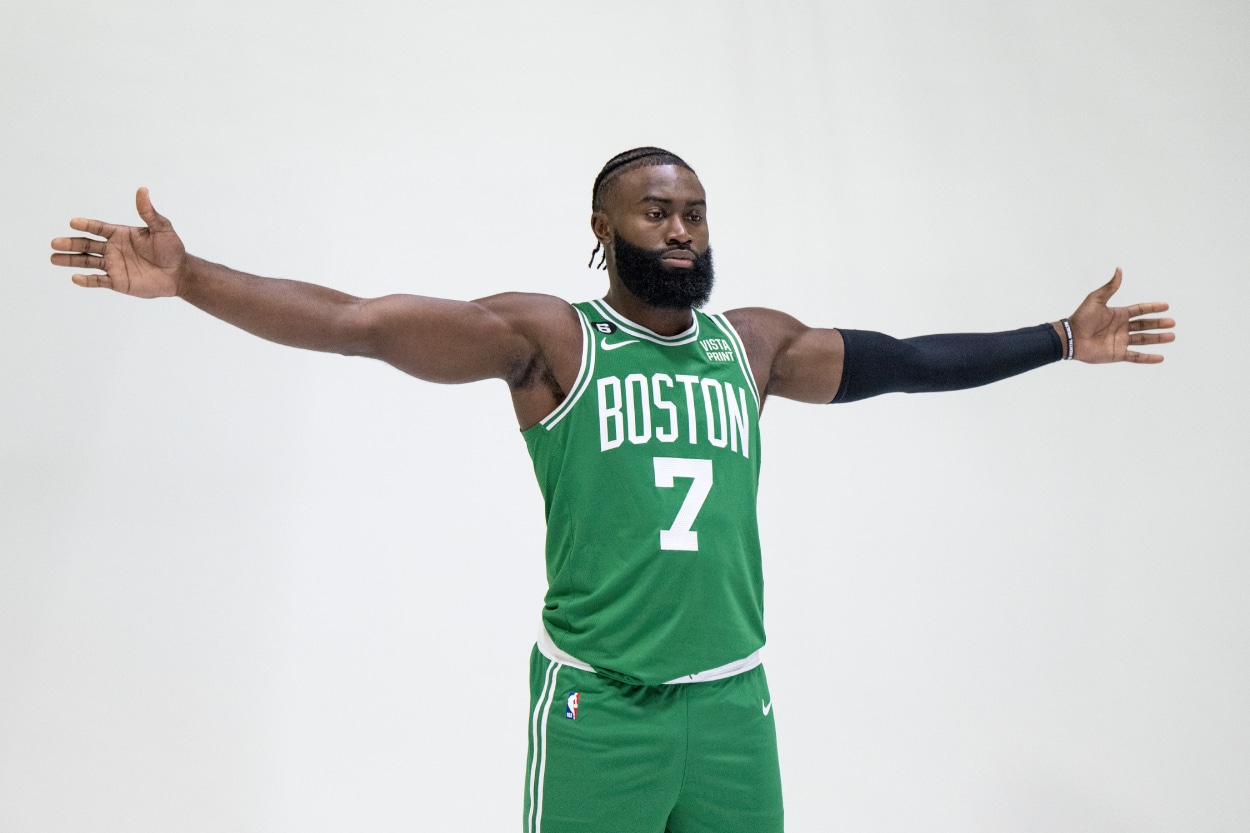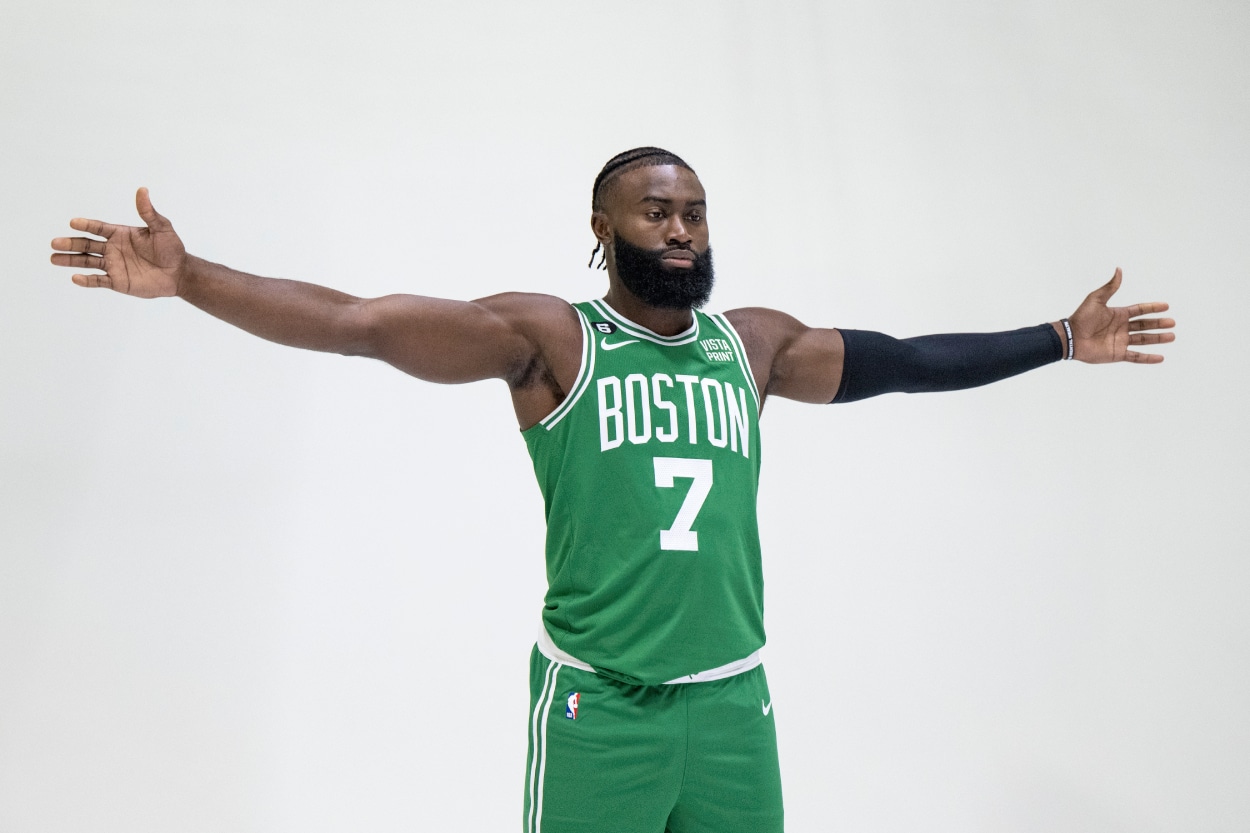 While Brown didn't say a whole lot about Boston's coaching situation, he did say he and his teammates were shocked and confused by the events that unfolded during the week.
"As far as initial reactions, I think we were all shocked at what was going on — a little confused," Brown told reporters. "But a lot of the information wasn't being shared with us or with members of the team, so I can't really comment on it."
The Celtics named Joe Mazzulla, an assistant under Udoka, the interim head coach. Mazzulla is 34 and has the respect of Brown.
"I believe in Joe," Brown said. "Joe believes in me. I've had conversations with him. I don't think he sees a limit on my game. I think he's coming in excited, so I'm optimistic."
It's been an interesting time in Boston, and that was before Media Day even began. Despite the chaos and confusion, the Celtics still remain a serious contender. After that confusion and shock wears off, the Celtics will be all business and ready to make a return trip to the NBA Finals.
Like Sportscasting on Facebook. Follow us on Twitter @sportscasting19 and subscribe to our YouTube channel.