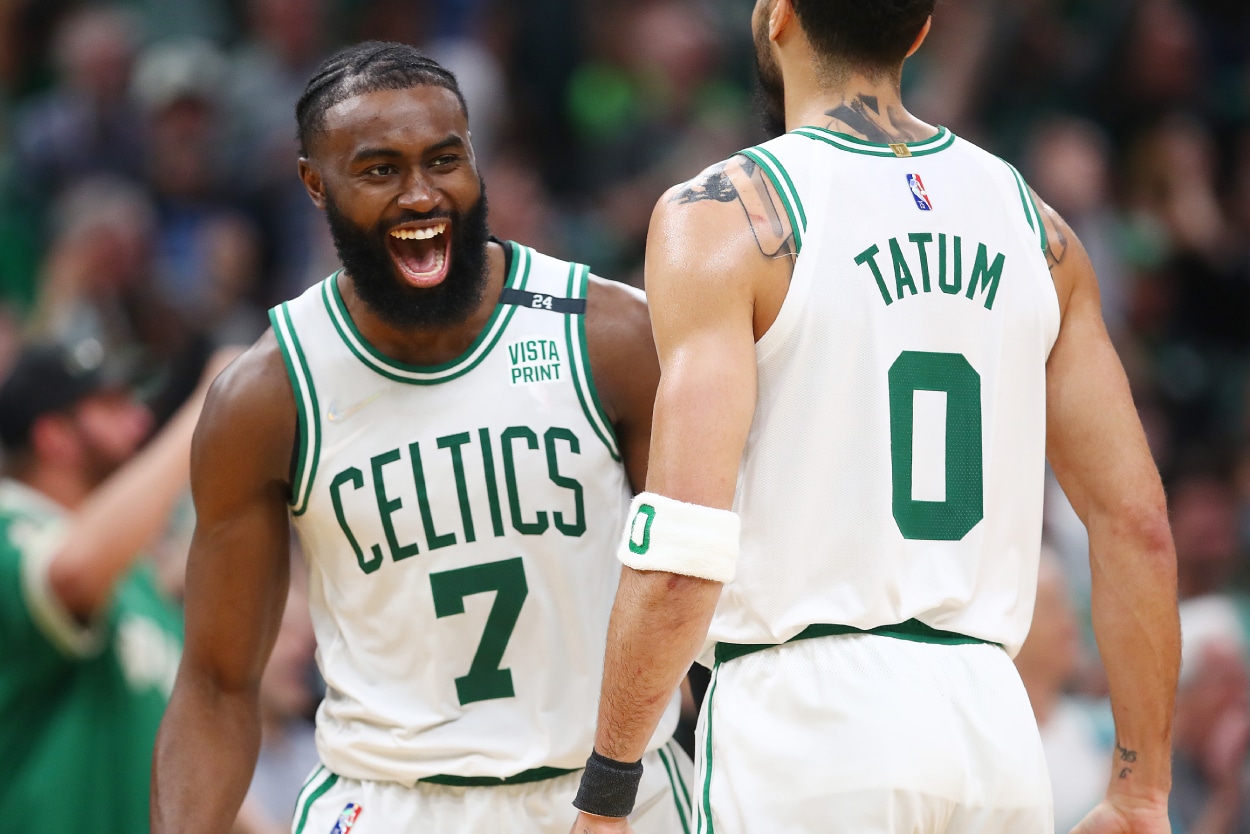 Jaylen Brown Reveals What He Needs From Jayson Tatum to 'Correct This Ship and Get This Thing Off to the Right Start'
Can Jaylen Brown and Jayson Tatum get the Boston Celtics back to the NBA Finals?
The Boston Celtics are hoping the turmoil is a thing of the past once the regular season begins. For now, the players have to deal with all the drama that's surrounded the team in the last week.
Gone is head coach Ime Udoka. Center Robert Williams III will miss more time than anticipated after undergoing arthroscopic surgery on his knee. Newcomer Danilo Gallinari is likely done for the season after tearing his ACL.
It's been a rough week for the Celtics, who are fresh off their first NBA Finals appearance since 2010. Jaylen Brown and Jayson Tatum are back after showing they can play together and get the Celtics to where they want to be. During a Media Day interview, Brown revealed what he needs from Tatum in order to get things off to a good start this season.
The Jaylen Brown and Jayson Tatum combo has always been questioned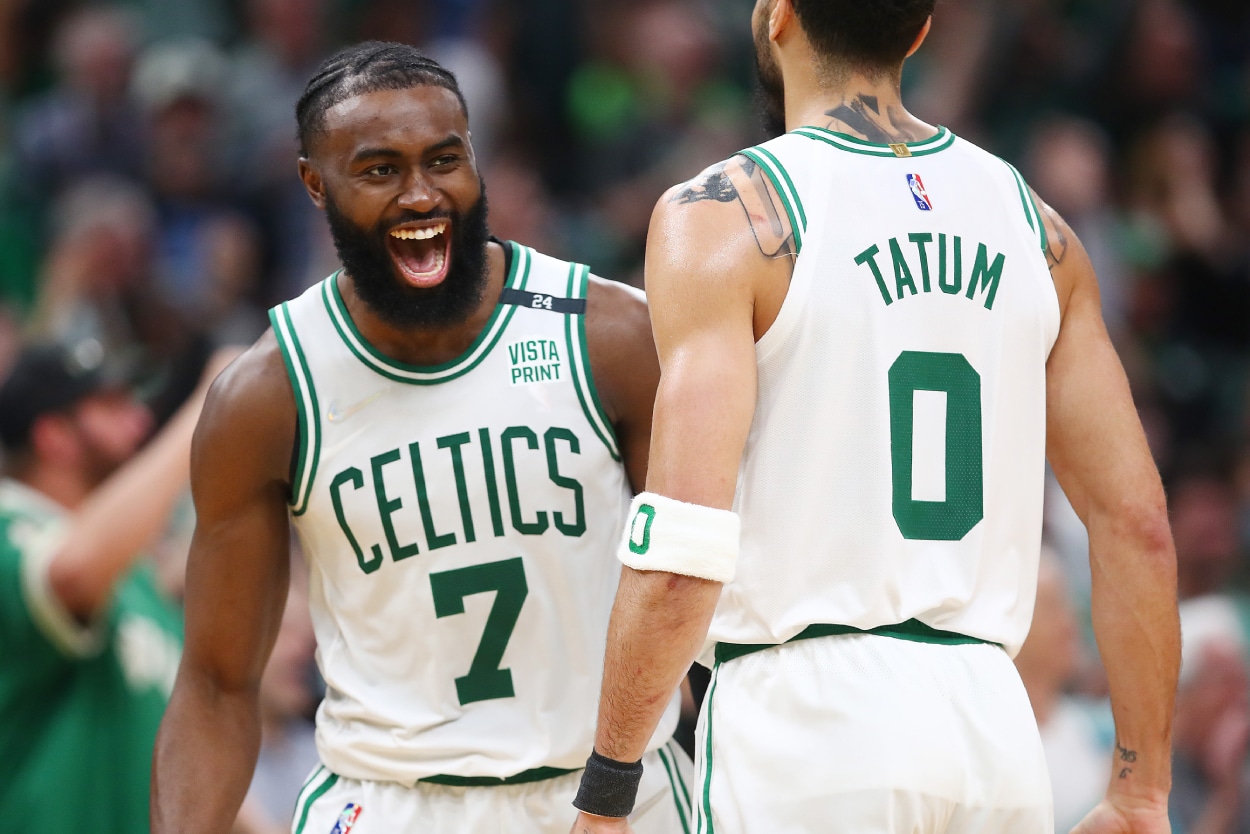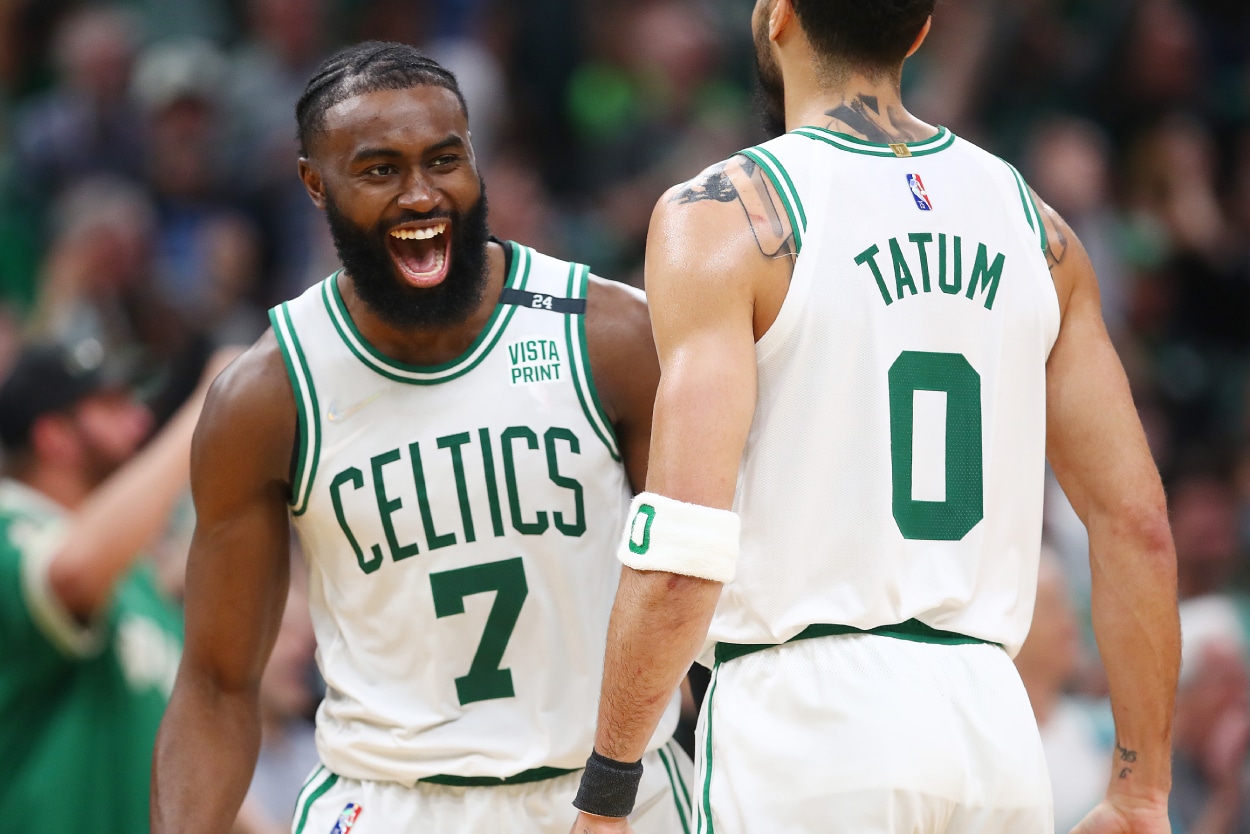 Several questions surrounding Tatum and Brown were thrown around last season. Could the two stars co-exist in Boston? Is Brown OK playing in the shadow of Tatum? Are the two good enough to play for a championship?
Many of those questions were answered. It took some time to get things figured out last year, but the Celtics overcame a not-so-stellar beginning to the season to reach the NBA Finals for the first time in 12 years. After starting the season 25-25, the Celtics rattled off 26 wins in their final 32 games to close out the season. Boston earned the No. 2 seed in the East.
Now the biggest question was whether or not Tatum and Brown could get the Celtics past the conference finals. Since 2017, the Celtics had reached the Eastern Conference finals three times before last year. They stalled there each time.
Boston outlasted the Milwaukee Bucks in seven games in the conference semis and then pulled out a Game 7 win on the road against the top-seeded Miami Heat. Brown and Tatum helped the Celtics get over the hump.
The Celtics duo ended many doubts. Although they struggled during the NBA Finals, they erased many doubts about making the Celtics a championship-caliber team.
Brown explained what he needs to see from Tatum this year
Tatum and Brown sat down for a Media Day interview with Chris Forsberg of NBC Sports Boston. The two were asked which trait they would like to borrow from each other. Brown started, saying he loves how calm Tatum is.
"I think JT just does a good job of staying calm," Brown said. "Everybody could be yelling and screaming, passionate, and JT got that ability to keep himself not too high or not too low.
"There are times when it could be frustration, you want him to say something, speak out, and he don't say nothing. He's just cool. He lets everything kind of let itself work out."
Brown revealed that might also be an issue.
"That's one thing that I think I could benefit from, but at the same time, I'm going to need him to speak more and talk more and be more vocal if we're going to correct this ship and get this thing off to the right start," Brown said.
It's definitely an interesting take from Brown. Why would he want Tatum to change? Tatum has never been vocal on the court, and he's admitted that before.
"Yeah, I'm not the most vocal, but I talk to my teammates all the time," Tatum said during a December interview with Sage Steele of ESPN. "The guys that I've played with and the guys in the organization, they know. You gotta be yourself.
"As much as I love him, my personality is not like Kevin Garnett. That doesn't work for me. I've gotta be true to myself and do things my own way for it to be genuine."
Like Sportscasting on Facebook. Follow us on Twitter @sportscasting19 and subscribe to our YouTube channel.